Great Balls of Fire! Good things come to those who wait. Tom Cruise is finally Top Gun once again in the long awaited (and long delayed) sequel Top Gun: Maverick. Nobody does blockbuster action better than Cruise and this raucous follow-up is presented with thought and extreme affection for the culturally iconic original.
Captain Pete "Maverick" Mitchell (Tom Cruise) has spent 36 years in service as a Naval pilot, avoiding or declining any promotions or leadership roles that he no doubt had earned. After a test flight proves that Maverick still lives up to his call-sign, the legendary pilot is given an ultimatum that he must return to Top Gun to train the best of the best for a highly specialized mission or be discharged from service. Reluctantly he agrees, not knowing that among them is Lieutenant Bradley "Rooster" Bradshaw (Miles Teller), the son of Maverick's late best friend, Nick "Goose" Bradshaw.
From the opening credits with that signature theme song, it's clear Top Gun: Maverick is going for an intentional nostalgia ride – but one that's done with little exploitation. Post Malone doesn't redo "Highway to the Danger Zone" or any other corny attempts to modernize the vibe of Top Gun. The 80s machismo, silly "catch-phrase" dialogue and over the top performances are all intact and it's still a hell of a lot of fun.
Cruise earns every penny of his lofty paycheck with his return to the character Maverick by bringing back that Maverick swagger and working his ass off in action sequences that see him physically pilot fighter jets at incredible speeds. His face peeling back from extreme G-Forces is not a special effect and director Joseph Kosinski (Oblivion) wonderfully captures it all in dizzying sequences of aerial combat that are superior to anything else ever caught on film.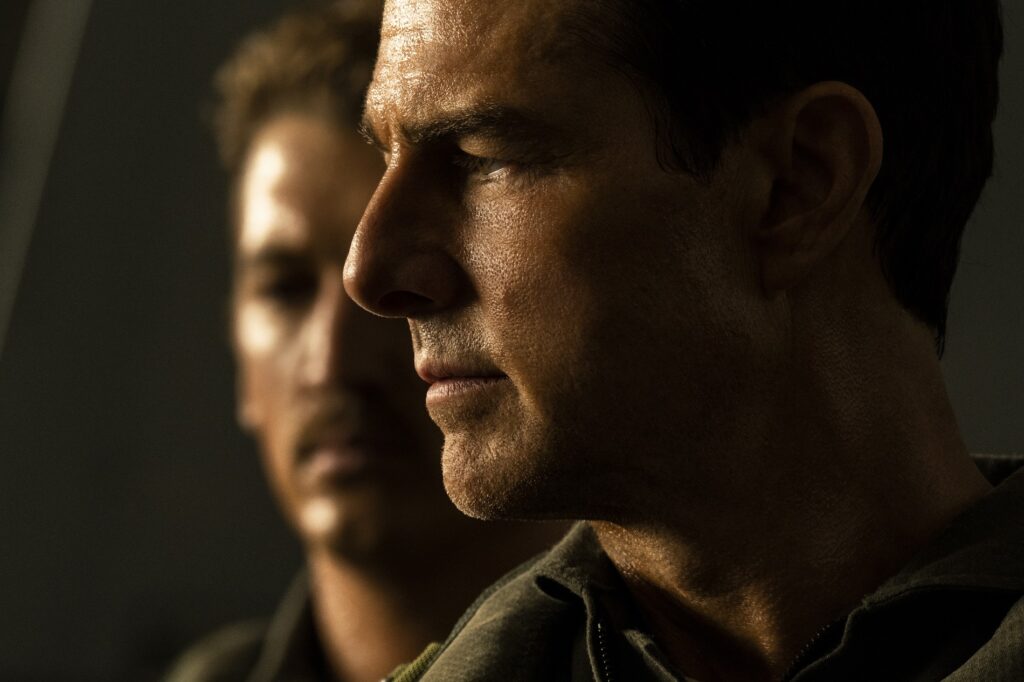 None of that matters if audiences don't reconnect with old favorites or discover new ones and Top Gun: Maverick nicely accomplishes both. Miles Teller is terrific as "Rooster" and it's eerie how much he looks like his on-screen father Anthony Edwards in the role of "Goose" in the original Top Gun. Teller develops a palpable chemistry with Cruise by the film's end that creates a satisfying family/friendship bookend to both movies.
Former Maverick rival Admiral Tom "Iceman" Kazansky's presence is also felt throughout the film, but because of actor Val Kilmer's real life health issues, his on-screen role is limited to one exceptionally written and performed scene between him and Cruise. The scene doesn't overstay its welcome and, considering the circumstances, is handled with absolute class while allowing Iceman to play a pivotal role in Maverick's journey.
Jennifer Connelly fills out her romantic interest role the best she can as Penny, a past fling of Maverick's that is referenced in a throwaway line in the original film. I'm not sure Connelly has ever looked more beautiful, and she brings a strength and likable vibe to a somewhat one-dimensional role as the owner of the bar where the pilots congregate. Jon Hamm and Ed Harris add name recognition as stock Naval superior officer characters that don't equate to much on paper without the gravitas of the actors portraying them.
The new crop of Top Gun pilots is a mixed bag of character stereotypes not unlike the original film. Glen Powell was born to play Lieutenant Jake "Hangman" Seresin in a role that essentially plays Iceman to Teller's Rooster. I've been a fan of the actors' work since his hilarious turn in TV's Scream Queens and he plays a smug jerk with amazingly likable charm. The pilots also get some female representation, this time out in the form of Monica Barbaro as Lieutenant Natasha "Phoenix" Trace. Unfortunately, other than being portrayed as one of the better pilots, the role doesn't have much depth, keeping the franchise still just "playing with the boys".
Top Gun: Maverick is an absolute crowd-pleaser and proof that Tom Cruise will outlive us all. I rarely suggest what format my readers should see their movies, but I highly recommend the incredible IMAX experience the aerial shots bring to the nerve-wrecking extended finale sequences. Don those aviator sunglasses and hit the beach for some team-building sports, because this action-packed and rare nostalgia retread that works will delight fans old and new in the first great movie of the summer.
Score: 4 out of 5