The remains of the Supernatural series finale are barely at rest and yet star Jared Padalecki is raising a whole other cult favorite TV series from the dead with Walker, the reboot of the cheese-tastic Chuck Norris classic. Sadly the boring, trope-ridden pilot episode does not bode well for the overall series, even with the likable star and terrific supporting cast.
Following the unexpected death of his wife, Texas Ranger Cordell Walker leaves his two kids, the chip-off-the-old-block son August (Kale Culley) and angsty teenage daughter Stella (Violet Brinson) to go deep undercover for two years. Upon his return he finds difficulty reintegrating himself with his parents, ADA brother and even his own kids, all while trying to return to his Ranger work. To make matters worse, Walker's belief that there's more to his wife's death than originally thought still burns in him — although the episode doesn't bother to actually deal with the topic or supply any real weight to his suspicion.
The pattern continues on in Walker's predictable pilot episode full of eye-roll inducing moments and does not waste time getting to them. Early on, the mysterious death scene for Walker's wife (played by Jared's real wife Genevieve Padalecki) follows all the 80s revenge thriller beats, complete with a culminating shot of the hero dropping to his knees, arms flexing and screaming dramatically into the dark night sky. Darth Vader would be proud.
From there, the episode lets loose some of that Padalecki charm and world-weary heart that helped endear the character of Sam on Supernatural to so many, giving this character some development as Walker returns home to get his shit together. A cute introduction sets the stage for his upcoming work partnership with one of the (fictional) first women in Texas Ranger history, Micki Ramirez (Lindsey Morgan), in one of the show's better scenes.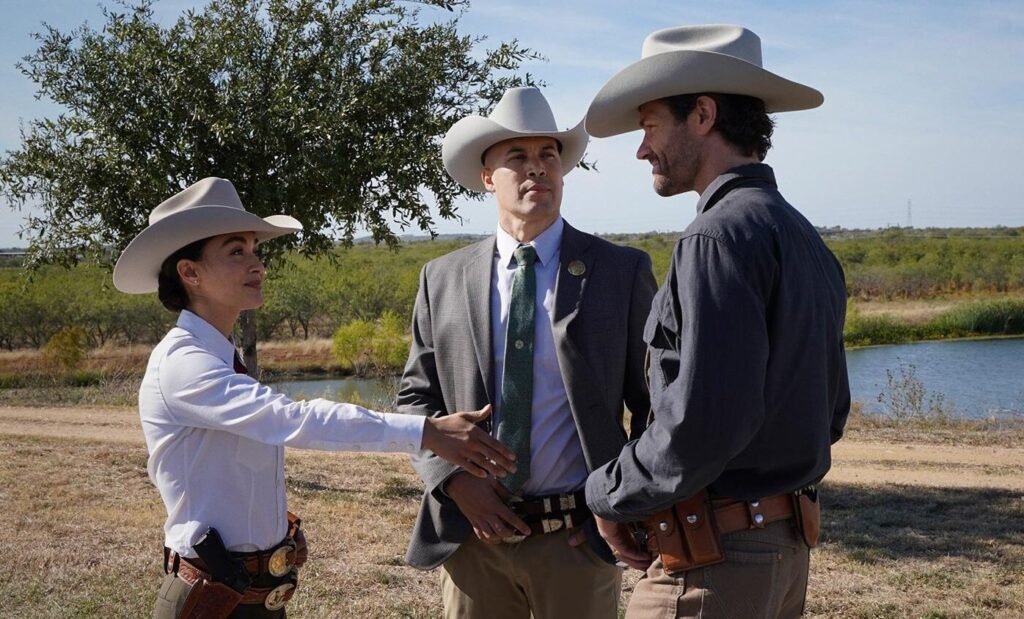 The show then shifts into family drama territory more suited for a reboot over on CBS than the younger-skewing CW. Walker's parents are one-dimensional rancher stock characters brought to life only by wonderful character actors Molly Hagan (iZombie) as his thoughtful mother and Mitch Pileggi (The X-Files) as his gruff, traditional father. It doesn't take a Ranger's perception to figure out the relationships and character arcs of everyone in the Walker family and how they'll react to Cordell's return, adding yet again another layer of by-the-numbers storytelling.
The drama with Walker's kids (mostly Stella) kills any plot momentum in grating scenes meant to show complicated familial relationships, but instead feel copy-pasted from any other angsty CW show. There is hope for the future in supporting characters like Walker's Ranger Captain and former colleague Larry James (Coby Bell) who is a stern, confident but still approachable boss for the Ranger duo. The aforementioned partner Ramirez is also a consistent bright spot throughout, even though she unwittingly gives Walker the corny catch-phrase "Respect."
Lastly, aside from having no Chuck Norris in sight, the worst part of the first episode of this bland retread is just how darn slow and forgettable the whole thing feels by the end credits. It becomes easy to understand why Walker would want leave his life for two years at a time rather than deal. Unfortunately, despite its relationship with star Padalecki, The CW just seems like an odd fit for Walker and the safe, predictable story structure would be better suited for a different network with a more forgiving demographic and longer attention spans.
Score: 2 out of 5
Walker premieres Thursday, January 21 at 8pm ET on The CW.