Two years have passed since American Gods debuted its first season on STARZ, and the off-season for the creative team was just as tumultuous as it has been for the characters onscreen. The dust settled with the Gods losing a few cast members and a showrunner, but are ready to go to war in Season 2.
Following the events at Easter's mansion in the Season 1 finale, Mr. World (Crispin Glover) plots revenge as a full-blown war of the Gods begins to gather on the horizon. Mr. Wednesday (Ian McShane) can feel the changing of the winds, so he gathers up Shadow Moon (Ricky Whittle), Laura (Emily Browning) and Mad Sweeney (Pablo Schreiber) for another road trip to a place of danger and old power: Wisconsin! More specifically, the famed House on the Rock where Wednesday must make a desperate plea to convince the Old Gods to finally join the war against the New Gods before it's too late.
Regardless of the behind the scenes turmoil, the Season 2 premiere House on the Rock hits the ground running hard and blazes forward with blinding speed. The pace sometimes feels so frantic that it gives the impression the creative team is trying to cram in as much as possible since the show's future is constantly in question.
While the episode may not hit the deep levels that previous showrunner Bryan Fuller's work normally does, you can't help but enjoy the sheer visual wonders and frenetic joy this episode brings to the table — and of course, Neil Gaiman's hands are still very much noticeably a part of the show.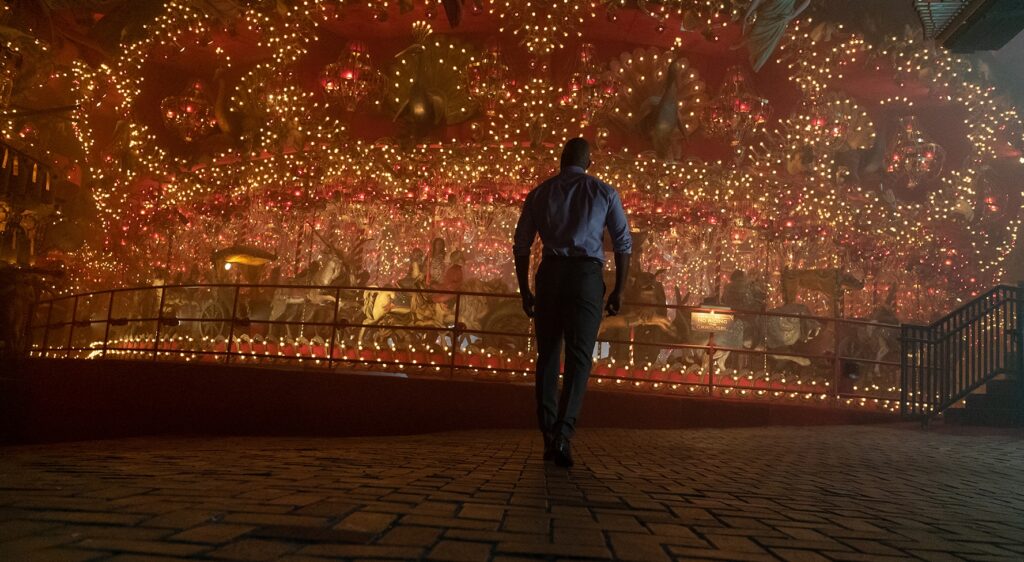 House on the Rock is especially entertaining because it manages to gather all the remaining cast members to more than one location, which results in numerous enjoyable and fascinating interactions. Sadly, Gillian Anderson (Media) and Kristen Chenoweth (Easter) are reportedly not returning to the series and their characters are sorely missed in these otherwise fantastic ensemble scenes.
Ian McShane also has an impressive outing in the episode and really gets to chew the scenery in new and expressive ways in the last act of House on the Rock. Unfortunately, Shadow and Laura continue to be mostly forgettable with the exception of any time they interact with the always reliable Mad Sweeney. Not to be outdone, the nearly indiscernible rantings of Peter Stormare with his portrayal of Russian god Czernobog is once again a bizarre scene stealer.
Future episodes will determine whether Season 2 was worth the wait and if the series can indeed survive the creative turmoil, but the first episode is an undeniably raucous return for American Gods.
Score: 4 out of 5