The critically acclaimed and criminally overlooked Apple TV+ comedy Mythic Quest returns for another season of workplace humor and surprise emotional gut-punches. Season 3 follows the tropes of many third seasons, with the core cast scattered and starting new phases of their professional and personal lives. While it may not top the superb first two seasons, Mythic Quest is still easily in the conversation for the best of all current television comedies.
The 10-episode season, releasing weekly on Apple TV+, focuses even deeper into the relationship between Ian (Rob McElhenney) and Poppy (Charlotte Nicdao) as they face the trials of getting their new studio, GrimPop, up and running after leaving the Mythic Quest offices. The resulting conflict creates the comedy, but even more notably the drama for the season, including the emotional mid-season flashback episodes that have become a series hallmark. McElhenney and Nicdao are still on top of their game and their platonic friendship is palpable and real with undeniable comedic chemistry.
This season's aforementioned flashback is down to only one episode and features a pivotal look at both characters' youth. The young Poppy actress is spot on and both separate storylines are monumental moments for the characters; unfortunately the episode itself isn't as mind-blowing as the previous. Sadly, the subject of last season's flashback, F. Murray Abrams as C.W. Longbottom, is no longer a member of the cast, which is addressed in the season opener. Whatever the reason for the departure, the actor's presence is missed despite that character's arc and backstory feeling mostly fulfilled.
The loss of one character means more screen time for others and Mythic Quest's unsung secret weapon, David Hornsby as David Brittlesbee gets numerous moments to shine in Season 3. Hornsby is a riot as the needy, always on edge new boss of Mythic Quest. You can't help but root for the lovable loser while also cringing at every boneheaded thing he does and Hornsby is a master of keeping him likable, but very uncool. The story this season pairs David with the equally hilarious Jessie Ennis as the ever pushy sociopath Jo, who has an early standout character episode involving a hilarious co-worker brunch.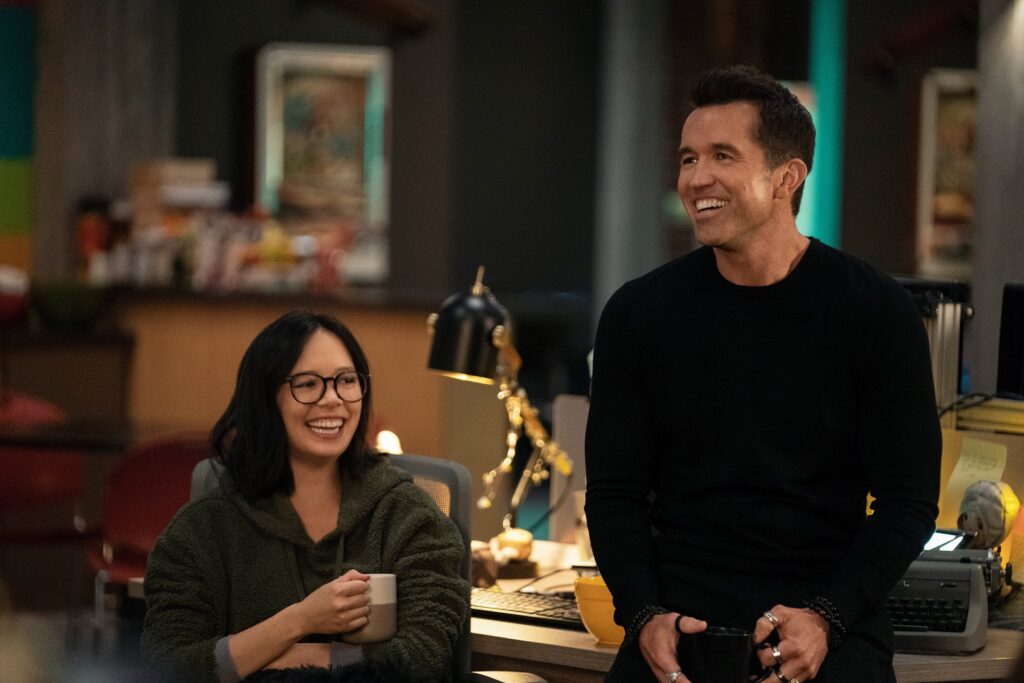 Danny Pudi as Brad and Ashly Burch as Rachel also get the pairing treatment for a good portion of the episodes, which really just proves the pairings in Season 3 are its strong point despite the cliche of separating our characters. Pudi is at his best in Mythic Quest when he's turning someone to the dark side and it's good fun to see Burch's lovably boisterous Rachel get manipulated by Brad.
Despite another season of strong cast performances all around, Mythic Quest does seem to be losing a bit of steam. The humor is well done as always, but still relies on the same type of bits for laughs: Poppy being manic, David being uncool, Jo being obliviously mean and awkward. Also, paring down the flashback episodes was probably the right choice, but the temporary episodic tone shift felt more like an obligation this season.
All of that doesn't mean that the series still isn't head and shoulders above almost any other comedy currently producing episodes. There is plenty in Season 3 to get excited about including an adorable holiday themed episode and the amusing and ultimately quite important multi-episode arc with guest star and certified nerd Joe Manganiello. Mythic Quest is still that little gem that deserves your attention and provides depth and heart to its ample laughs.
Score: 4 out 5
Mythic Quest's 10-episode third season will premiere with the first two episodes on Friday, November 11, followed by one new episode weekly through January 6, 2023.