When HBO's acclaimed Western drama Deadwood signed off in 2006 at the end of its third season, the cliffhanger ending seemed to promise plenty of bloodshed in the future for the residents of the bustling mining camp. Audiences had no reason to expect they had seen the last of Seth Bullock, Al Swearengen or the villainous George Hearst, but failed negotiations between the network and series creator David Milch led to the fourth season being shelved.
In the ensuing years, rumors swirled that Milch had inked a deal with HBO for a pair of two-hour films that would wrap up the series, but those plans never materialized and the notion of a proper send-off for Deadwood seemed like little more than wishful thinking. But despite moving on to other projects, fans and journalists alike never stopped asking former cast members about a possible return to the old west, and thirteen years later those wishes are finally being granted with the arrival of Deadwood: The Movie.
Ten years have passed since the events of the final season. Bullock (Timothy Olyphant) is a US Marshal with some new additions to the family, Trixie (Paula Malcomson) is expecting her first child with Sol (John Hawkes), and Al (Ian Mcshane) is battling liver disease, no doubt the result of a lifetime spent drinking heavily. When a celebration of South Dakota's statehood brings the ruthless George Hearst (Gerald McRaney) — now a US Senator — back to Deadwood, old wounds are reopened, forcing the residents of the town to reckon with their past, both for choices they made and decisions they elected to forego until it was too late.
It should be noted that Deadwood: The Movie is aimed squarely at fans of the series, and viewers lacking familiarity with the plot of the third season — particularly the final episode — are apt to find themselves lost amid a sea of references and allusions to the town's history with Hearst. Some of these key moments are revisited via flashbacks, a first for the series, but while these may help jog the memories of viewers that only vaguely recall the series' original run, they'll be of little help to newcomers.
The complexity of Milch's dialogue, much of it written in iambic pentameter, is alive and well in Deadwood: The Movie, and the film's inhabitants are every bit as profane and articulate as we remember. It should come as little surprise that McShane continues to hold the crown on both fronts, with the perfect balance of eloquence and vulgarity (it takes something truly special to make the word "cocksucker" sound so poetic) that helped define Al Swearengen as one of the greatest television characters ever created. While the effects of the illness have robbed Al of his imposing physical presence — indeed, McShane looks much more frail here than his recent appearance in John Wick 3 — his mind is as sharp as ever, and seeing the veteran actor slip back into his most iconic role is nothing short of beautiful.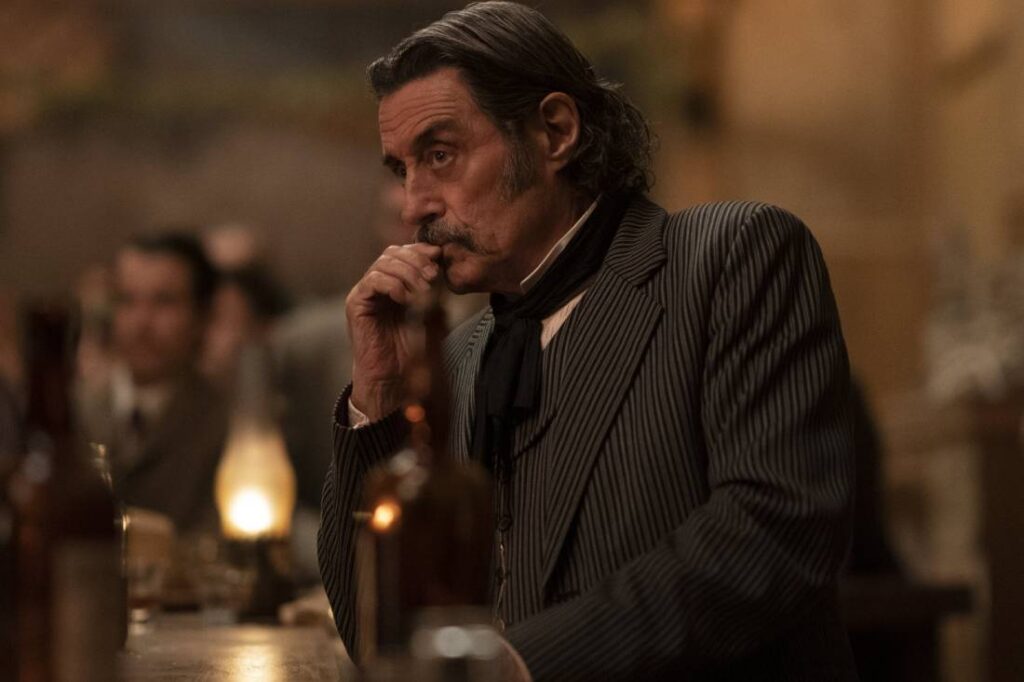 Not to be outdone, Olyphant is tremendous as the aging lawman Bullock, drawing a bit of inspiration from his six-year stint as Raylan Givens in another acclaimed series, Justified. The seething rage that always seemed in danger of boiling over may have subsided a bit, but Bullock still has no patience for bullies and no stomach for injustice, and the passage of time hasn't left him any less lethal with a firearm. Olyphant's best work comes during the inevitable confrontation with Hearst, a scene that ranks among the most tension-filled moments of the series, but he's also great in quieter moments shared with his wife (Anna Gunn) or Alma Garrett (Molly Parker).
Longtime fans will be glad to learn that a hefty portion of Deadwood: The Movie is devoted to Calamity Jane (Robin Weigert), returning to camp in hopes of rekindling a romance with Joanie Stubbs (Kim Dickens), who now operates the Bella Union. Expect plenty of other familiar faces to pop in, from scheming, schmoozing mayor E.B. Farnum (William Sanderson) to cordial gentleman Charlie Utter (Dayton Callie), although some folks are relegated to little more than glorified cameos. With only 110 minutes to bring some semblance of closure, not everyone gets an opportunity to shine, but that doesn't mean we aren't happy to see them one last time.
While it may not be a perfect substitute for the fourth season that Milch had originally envisioned, Deadwood: The Movie nevertheless manages to feel like a natural evolution for the characters and the world that we fell in love with more than a decade ago. It's a fascinating study on the passage of time and how no one is immune to its effects, despite our best efforts to keep it at bay. Perhaps no one sums it up better than Al himself, in the final spoken words of the film, which I'll allow you to experience for yourself.