Denis Villeneuve's most ambitious project to date finds the director shepherding Frank Herbert's impossibly dense sci-fi novel Dune to the big screen. It's a daunting task, considering the novel's nigh-impenetrable combination of politics, technology, religion and colonialism, and previous failed attempts at wresting the material into a coherent adaptation — Alejandro Jodorowsky's infamous 1970s endeavor that fell apart in preproduction and a much maligned (although completed) 1984 version by David Lynch — have earned the novel a reputation of being "unfilmable." Presented here as the first part of a longer saga, Villeneuve's approach is far and away the most cinematic version of Herbert's work, but whether he has found success where his predecessors did not is a question whose answer hinges largely on a follow-up film that doesn't yet exist.
Dune wastes little time setting the table, mostly because there's a massive amount of information to convey, and it would be forgivable to find oneself overwhelmed by the various names, locations and titles swirling about. Here are the basics: after nearly a century of controlling Arrakis and its rich deposits of mind-altering, life-sustaining spice, House Harkonnen has been ordered to vacate the desert planet and turn control over to Duke Leto (Oscar Isaac) of House Atreides, who arrives to assume control of the mining operations with his concubine, Lady Jessica (Rebecca Ferguson), and teenage son Paul (Timothée Chalamet). Leto harbors suspicions about the motive behind the sudden change in leadership, as does stone-faced warmaster Gurney Halleck (Josh Brolin), but the promise of untold riches and an opportunity to advance the standing of House Atreides while charting a legacy for Paul to carry onward are too attractive to ignore.
Paul's mixed feelings about his role in that legacy, his ties to the shadowy order of the Bene Gesserit to which his mother belongs, and recurring visions of the blue-eyed indigenous Fremen — with whom Leto hopes to broker a peace after decades of their tribes being ground under the heels of House Harkonnen — have saddled the young heir with plenty to fret over. Paul may have been deemed the future of House Atreides, but he suspects his path might lead elsewhere, and that's before the grotesque Baron Harkonnen (Stellan Skarsgard) dispatches legions upon legions of vicious fighters to exterminate his rivals.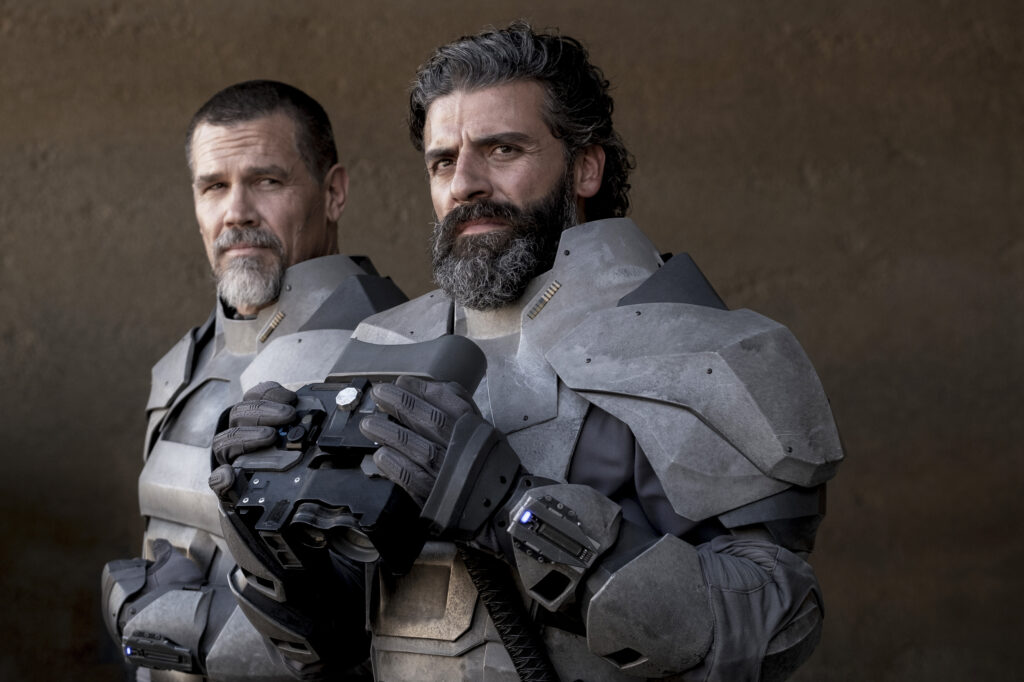 Villeneuve's past sci-fi works Arrival and Blade Runner 2049 were marked by stunning visuals, but those films pale in comparison to the immensity of Patrice Vermette's staggering production design. Everything about Dune feels enormous, from its sprawling desert vistas to its cavernous strongholds to the gargantuan sandworms that prowl beneath the surface of Arrakis, capable of swallowing mountainous harvesting machinery in a single gulp; a desperate attempt to flee one of these colossal beasts around the one-hour mark is one of the film's most exhilarating sequences. In fact, the bulk of the onscreen action is riveting, but these moments arrive far too infrequently, with a significant portion of the film's hefty running time devoted to exposition.
That said, the numerous information dumps go down a bit easier when they're delivered by a gifted cast that includes Charlotte Rampling as a high ranking member of the Bene Gesserit, Javier Bardem as the gruff, skeptical leader of a Fremen tribe, and Jason Momoa as the charismatic fighter (and Paul's BFF) Duncan Idaho. Curiously, despite being featured heavily in the film's promotional campaign, Zendaya is given almost nothing to do as Fremen warrior Chani, aside from delivering an early voiceover and appearing in Paul's possibly prophetic visions. She doesn't cross paths with any of the other primary characters until the final 20 minutes, and even then her biggest contribution is to tell Paul (and the audience) "this is only the beginning."
And therein lies the biggest problem with Dune: regardless of its visual splendor, grandiose sense of scale, and impressive cast, the experience feels incomplete and somewhat hollow by virtue of only being half a movie. The film stops on a dime just when it finally seems to be gaining momentum, and due to a complicated series of behind-the-scenes decisions made during the throes of a worldwide pandemic, the future of Dune remains up in the air. If given the opportunity to see his vision through to completion, Villeneuve might very well deliver one of the most magnificent science fictions epics of all time, but if not? Well, at least this one is incredible to look at, if not quite satisfying. Dune succeeds in leaving the audience thirsting for more, but much like the conflicted protagonist at its center, the film's legacy will be defined by where the path leads next.