Theatrical distribution may have come to a screeching halt due to the COVD-19 pandemic, but that doesn't mean film enthusiasts are left without options. Indeed, new releases are still hitting the various streaming services, and this week's highlight is the Chris Hemsworth vehicle Extraction, available today on Netflix.
Best known for his portrayal of Thor in the Marvel Cinematic Universe, Hemsworth dials back the humor and ratchets up the intensity as Tyler Rake, a brooding black-market mercenary addicted to alcohol and Oxycontin, and haunted by visions of his old life. Described as "a man who does this sort of thing," Tyler is tapped to rescue Ovi (Rudhraksh Jaiswal), the teenage son of a drug kingpin kidnapped by his father's rival Amir (Priyanshu Painyuli), who rules the Bangladesh city of Dhaka with a fearsome grip. He's the kind of guy who throws neighborhood children from rooftops when they're suspected of theft, or demands that his followers prove their loyalty by slicing off two of their fingers. "I recommend the left hand," he says helpfully. "So you can still hold a gun."
As if getting the boy safely out of a city where corruption lurks around every corner weren't already difficult, Tyler's mission is further complicated by Saju (Randeep Hooda), a former military operative and bodyguard to Ovi's father, who's also trying to retrieve the boy — lest his own family be put in jeopardy. The plot is admittedly a bit overstuffed, and that's before yet another pivotal character — portrayed by a well-known Netflix series alum — is introduced around the halfway mark.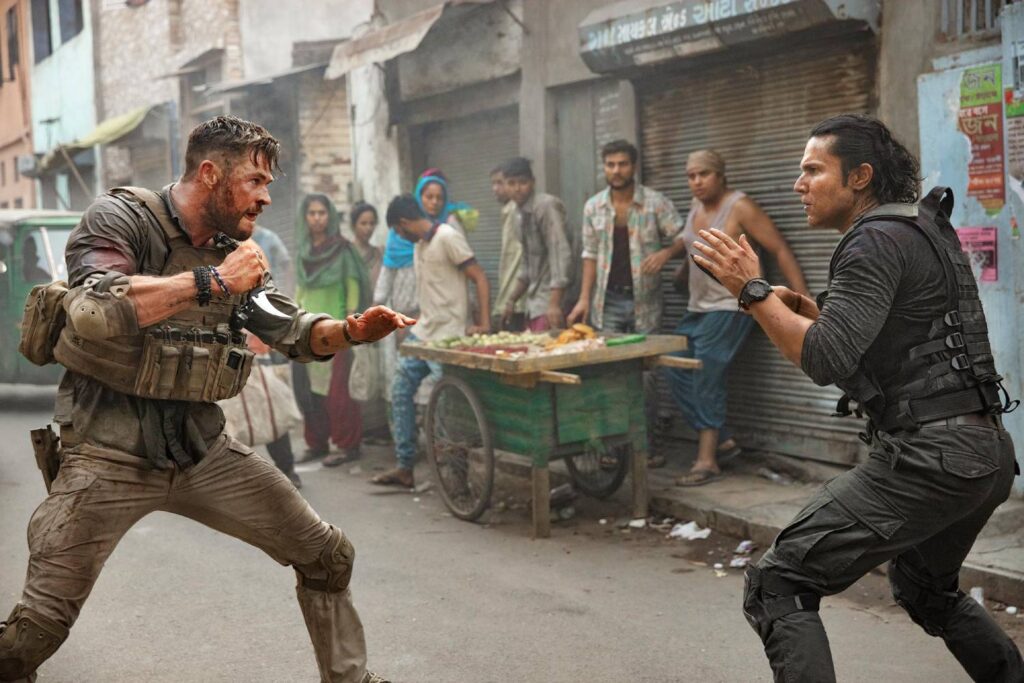 That being said, Extraction isn't really the sort of film you watch for its narrative, and when the action kicks off, it's easy to dismiss some of its contrivances. The film's centerpiece is a spectacularly staged car chase through the crowded streets and alleyways of Dhaka that morphs into a pursuit through a housing complex and across rooftops, before culminating in a brutal hand-to-hand fight — all presented as a single, unbroken 12-minute take. It's a truly stunning sequence with an undeniable "how the hell did they do that" vibe, and well worth multiple viewings on its own, but unfortunately the rest of the film never comes close to this level of excitement.
Director Sam Hargrave, who cut his teeth as stunt coordinator on numerous Marvel films with the Russo brothers at the helm, clearly relishes breaking free of the PG-13 confines of superhero fare. From extravagant apartment building shootouts to visceral brawls where our hero cheekily rams someone's face into the head of a rake, Extraction isn't lacking in the blood and bullets department, and Hemsworth holds his own as a different sort of superhuman entity, the kind of ultra-macho, near-invincible hero that populated the action films of yesteryear. He doesn't quite have the magnetism that Keanu Reeves exudes in the John Wick films — nor does Hargrave's film have that series' appreciation for (and commitment to) rampant absurdity — but if you need a quick action fix while quarantining, Extraction will do the job nicely.