Life after death via digital consciousness is a common theme in sci-fi storytelling, and Emmy-Award winning writer Greg Daniels (The Office, Parks and Recreation) is bringing his own unique voice to the idea in Amazon Prime Video's new sci-fi comedy series Upload. Ironically, the series struggles with some identity issues, never settling on a distinct overall tone, but manages to still remain a short, mostly enjoyable binge watch.
Robbie Amell (The Flash, Code 8) stars as Nathan Brown, a newly uploaded mind to the virtual afterlife server Lakeview, after a fatal accident with a self driving car. There he meets his customer service "Angel," Nora Anthony (Andy Allo), real world employee of Horizen, assigned to virtually help him acclimate to his new rustic, digital resort living. The two develop a quick friendship that leads to romantic chemistry and as their relationship progresses, they realize there might be more to Nathan's death in the real world. All the while, they have to circumvent the crazy characters and weird glitches of Lakeview itself.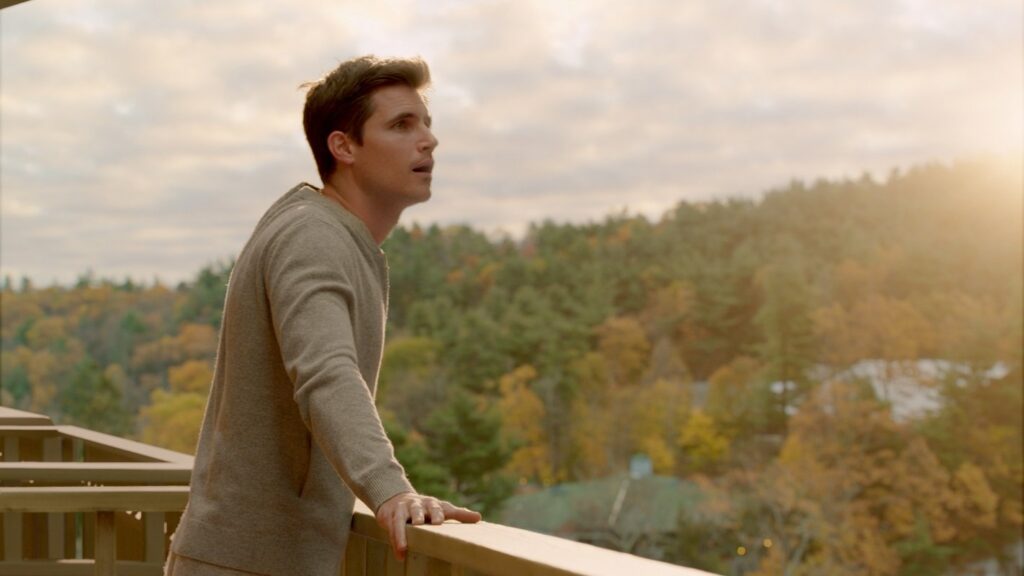 Upload is part romantic comedy, part technology satire, and all of the plot of Black Mirror's Emmy-Award winning episode San Junipero — and these pieces don't always play well together here. Amazon Prime Video provided the entire 10-episode run of the first season, which starts and ends surprisingly bleak for a "comedy" — especially one from Greg Daniels.
As the episodes begin to settle in after a rather humorless opener, the show does mercifully veer more comedic with wacky side characters getting focus, like Nathan's golden-retriever-of-a-sidekick, Lakeview resident Luke (Kevin Bigley) or Nora's sassy real world co-worker Allesha (Zainab Johnson). Both actors are fun to watch and bring the energy level up in every scene, which is sorely needed when the scales tip too hard to the romance or the more dramatic death mystery.
Nathan's real world girlfriend Ingrid (Allegra Edwards) is a great example of where Upload goes wrong. Each episode sees eyebrow-raising personality and motivation shifts for Ingrid that make little sense and range from silly to sad to deranged, all going against what had previously been established for character. Edwards is cute in the role, but Ingrid as a character is never consistent and bafflingly changes in each episode to suit the individual story's need.
Despite its shortcomings, Upload still has a lot to offer. Amell has come a long way since his supporting days on The Flash and displays real leading man charm as Nathan. I also found myself fascinated by the wildly inventive (yet within reach) tech advancements in this world, including the extremely satisfying wrist phone technology or being able to control your smart car with a USB cable and a gaming controller. Additionally, there are plenty of great smaller characters in both the real and virtual worlds, like the Lakeview bellhop AI (Owen Daniels), that flesh out this near future and provide some of the most true comedic moments.
Frustratingly, Upload lacks consistent returns on those true laugh-out-loud moments and has a surprisingly more somber tone underlying the series than expected. These tonal jumps throughout are disrupting and take away from the overall enjoyment factor within what is some extremely fun worldbuilding from Daniels and the vibrant cast. The cliffhanger ending that surely will frustrate binging audiences, hopefully means a potential second season has time to adjust and smooth this one's rough edges.
Score: 3 out of 5
Upload debuts exclusively on Amazon Prime Video on Friday, May 1st.