From the mind of DC Comics guru Geoff Johns, DC's Stargirl will be hitting the DC Universe streaming service soon (shortly thereafter, also on The CW) and is not to be confused with Disney+'s non-related Stargirl film. No, the one true Stargirl follows high school sophomore, Courtney Whitmore (Brec Bassinger), as she is forced to leave California with her family for Blue Valley, Nebraska after her mother gets remarried to new guy Pat Dugan (Luke Wilson). Dugan has a surprising history that comes to light and leads Courtney down a heroic path to take up a sacred mantle, while fulfilling her destiny to form a group of young heroes to confront a team of dangerous super-villains from years gone by.
Warner Bros. TV provided us with the first three episodes of DC's Stargirl and they have a solid superhero adventure for the whole family on their hands, anchored by a lovably endearing supporting performance by Luke Wilson. Not taking away from Bassinger's debut as Courtney Whitmore (the titular Stargirl), because she certainly has the chops for the lead role. Early episodes do have Courtney portrayed with some forgivable, but still annoying teenager tropes like angsty attitude towards the affable Pat and her mom Barbara (Amy Smart) leaving a bit of a bad first impression.
Bassinger can only work with what she's given, and thankfully the actress embodies the Courtney Whitmore from the source material more often than not, showing her sweet and fun side away from those irritable family moments. But what's really cool is the choreography used whenever Stargirl uses the Cosmic Staff and how it incorporates the character's gymnastics background. The staff will freeze and release in the air allowing her to swing and somersault into really neat and colorful attack moves — its an extremely cool mechanic and unlike anything seen before in any previous live action superhero incarnations.
But let's face it, the heart and soul of the early episodes still clearly is Luke Wilson's "golly shucks" portrayal of the original Starman's (Joel McHale) grown-up ex-sidekick. Dugan acts as mentor and father figure to Courtney and the actor has made a career playing earnest, slightly aloof leading men, but never has it fit better than in this comic book setting with this particular role.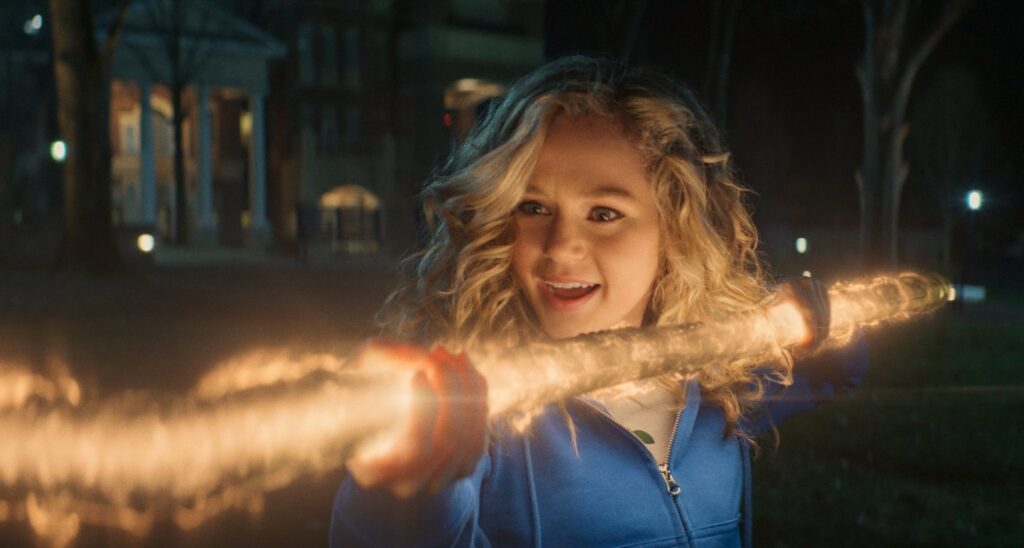 DC's Stargirl's overall presentation is one of its stronger assets as well. The series enjoys an obviously increased budget that appears to land closer to the high quality of DC Universe's Titans and Doom Patrol than the lower network TV tier provided to the CW's Arrow-verse catalog. Everything has a very cinematic feel with wide screen framing, including quite a bit of on location filming rather than relying on the usual sets or Vancouver backdrops. Hopefully the wide screen presentation sticks around for the CW airings, but the network has noted that DC Universe premiere will be "slightly different" from the CW's which will also be edited for time. The budget also clearly went to visual effects like the Cosmic Staff as well as an early, insanely fun flashback sequence with the Justice Society of America that looks great for a television series budget, adding to the legitimacy of the whole series.
DC's Stargirl also starts out with a rogues gallery of adversaries with the Injustice Society of America, bringing with it a whole mess more of Golden Age goodness for comic book fans to swoon over. Christopher James Baker is a creepy, calm threat as Brainwave, the main antagonist in the early episodes, while Neil Jackson's Icicle seems to be positioned as the cold, yet emotionally motivated big bad for the season. There are fun surprise appearances or references to tons of characters from both the villains crew as well as the beloved hero team to keep audiences geeking out.
There's something nostalgic and purely fun about DC's Stargirl that makes it nearly irresistible. The series has a reverence and love for a simpler time, yet still firmly plants itself in the modern with a similar, but more guarded sense of optimism. Origin story cliches are still present, there are some definite over-used family/teenage angst drama to boot, but the series never seems to let them overtake the wider story. The series is unquestionably the lightest and most fun live-action series on the DC Universe streaming service and immediately carves its own corner apart from the rest of the Arrow-verse on the CW — not to mention just being a wide-eyed family friendly super adventure on its own that seems from another, more hopeful time.
Score: 3.5 out of 5
DC Universe's DC's Stargirl will premiere on Monday, May 18, in advance of The CW broadcast on Tuesday, May 19.