Guardians of the Galaxy Vol. 3 is the end of the line for this beloved iteration of the MCU's cosmic team of misfits. It also serves as the final Marvel project from writer/director James Gunn, whom Warner Bros. hired to spearhead their new rebooted DC Comics film continuity. Naturally, the pressure is stacked for Gunn to leave on a high note, but while the main characters end up in satisfying places, the road to get there is uneven and too emotionally manipulative for its own good.
Following the events of Avengers: Endgame and The Guardians of the Galaxy Holiday Special, the Guardians crew of Peter Quill (Chris Pratt), Drax (Dave Bautista), Rocket (Bradley Cooper), Groot (Vin Diesel), Mantis (Pom Klementieff), Nebula (Karen Gillan) and Kraglin (Sean Gunn) have established a home base of operations on the disembodied celestial head known as "Knowhere." After a devastating sneak attack by the massively powered newcomer Adam Warlock (Will Poulter), the team is left reeling and on a course that digs up one member's past and will change the course of all their futures.
It's clear from the start that things are going to be different this time out, when the now iconic Guardians opening montage choice is a moody, slower sequence focusing on Rocket as opposed to the upbeat action and toe-tapping songs from the previous films. From here on out the film diverges into two distinct sections: a very goofy, humor-filled Macguffin quest taken by the main team and an extremely dark, almost always hard to watch flashback storyline revealing Rocket's tragic origin. The vibe is noticeably weird as the narrative hops back and forth and the jokes fall flat as many times as they hit, a direct result of witnessing consistent animal abuse themes in the flashbacks moments before.
Tragedy is no stranger to these films, but I think what worsened the experience for me in Vol. 3, was the drawn out nature of its storytelling this time. The original Guardians of the Galaxy had the heart-wrenching opener with the death of Peter's mom, Vol. 2 had Yondu's death alongside the stunning reveal that Peter's father was responsible for her death and countless others, but those were all contained, for the most part, to one scene. Every time Vol. 3 starts to get the adventure or comedic elements rolling, we're yanked back to scenes full of animal torture and impending doom due to the looming, inevitable traumatic ending (despite a lining of hope sprinkled around it).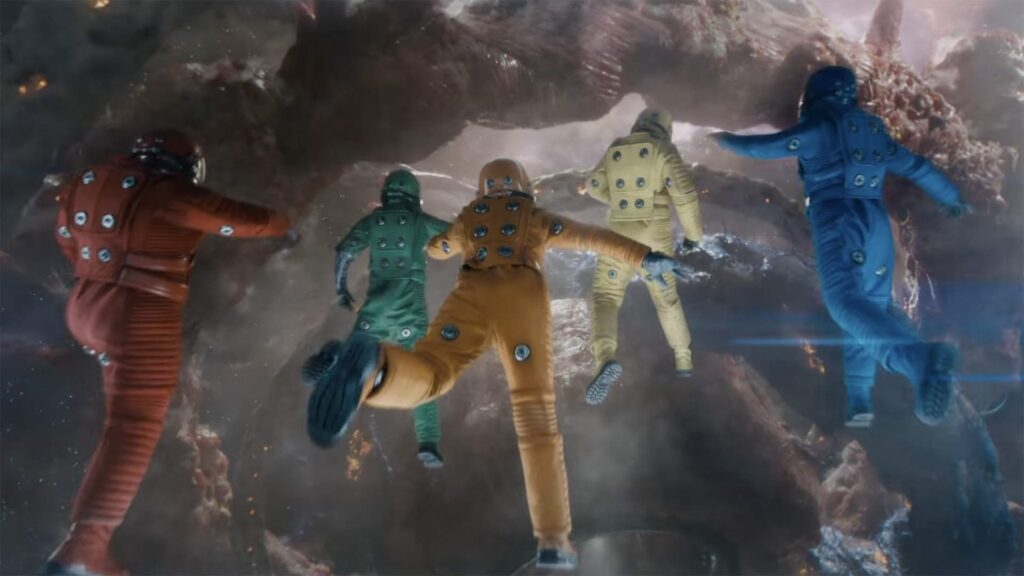 Judging by a lot of early opinions (including my partner in crime Brent), these unsettling moments aren't a deal breaker for some, but my affinity towards real life furry friends made it hard for me to shake these experiences and switch instantaneously being able to laugh at fart jokes. Thankfully, once the grim Rocket Raccoon origin wraps up and our little gun-loving maniac is no longer sidelined, Guardians of Galaxy Vol. 3 cranks it to 11 to stick the landing for the final act. James Gunn delivers a cathartic, well-thought ending for all, leaving each and every character with a great landing spot that feels right as both an ending and a bridge to more if needed.
The cast also deserves a lot of praise for turning in strong performances from top to bottom and leaving it all out on the field. Shifting the emotional focus from Peter to Rocket also gave Pratt's Star-Lord some much needed time as a good leader and an even better friend after some questionable behavior from the character in past films. Relatively new characters like the aforementioned Adam Warlock, and the returning Cosmo (Maria Bakalova) from the Holiday Special are enjoyable additions as comedic relief, but mostly underutilized in an already overstuffed film.
The soundtrack, once again, is bangin' with a catalog spanning from the 70s to 2000s, although probably goes to the montage well one too many times. For anyone looking for a vibe check, Guardians of Galaxy Vol. 3 has more in common with Vol. 2 than Vol. 1. Regardless, whether or not the darker elements bring down the experience for you, it's wonderful to see these previously obscure characters, turned beloved Marvel Cinematic Universe heroes, get a final journey together that ends with a gratifying ride off into the galactic sunset for the whole squad after the rocky road to get there.
Score: 3 out 5