After reaching the pinnacle of success with the release of Avengers: Endgame, Marvel Studios has struggled to find steady footing in a post-Thanos world. Sequels like Thor: Love and Thunder and Ant-Man and The Wasp: Quantumania failed to recapture the spark of their predecessors, while the constraints of the MCU formula proved a less-than-ideal working environment for visionary directors such as Sam Raimi (Doctor Strange in the Multiverse of Madness) and Chloe Zhao (Eternals). Of the studio's six worst-reviewed films (as aggregated by Rotten Tomatoes), three have been released in the last 12 months, a statistic that doesn't inspire much confidence for the future of the Marvel Cinematic Universe.
But out there among the stars, a beloved group of ragtag heroes — and the director that turned them from obscure comic book creations to household names — are back for one final adventure. Mercifully removed from the constant table-setting and world-building that has pervaded recent Marvel projects, Guardians of the Galaxy Vol. 3 is a swan song; not just for Gunn, who will spend the next few years charting the course for Warner Bros.' complete overhaul of their DC Comics adaptations, but for the intergalactic protectors themselves, whose future beyond this third installment remains uncertain.
While the legendary Star-Lord Peter Quill (Chris Pratt) drinks himself into a stupor on a daily basis as he pines for Gamora (Zoe Saldana), and Rocket (Bradley Cooper) is tormented by memories of his life before joining the Guardians, the rest of the team are focused on establishing a semi-permanent base of operations on Knowhere. But an unresolved grudge with the Sovereign leaves the team vulnerable to attack from their newest weapon: Adam Warlock (Will Poulton), an immensely powerful creation who systematically dismantles the Guardians and leaves one of them clinging to life. Their quest to save one of their own sends them to the farthest reaches of the known galaxy, where a despot known as The High Evolutionary (Chukwudi Iwuji) fancies himself a god, and may be linked to a past Rocket has long tried to forget.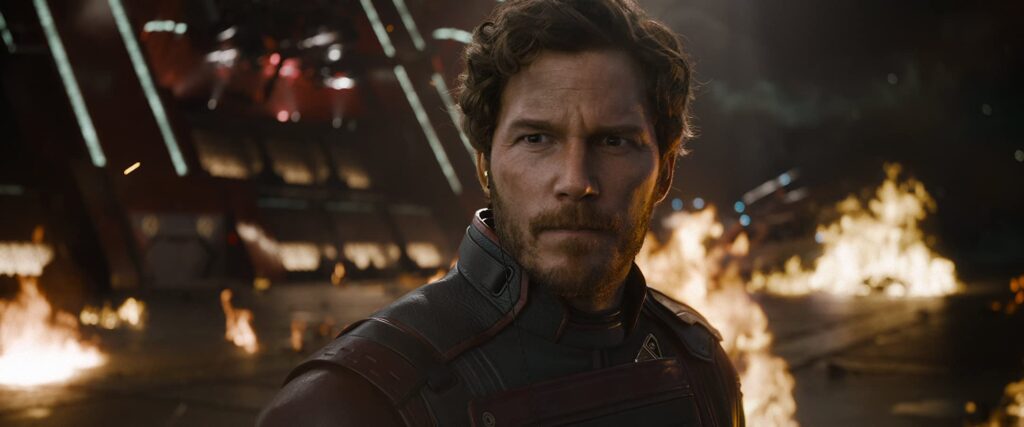 The violent, foul-tempered rodent has always been the heart of the team, and it's only fitting that so much of Guardians of the Galaxy Vol. 3 is centered on him. Flashbacks to dimly lit laboratories and horrific animal experiments fill in the blanks of Rocket's origin, and these sequences will likely be very uncomfortable for some audience members (including our own Kyle Wilson). Gunn doesn't shy away from showcasing the brutality visited upon Rocket and his fellow test subjects, but as grotesque as the imagery may be, it never feels gratuitous; on the contrary, understanding the impact of these formative events is the key to understanding who Rocket truly is, both for the audience and for the rest of the Guardians. Not that they (and we) don't already love the little guy, but Gunn leverages these tragic circumstances to elicit some of the most heart-wrenching and emotionally affecting moments in any film from the MCU's ever-growing library. As for Iwuji, with whom Gunn worked previously on Peacemaker, he may not be the most compelling Marvel villain, but his portrayal makes him arguably the most despicable and the easiest to hate, so that counts for something.
Of course, being a Guardians of the Galaxy film there's still plenty of room for humor, and Gunn's signature brand of comedy is polished to perfection here. The unlikely duo of Mantis (Pom Klementieff) and Drax (Dave Bautista) has never been funnier, and Karen Gillan's permanent state of exasperation as Nebula tries to keep the team focused on the mission at hand is a reliable source of laughs. There's also a tragicomic quality to Peter's repeated attempts to ingratiate himself with Gamora, who — having been spirited out of a different timeline — has no emotional connection to the team and regards most of them as incompetent idiots; it's a fun twist that adds a fresh dynamic, and allows Saldana to showcase more range than previous outings. And I would be remiss if I didn't mention Maria Bakalova (Borat Subsequent Moviefilm), whose voiceover work as Cosmo the Space Dog is one of the film's highlights.
As with Gunn's previous MCU outings, Guardians of the Galaxy Vol. 3 looks and sounds fantastic; there are few directors more adept at choosing pitch perfect needle drops, and Gunn's flair for outlandish character and environment design that's equal parts goofy and gross is on full display here. It should go without saying that the film also boasts some of the better action sequences in recent MCU memory, a feat accomplished first and foremost by ensuring the audience can actually see what the hell is going on. But underneath all of the window dressing and blockbuster trappings lies Gunn's secret weapon: a heart-on-the-sleeve earnestness and a deep affection for these characters, which shines through in nearly every scene, but particularly in the final moments as we ponder when — or if — we'll see the Guardians again. Regardless of what happens next, this weird little corner of the MCU won't be the same without Gunn, but at least he went out in a blaze of glory with the best Marvel film since Endgame.