Jackass Forever is a movie that probably shouldn't even exist. The last feature-length film starring Johnny Knoxville and his merry band of injury prone pals was released more than a decade ago, and the cinematic landscape has changed so drastically that one might reasonably assume watching a group of middle-aged dudes engage in absurdly dangerous and disgusting stunts has long since lost its appeal. But this film, which Knoxville has promised will be his last contribution to the franchise, hearkens back to a simpler time when moviegoers could set aside their differing opinions to unite in the collective joy of watching someone get kicked in the nuts.
Joining Knoxville for this curtain call are longtime cast members Steve-O, Jason "Wee Man" Acuña, Chris Pontius, Dave England, "Danger" Ehren McGhehey and Preston Lacy, along with series creator Jeff Tremaine. The crew may have aged notably since their last time onscreen, but there's still a youthful exuberance in their willingness to subject themselves (and each other) to pain and humiliation for the sake of a laugh. Some of the film's best moments are borne not from the ridiculously elaborate setups, which are arguably some of the franchise's most inventive yet, but from the moments between gags where the guys goof off behind the camera, playing pranks on each other or reacting to whatever obscenity they've just witnessed.
Jackass Forever also features some new additions to the roster, presumably because the executives at Paramount need someone to carry the series forward when Knoxville and his crew hang up their spurs. Sean "Poopies" McInerney, Jasper Dolphin, Zach Holmes, Eric Manaka and Rachel Wolfson — the first female regular cast member in franchise history — are all welcome additions to the team, each getting their moment in the spotlight (Wolfson's "Scorpion Botox" stunt is especially gnarly).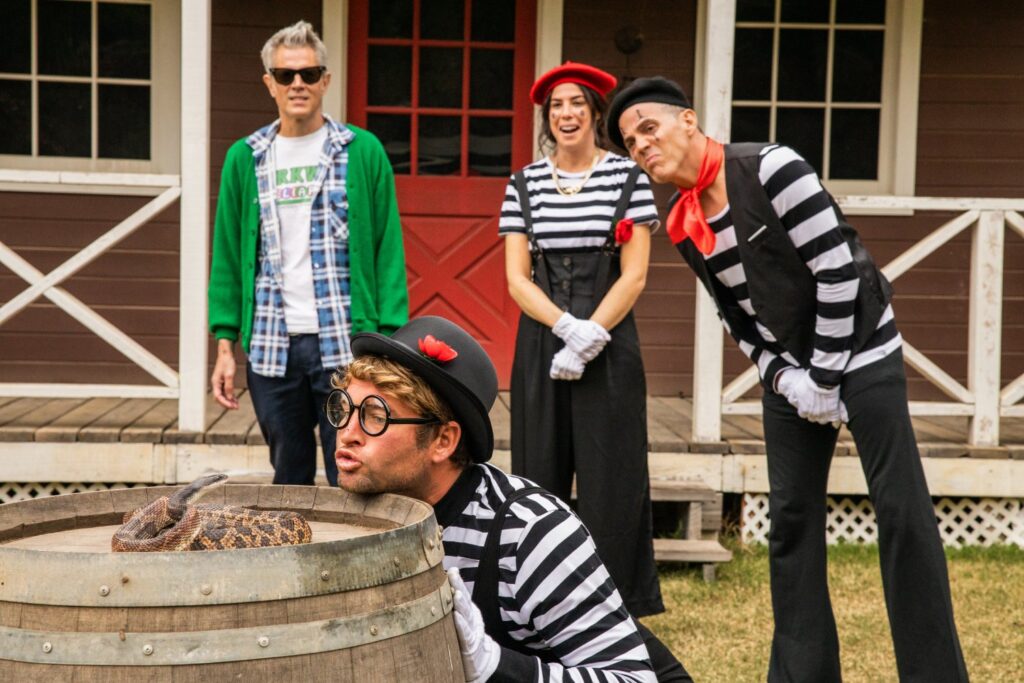 Previous franchise entries boasted their share of nudity, but Jackass Forever seems hell bent on setting a record for the most amount of screen time afforded to male genitalia; Pontius and Steve-O in particular have their "equipment" featured prominently in multiple sequences, including the film's hilariously vulgar Godzilla-inspired opening, and an especially nerve-wracking visit to a beekeeper. Advances in digital filmmaking ensure these appendages are presented in painstaking detail, and the Jackass crew's ability to find new and creative ways to highlight and/or brutalize each other's genitals should be celebrated both for its creativity and its hilarity.
Knoxville, rarely seen without an impish grin, serves more as a puppet master this time around, opting to orchestrate much of the action without participating. This also affords him the ability to repeatedly turn the tables on his castmates, preparing them for a scripted gag only to subject them to some fresh new unforeseen hell. Nowhere is this illustrated better than during a lengthy sequence dubbed "The Silence of the Lambs," the details of which I'll not spoil here; suffice to say I laughed so hard I nearly passed out.
Like its predecessors, Jackass Forever is a very specific sort of film, made with very specific sensibilities in mind; if you weren't a fan of previous installments, nothing about this last hurrah will change your mind. But for those of us who have fond memories of the phrase "Hi, I'm Johnny Knoxville, welcome to Jackass!" the film is a welcome bit of comic therapy, a perfect slice of escapism where grown men — many well past their prime — can find camaraderie and brotherhood amid all the broken bones, missing teeth, concussions and animal semen.