Much in the way Quentin Tarantino's Once Upon a Time…in Hollywood hearkened back to the Los Angeles of yesteryear, director Edgar Wright's new psychological thriller Last Night in Soho pays homage to London in the swinging '60s. It's an era that aspiring fashion designer Eloise (Thomasin McKenzie) has long been fascinated with, thanks largely in part to the stories passed down by affectionate, kind-hearted grandmother Peggy (Rita Tushingham), who stepped in to raise Ellie after her schizophrenic mother took her own life.
Armed with a love of '60s fashion and a particular fondness for the sounds of recording artists like Cilla Black and Petula Clark (played only on vinyl, of course), Ellie is off to the London College of Fashion to pursue her dreams. But when the cruelty of self-centered roommate Jocasta (Synnøve Karlsen) and her legion of followers proves too much, Ellie rents an upstairs bedroom from Ms. Collins (Diana Rigg in her final onscreen role), finding comfort in the warm glow of the neon sign above the French bistro next door, even while her grouchy new landlady complains the arrival of the restaurant has left the entire building smelling of garlic.
It's in this sparsely decorated room where Ellie begins to experience visions of Sandie (Anya Taylor-Joy), a confident young woman who came to London in the mid-sixties with dreams of headlining the Café de Paris, and who might have lived in the very same flat Ellie now inhabits. Wright employs a number of visual flourishes in these dream sequences; a scene where Sandie descends a spiral staircase while half a dozen images of Ellie are reflected on the mirrored wall behind her is quite arresting, and when handsome "talent agent" Jack (Matt Smith) invites Sandie to dance, she and Ellie swap places multiple times as the camera spins and twirls around them. It's both dazzling and disorienting, and those sensations pair nicely with Ellie's mindset as she becomes obsessed with her dreamland counterpart, changing her appearance to mirror Sandie's hairstyle and trying to replicate her pink chiffon dress as part of a fashion school project.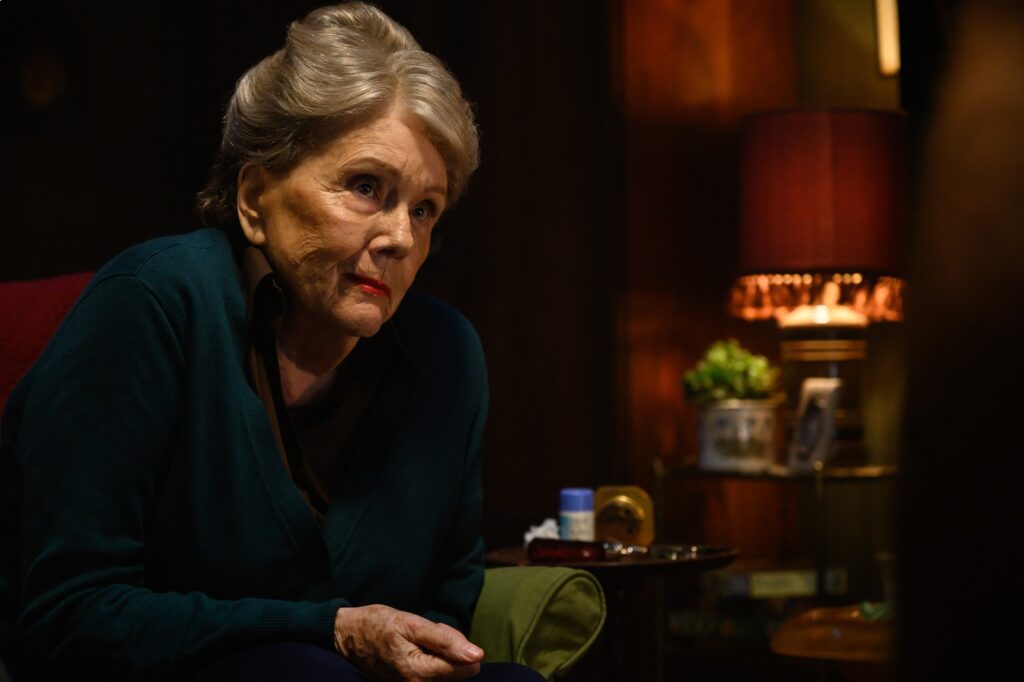 But the more time Ellie spends visiting '60s-era London in her sleep, the more she begins to take notice of cracks in the facade, and the surface-level glitz and glamour crumbles to reveal a sinister, seedy underbelly. Soon, the nightly excursions begin to bleed over into Ellie's waking hours, and she finds herself plagued with violent, grisly images and menacing specters that lurk in the shadows. Are these symptoms of the same mental illness that plagued the life of her mother, or is there something supernatural at work? These answers are best left discovered on your own.
McKenzie, superb in 2019's Jojo Rabbit and also slated to appear in Netflix's buzzworthy award season entry The Power of the Dog, continues to exhibit incredible talent and range, and Last Night in Soho proves her more than capable of shouldering the bulk of a film's emotional energy. As for the alluring phantom populating Ellie's dreams, Taylor-Joy is spectacularly haunting as she evolves from starry-eyed wannabe songstress to someone much more jaded and disillusioned. Her elegant, melancholy performance of Petula Clark's "Downtown" during an audition for Jack and a fellow promoter — heavily featured in the film's marketing campaign — makes a substantial impression, and will likely worm its way into your subconscious for several days after hearing it.
There are few filmmakers more adept than Wright at leveraging music as a storytelling device, and Last Night in Soho features a number of pitch-perfect needle drops that evoke the time period, complemented by superb production design from Marcus Rowland. Wright's casting choices — Terence Stamp as an aging patron who frequents the pub where Ellie bartends, along with the aforementioned Tushingham and Rigg — also serve as a clever nod to a long-vanished London, and Wright's affection is on display throughout the film's running time, which clocks in just short of two hours. Soho arrives just months after the release of Wright's passion project documentary The Sparks Brothers, and nearly two decades into his feature film career, it's encouraging to see him continue to experiment with new genres and storytelling devices, especially when the results are this enjoyable.