Boasting a roster introducing the most new superhero characters ever in the same MCU movie, Eternals from director Chloé Zhao (Nomadland) is truly an experiment in testing the patience of Marvel Studios' well-earned and passionate fanbase. While sometimes when Marvel gets out of its comfort zone, audiences enjoy gems like Guardians of the Galaxy, this time the results are far less successful and quite frankly disappointing due to the talent and potential involved in the project.
Since the beginning of time, Earth has been protected by a super-team from the stars, all imbued with incredible skills and power by a Celestial god. After the threat to our planet from the horrible creatures called Deviants seems to have passed, the Eternals separated and found new lives here on Earth while watching and helping humanity grow. When the Deviants unexpectedly return in the present, the Eternals must reunite and battle their own personal histories if they are to save the planet.
To say Eternals is a lot would be an understatement. The film is packed to the brim with characters that have very little brand recognition while being tasked with not only introducing the audience to each new character and their power sets, but establishing a massive cosmic plotline. The ideas are lofty and interesting, but the film has to move so fast it barely gives any time to digest the massive amounts of exposition that it keeps throwing at the audience for what feels like an eternity of prologue until the actual present-day story begins.
While it's refreshing that this enormous ensemble cast is full of diverse and unexpected choices for superheroes, the talent gets lost in waves of mediocre-to-bad CG action sequences and nonsense. Angelina Jolie is the biggest name of the film, seemingly just appearing to cash a big paycheck and strike cool fight poses as Thena, the warrior that inspired the mythological Athena. Game of Thrones alum Richard Madden also does his best Superman impression as Ikaris, but audiences have already seen a volatile, conflicted Man of Steel and they weren't very receptive.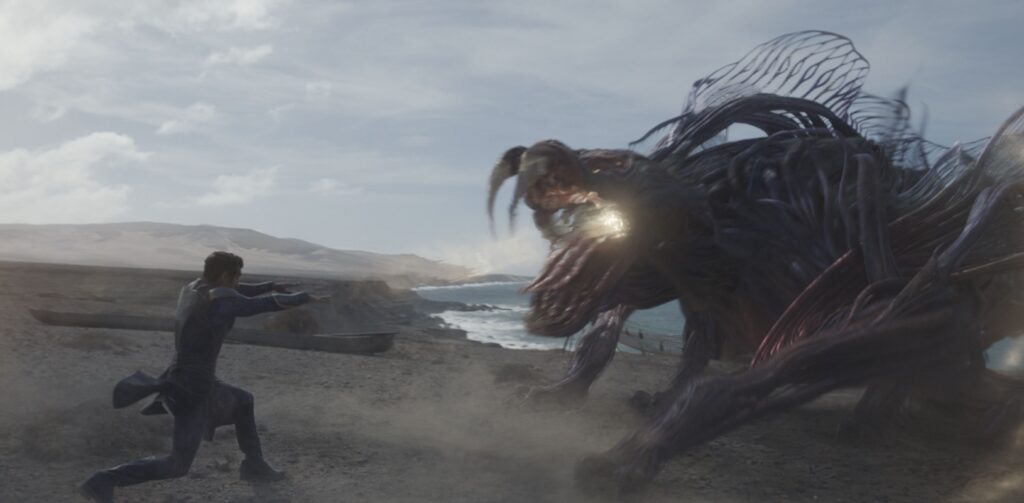 Eternals also tries to inject far too much comedy in order to convey the idea to "not take things so seriously," but then turns around and asks the audience to take things seriously, effectively undermining the tone of the movie. Also, the jokes fall on their face more often than not with corny puns and Dad jokes. Even with very talented comedic actors like Kumail Nanjiani and Bryan Tyree Henry in the main cast, they can't salvage much of the early attempts at humor. To be fair, the humorous elements improve in the back half of the film, but at that point the film has already lost any comedic credibility.
Many fans and critics have fairly compared Eternals to Marvel's endeavor at making a DC movie, and they're not wrong. Apparently neither studio has figured out the right formula, since this film fails in the same ways both versions of WB's Justice League movies were taken to task for including the aforementioned overuse of CG and lack of a compelling villain. The generic sci-fi designed Deviants are not interesting antagonists and even the eventual big bad revelation that comes in the last act are all fairly obvious and one-note. On top of that, the script tries to squeeze poor Kit Harington into a supporting role that is really just a glorified cameo, setting up yet another obscure Marvel B-list hero.
Everything leads up to a convoluted, bizarre finale that is heavy on CG action and light on logic. The scale is so silly and huge that these events absolutely must be referenced in every MCU movie going forward due to the literal Earth-changing ramifications. If they're not addressed, it will be a huge glaring disservice and a show of a lack of faith in this movie's role in the MCU. Clearly the best part of Eternals is the ensemble cast, and I will admit to being very excited to see these actors show up elsewhere interacting with MCU characters we already know and love, but hopefully in a better film.
Score: 2.5 out of 5