When you're young, there's nothing quite like the allure of summer: casting off the responsibilities of the school year, filling your days with adventure and discovery, and forging new friendships that will shape us for years to come. Luca, the latest offering from Pixar Animation Studios, expertly captures those magical feelings, along with the insecurities we've all experienced when trying to figure out just who we are and how we fit into the world.
Set along the Italian riviera in the mid-20th century, the story centers on Luca Paguro (Jacob Tremblay), a young sea monster with a curiosity about the surface world and the "land monsters" that inhabit it. Unbeknownst to parents Daniela (Maya Rudolph) and Lorenzo (Jim Gaffigan) — and in a sweet nod to Disney animated classic The Little Mermaid — Luca stumbles upon a handful of human artifacts and stashes them in a nearby cave, but within days another sea monster named Alberto (Jack Dylan Grazer) arrives and claims they belong to him. Before Luca can offer much in the way of protestation, Alberto collects the items and makes a beeline for the surface, and when Luca follows him onto the beach he makes a startling discovery — in the absence of water, he looks just like a human.
Of course, looking the part isn't the same as being able to pass for the real thing, and Alberto sets about teaching Luca how to mimic human behavior, with lessons in everything from conversation to breathing to walking. "It's just like swimming," he explains. "Except without fins, or a tail, or water. Otherwise, it's the exact same thing." Freed from the limits of the ocean, the boys dream of embarking on a slew of adventures together, and director Enrico Casarosa paints a loving portrait of youthful exuberance, where even the simplest of goals — in this case, acquiring a Vespa — can seem like a grand accomplishment.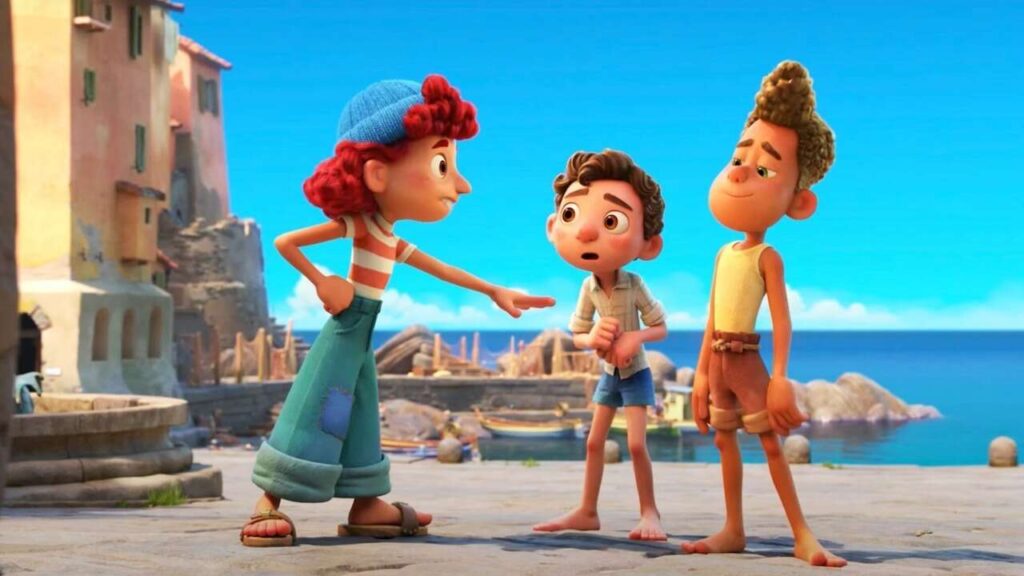 As with any Pixar film, the visuals in Luca are stunning, awash in vibrant colors and the warm sunlit tones of summer. There's charm and humor for days, and the supporting characters — the feisty, ultra-competitive Giulia (Emma Berman) and her hulking, one-armed fisherman father (Marco Barricelli), as well as the pompous town bully, Ercole (Saverio Raimondo) — are delightful. The core messaging, about being an outsider longing for acceptance, and about the sacrifices we make for our friends, is precisely the sort of thing we've come to expect from the studio, although admittedly less weighty and emotional than other efforts like Inside Out or Coco.
Luca will be available to Disney+ subscribers this Friday, and while I'm not keen to begrudge Pixar's parent company for adding more new content to their streaming lineup, the lack of a wide theatrical release feels like a disservice to the artists behind the film. If the decidedly darker (not to mention overlong) Cruella could rake in more than $100 million at the global box office, surely a gorgeous, sweetly sentimental family film with broad audience appeal had the potential to be an even bigger hit. Alas, we'll never know what might've been, but rest assured that Luca's exclusive premiere on Disney+ should not be seen as a negative reflection on its quality — it's great.