When Columbus, Ohio-based filmmakers Ori Segev and Noah Dixon set out to make their first feature, they never expected it to screen at a major film festival. But Poser, which follows a young woman infiltrating the underground Columbus music scene under false pretenses and forming an unhealthy attachment to one of its major figures, not only premiered at the 2021 Tribeca Film Festival, it was warmly received by critics and audiences alike.
"It's definitely well beyond what I expected," said Dixon, speaking to us via Zoom a few days after the film's debut screening. "I was thinking we'd do a small premiere in Ohio, so to be doing it at Tribeca with so many people watching it, that's just been incredible."
The duo serve as creative directors for Loose Films, a production house from Columbus that put itself on the map producing music videos for many of the city's local music acts. They leveraged that experience, and many of those relationships, to craft their first feature, shooting on location in the same venues they'd frequented over the past few years.
"We wanted to make something that we knew really well, and that we had access to the places we wanted to shoot," said Segev. "A lot of shows that we've filmed were in a basement, and some of that footage is actually in the movie in various places. It's great that we got to include that."
In addition to real-life locations, Poser also features a number of Columbus musicians, drawn primarily from close friends and people with whom the duo had previously worked. Chief among them is Bobbi Kitten, lead singer of Damn the Witch Siren, who plays an exaggerated version of herself in the film. She had previously appeared in a music video Loose Films directed for another local act, and became fast friends with the filmmakers.
"As soon as we worked with Bobbi the first time, we just all vibed so well together and had such a good time," recalled Segev. "Noah pretty much wrote the role for her."
Bobbi remembered the first time she was approached about being involved in the film. "Ori said they had this idea for a movie, and would I be interested in having our band in it? I had no idea of the scope, but I said 'sure!'" She returned from touring to find a script waiting for her, and an offer to audition for a leading role.
Bobbi admits to having a bit of apprehension about whether she was up to the challenge, and whether her band would be well-represented, but those fears vanished early in the process. "I just trusted them," she told us. "And I couldn't be more proud the outcome. To have someone else's artistic vision creating another world with our band in it was just really awe-inspiring."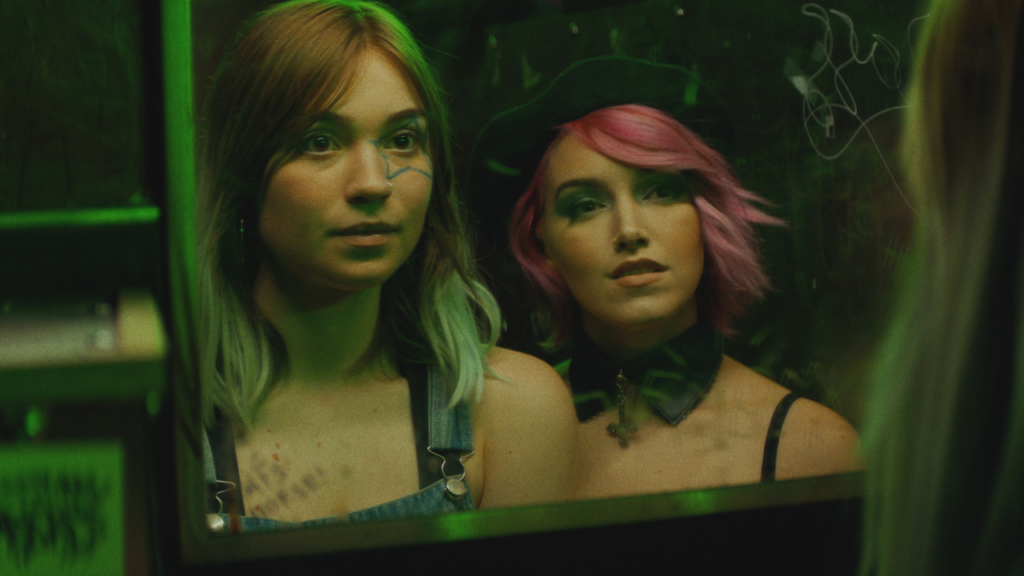 Poser may be a dark story, but Segev and Dixon recognized an opportunity to mine humor from the inherent absurdity of the music world. "From the beginning, we knew that we wanted to go into this as both a love letter to these bands and our friends," said Dixon. "But also kind of poking fun at it, and making fun of — in a nice way — some of the things we'd experienced over the years."
"And we're not so much poking fun at the bands," Segev clarified. "We're more poking fun at what it means to try and describe yourself as an artist. That's a really hard thing to do."
It's a sentiment that Bobbi echoes herself. "Being an artist, in general, is such a silly thing," she said with a laugh. "It's like, 'Here are my feelings and thoughts, people should care about it!' You can't take yourself too seriously, but it can be really funny when people do."
The filmmakers are elated at the response they've received from Tribeca, describing it as the pinnacle of their work so far. "We just wanted to make a movie that we were proud of," said Segev. "So we set out with that goal, and to have all this amazing feedback and to see that people are digging it and liking the music, that just means the world."
Their short-term plan is to submit Poser to other festivals, and perhaps host screenings that include live performances from Damn the Witch Siren and some of the other bands featured in the film. But regardless of what the future holds for their debut, they're already looking forward to what comes next.
"We're super eager, especially after COVID and the quarantine, to get back on set and start working on the next project," said Dixon. "We want to hop into the next thing as soon as possible."
As for Bobbi, music remains her primary focus, but she admits to having caught the acting bug, and hopes to find more film work in the future. "I had so much fun!" she exclaimed. "It's great to have a different medium to kind of get some feelings out. It felt very cathartic."
---
Poser can be screened online via Tribeca at Home. Tickets are available here. Find more of our 2021 Tribeca Film Festival coverage at this link.