When the New Orleans City Council voted to remove several Confederate monuments in December 2015, they probably didn't expect groups of armed civilians to stand vigil over the statues, intimidating (and often threatening) workers who arrived to carry out the removal. Comedian, writer and The Daily Show field producer CJ Hunt began documenting the ordeal, leading him down the rabbit hole of the Confederacy's carefully constructed history, one that's often in direct conflict with the factual record.
The fruits of Hunt's labor can be seen in his new documentary The Neutral Ground, which premieres this weekend at the 2021 Tribeca Film Festival, en route to a July 5th airing on PBS. We spoke to CJ Hunt via Zoom a few weeks ago, where he discussed his multi-year experience working on the film, including dressing up for a Civil War reenactment and being in the crowd during the far-right protest in Charlottesville.
Note: this conversation has been lightly edited and condensed for clarity.
---
I want to start by talking about the sequences featuring the Civil War reenactment. Growing up in Indiana, I had been to a few of these, so there was definitely a sense of familiarity.
CJ Hunt: Exciting! Did you dress up?
No, I was very young at the time, I was just there as a spectator. But I thought it was so interesting that you actually actually dressed up as a Confederate soldier and participated in a reenactment during the course of making this film.
CJ Hunt: I've gotta say, I totally get it with the reenactment stuff. Notwithstanding the version of history that folks are firmly attached to in that space, the actual reenactment is so fun! The costumes, and the coziness of the fire, and people sharing food and being so nice; that was a strange part of the experience, being able to appreciate — I totally get why this is so popular and so fun for folks. The only real difference is what we believe is the foundational history behind what's being reenacted.
Were there any other people of color present for the reenactment scenes?
CJ Hunt: No, I was the odd man out.
Obviously, the folks you were with were very friendly toward you, but were there conflicts with anyone else?
CJ Hunt: There's a weird thing about being Black in that space. Most Black people do not choose to be around that many Confederate flags. Normally that's kind of a sign, like "that's not how I want to spend my weekend," and the association is like "I'm going to be very unsafe there." But there's a strange paradoxical relationship, where Black people in those spaces are sort of mini celebrities, because Confederate heritage groups understand the world perceives them as racist. So one of the things they go out of their way to do is show off the Black members of their troupe. If we've got one Black guy who dresses up as a Confederate soldier and gets up on a horse and waves a flag, how could this be racist at all? How could the war have been about slavery is this guy loves to dress up?
So there was a weird bubble of safety in that people were really excited for me to be there. And I think there was also suspicion, like "please don't crap on this, this is something that's really important to us." So I'm trying to be as respectful as I can, as someone who's been invited into that space and been fed chili, and housed and all of those things. Being as respectful as I can, and also being as even-keeled as I can in asking "hey, just explain to me what you think this war was about? Explain to me why you think the slaves had it pretty good."
Those conversations were some of the most mind-boggling. As you cover in the film, all of the secession documents and speeches clearly defined slavery as being a driving force behind the formation of the Confederacy, but many of the people you speak to in the film swear that's not the case. Do you think the inability — or unwillingness — to connect those dots is just denial, or cognitive dissonance, or something else altogether?
CJ Hunt: Have you ever seen the HBO documentary Exterminate All the Brutes?
I have not.
CJ Hunt: It's about colonialism, and it's really intense and really good. But [director] Raoul Peck says "it is not information that we lack, it is the courage to understand what we know." And I think that's a similar situation with Confederate heritage. Folks who celebrate that have inherited one of the greatest propaganda campaigns in American history, but at the same time, these documents aren't difficult to find; again, "it is not information that we lack."
You don't even need to know what the Declaration of Causes were, or the difference between the Declaration of Causes and the Ordinance of Secession, or even what the Secession Commissioners did — all you need to do is Google "secession documents" or "declaration of secession" and you seem them pretty clearly saying "we firmly identify with the cause of slavery." It's not that the documents don't exist or that folks have never heard about them or seen them, it's that folks who celebrate it have created a loophole where it's like "let's just not look in that closet."
And the longer we go without looking at it, and the more we tell ourselves that somehow the whole meaning of the war comes down to what individual soldiers thought — even thought that's not how we think about any single war, we're not like "well, the individual soldiers in Vietnam" — the longer folks go without [acknowledging], and the more terrifying it becomes to look in that closet.
You mention the propaganda, and this is something that's still going on. Right now in this country, we're in the middle of a propaganda campaign about election fraud and the Capitol riots and all these things. Do you think there are parallels between what's happening now and the way people look back on the Confederacy?
CJ Hunt: Yeah, of course. We started filming in the winter of 2015, and by the next fall, Trump was the president. So that was a big surprise for us, and part of what I value about the film is that you're able to see the unmasking of white supremacy happening throughout the Trump era, side-by-side with the growth of a cultural fight around holding onto these monuments and saying they have nothing to do with white supremacy.
When I was originally pitching the film and we were still early in the process, I was like "these monuments are the original fake news." I stopped saying that because Trump loves to say "fake news" and it becomes unclear what we're even talking about. But everything we've seen in the Trump era, that tactic comes from the Civil War era. It's almost a carbon copy of a thing that we've seen before. During the Capitol Riot hearings, the phrase is "the big lie," the idea that you can just come up with a story and repeat it enough that it eventually becomes the truth. If we were making this film ten years ago, I think that would be a harder concept to understand, but I think folks understand it pretty viscerally now.
If you're talking about Reconstruction and the 1870s, and the decision to let insurrectionists go without any punishment because it might divide the country, that sounds pretty familiar to what's happening now. You want to look at the hundreds of white men and women who were attacking the Capitol and ask "why do they think they're heroes?" But throughout most of American history, when a group of white men get together and attack something, we build statues to them. This is a behavior that gets you monuments, this is a behavior that gets enshrined as "that's what you must do, true patriotism is this."
So when someone is carrying a Confederate flag through the Capitol and people are pretending to be shocked, I'm thinking, "you just took your Robert E. Lee monument out of the Capitol a month before this." When you look at the Confederacy, it's like a map of how white supremacy masks itself and just sort of lives in our world, unchallenged.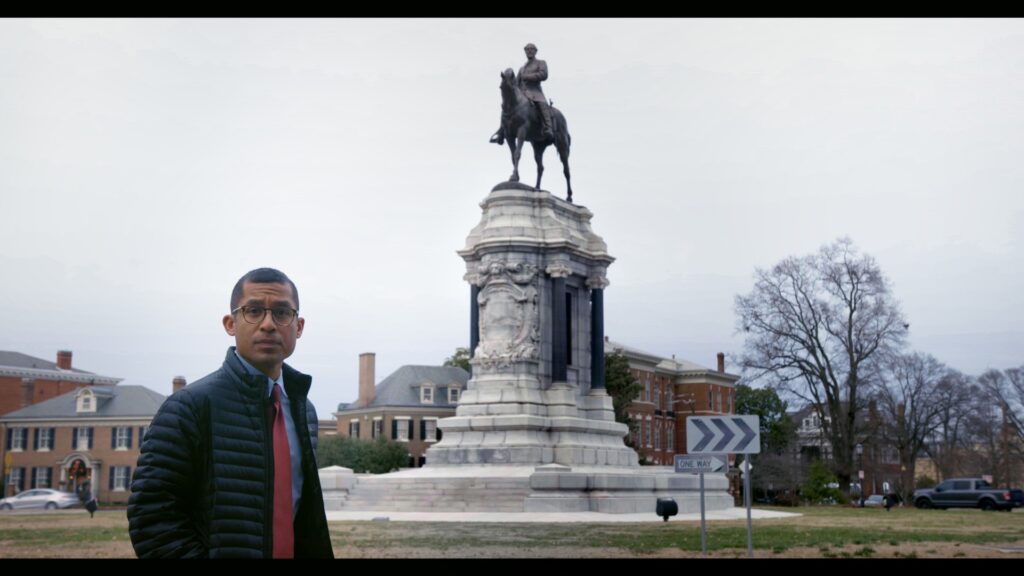 It's so interesting to compare the way we look at the Civil War and the Confederacy to the way we view atrocities in other countries. The easiest comparison, of course, would be the events that took place during World War II — those events aren't something to be celebrated. You don't go to Germany and find statuses of Nazi war criminals, these people aren't held in a place of reverence. Why do you think there's such a disconnect there?
CJ Hunt: The unfortunate caveat is that Germany does have a far-right movement that's been consistently growing. But you're right, in terms of mainstream society, folks are contrite about what the Nazis did. In education, in their schools, they teach what the Nazis did, and it is not celebrated in the public landscape. An activist in New Orleans with Take 'Em Down NOLA, Angela Kinlaw, says "we would never have the longest boulevard in our city named after Hitler." We would understand why that is troubling to our Jewish brothers and sisters. Yet when it comes to white supremacist symbols, it is always as if we must wait. It is always as if those saying "hey, this is kind of messed up" are somehow dividing us.
So I think that stuff was allowed to fly in America for two reasons. Partly because it goes along with our founding myth and story of our country, which is that a group of rebels who were not into being controlled decided to strike out and do their own thing. And when you're looking at these secession documents, they're framing themselves as the new founders; when they're not talking about slavery, they're talking about the Founding Fathers and how they're doing exactly what the Founding Fathers did. And they're referring explicitly to the idea that if the Founding Fathers had a problem with slavery, they wouldn't have protected it in the Constitution. So it's hard to make the Confederacy strange when the Confederacy framed itself as normal as the founding of the country.
And I think the second thing is we — meaning the country — forgave the Confederacy. The country had to come back together, and instead of following the examples of Lincoln and Seward and the Reconstruction governments, instead of bringing the country back together in a way that would provide justice and protection for Black people, the country chose to be like "it was just a misunderstanding, and there were very fine people on both sides." That was a thing that was surprising to me while doing all the research: how far the North went to publicly forgive the South and erase any evidence or stories about how deep that relationship to slavery was, and how this was an act of treason.
I definitely want to talk about the end of the film, where you're in Charlottesville. I remember seeing the footage on the news and being horrified, but I have to imagine that you being in that space, being in such close proximity and knowing how quickly things could escalate, was exponentially more terrifying.
CJ Hunt: It was the scariest thing I've ever experienced. Part of that is very visceral, noticing the other journalists had fallen back and there were no other Black people around, and wondering "are we physically in danger?" But I think the other part is a larger existential dread. You know when you're around someone who feels powerful. If you have a kid that's on a Little League team, you know when the team is confident and really feeling itself, like "Yes! Yes! We are the best!" We know what it's like to be in the presence of a team that feels themself to be winning, and who feels themself to be unstoppable.
So the obvious things that are supposed to be terrifying, like "are we going to be okay" or "I've never seen mob violence before, how far is this going to go?" are not nearly as frightening as watching them and knowing they feel like "this country is ours, we are on the rise." I remember feeling this sense of dread, and almost jealousy, like "damn, these guys feel like they're winning, and I don't know if they're wrong."
We tell ourselves this story, that the obstacles to justice are folks like Thomas Taylor in this film, that it's a dying generation and we just need to wait until they're replaced by more diverse, more open-minded people. But I think Charlottesville really pulled the veil off: there are new white supremacists. There are entire generations of new white boys who want to carry torches through the night and chant "blood and soil" and "who's history" and "our monuments." This is not something that's going away any time soon, and I hope this movie makes folks think about that. Not about Charlottesville as an outlier or an aberration, but Charlottesville as an example of one of the oldest ways in which white power moves in this country.
It's not coincidental that they were there to save a Robert E. Lee monument. The thing I want people thinking about with this film is the story that we tell about the Confederacy and the Civil War, what does that story enable to happen in the real world? What is the price of that type of storytelling? It's not some guys running around on a battlefield in old clothes. The price of that story is Charlottesville. The price of that story is the Capitol riot.
---
The Neutral Ground premieres at the Tribeca Film Festival on June 19th, and will air July 5th on PBS.