Prolific African-American playwright August Wilson is best remembered for The Century Cycle, a series of 10 plays that examined the black experience in America, with each story taking place in a different decade. His most celebrated effort, the Tony and Pulitzer award-winning Fences, was adapted for the big screen in 2016 by Denzel Washington, who produced, directed and starred in the film alongside Viola Davis, after both had previously headlined a Broadway revival.
Four years later, the duo are back to shepherd another of Wilson's works to the big screen, although Ma Rainey's Black Bottom finds Washington at some remove, opting to produce rather than direct or appear onscreen. Davis, meanwhile, is given perhaps the showiest role of her career as early blues icon Gertrude "Ma" Rainey, descending on a Chicago recording studio with an entourage that includes nephew Sylvester (Dusan Brown), flirtatious girlfriend Dussie Mae (Zola's Taylour Paige), and a healthy dose of "take no shit" attitude.
Also in tow is Ma's longtime backup band — Cutler (Colman Domingo), Toledo (Glynn Turman) and Slow Drag (Michael Potts) — and volatile young trumpet player Levee (Chadwick Boseman). It's with the band that we spend most of the film's running time, as they rehearse in the studio basement, telling stories, cracking jokes and arguing over whether they'll be recording the traditional version of the tune which gives the film its title, or a vibrant new arrangement conceived by Levee. Ma's longtime manager Irvin (Jeremy Shamos) feels the new version has more marketability, but as Cutler warns, both Levee and Irvin seem to be "confused about who the boss is."
Indeed, Ma goes to great lengths to ensure the band, Irvin, and the exasperated record label owner (Jonny Coyne) are fully aware of the power dynamics at every turn. She arrives several hours late for the session, complains about the sweltering heat in the studio, and insists that Sylvester record the spoken-word intro to the record despite the boy's pronounced stutter. She may initially come across as a diva, especially when she refuses to sing until someone brings her an ice-cold bottle of Coca-Cola, but every petty-seeming battle serves a purpose in Ma's eyes. "They don't care nothing about me, all they want is my voice," she tells Cutler of the two white men trying to steer her in their preferred direction. "So they're gonna treat me how I wanna be treated, no matter how much it hurts them."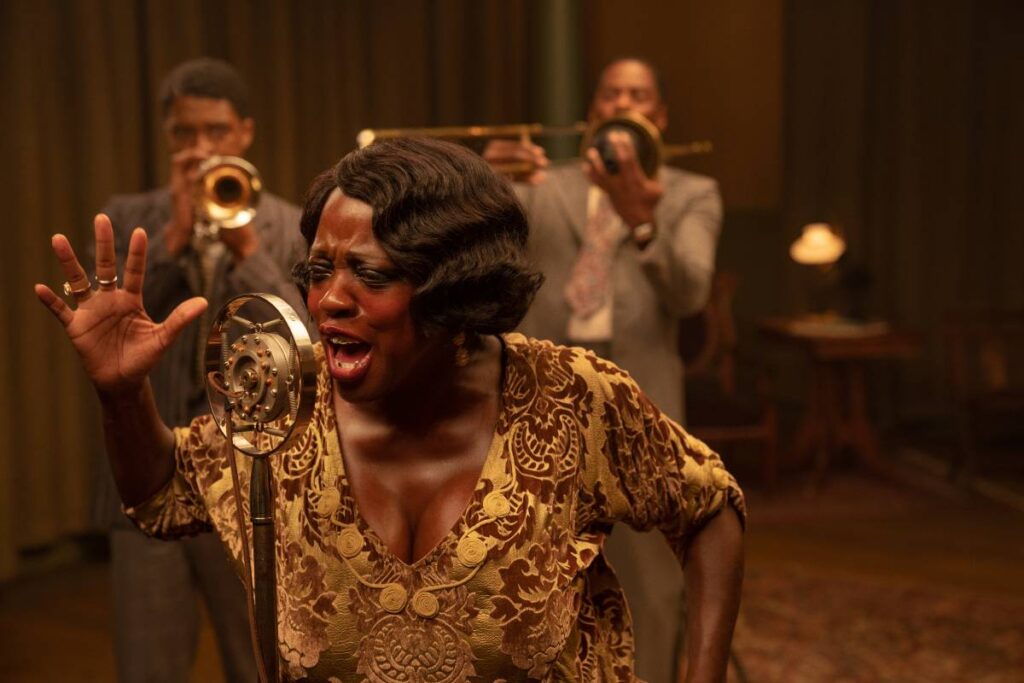 Glistening with sweat in every scene, thick eye makeup starting to run and face fixed in a permanent scowl, Davis cuts an intimidating figure as she stalks from room to room, barking commands and firmly cementing Ma's dominance. But there's a tenderness beneath the icy exterior, as evidenced during a quiet moment where she ruminates on why she chose to become a blues artist in the first place. "That's life's way of talking," she says, almost to herself. "You don't sing to feel better, you sing because that's a way of understanding life."
Davis will no doubt garner plenty of Oscar buzz for her larger than life portrayal of Ma Rainey, but it's virtually impossible to overstate the magnitude of Boseman's work here, in his final performance. Whether showing off his expensive new shoes or boasting about an offer to write and record his won songs for the record company — a notion that concludes with a soul-crushing distillation of the entertainment's disdain for, and exploitation of, black artists — Levee's swaggering confidence and incessant braggadocio mask a deep insecurity. The carefree attitude is little more than a carefully constructed affectation, and when his true emotions burst through the surface in two of the film's most explosive and emotional scenes (to say nothing of the finale), it's enough to make one's hair stand on end and send shivers cascading down one's spine.
There's a moment during the film's opening musical montage where Levee steps to the front of the stage and begins a trumpet solo: the spotlight swings in his direction, holding briefly until Ma regains the attention of the audience. There's a very meta quality to this brief sequence, because much as the ambitious Levee seeks to usurp Ma's throne, so too does Boseman frequently threaten to upstage the veteran Davis. But unlike Levee, there's no malicious intent in Boseman's performance — he's not actively trying to steal the spotlight, he's just so damn good that you can't tear your eyes away from him, and there's something especially tragic in his finest performance ultimately being his last.
That Ma Rainey's Black Bottom should be produced by Denzel Washington, who paid for Boseman's tuition to attend the British American Drama Academy's prestigious Midsummer program, is an interesting (and devastating) bit of symmetry. As Boseman himself noted, "there is no Black Panther without Denzel Washington," and it's fitting that someone so instrumental in the beginning of an extraordinary career should also be there for its end — even if that end arrived much, much too soon. Ma Rainey's Black Bottom is not only an exceptional piece of work, but a heart-wrenching reminder of the immense talent Boseman possessed and all the things he could've achieved if only circumstances had been different.