"A lot of this actually happened." Or so says the non-committal text that introduces Amsterdam, the quirky, somewhat historical ensemble piece about a pre-WWII plot to take over America from five-time Oscar nominee David O. Russell. While it may lean towards the bloated side with an unnecessarily long run-time, the absolutely incredible ensemble cast brings life to Russell's most interesting work to date.
A trio of friends bonded through the violence of war find themselves entangled in the murder of a US senator and a growing conspiracy from a shadowy group looking to cover it up. Christian Bale takes lead in the trio as Burt Berendsen, a veteran doctor with a prosthetic eye that makes a living using his skills to help injured and deformed vets back into society. The versatile actor turns in a refreshingly optimistic performance with sly bits of dry humor that give Bale an unusual glow. It's wonderfully far from the dour, extremely dramatic work that is the actor's normal bread and butter.
Berendsen's tale is told through the main narrative alongside flashbacks in which he befriends a discriminated against soldier, Harold Woodsman (John David Washington), only to have them both severely injured in battle. The duo is tended to by the beautiful and eccentric nurse Valerie (Margot Robbie) and the unlikely friends find themselves committing to an unusual and surprisingly endearing friendship… errr, relationship? There's a previously unseen warmth from all three actors here that allows this dynamic, and the film, to actually work. Robbie is particularly good with her macabre taste in art and questionable grip on reality, something Robbie has experience with as Harley Quinn.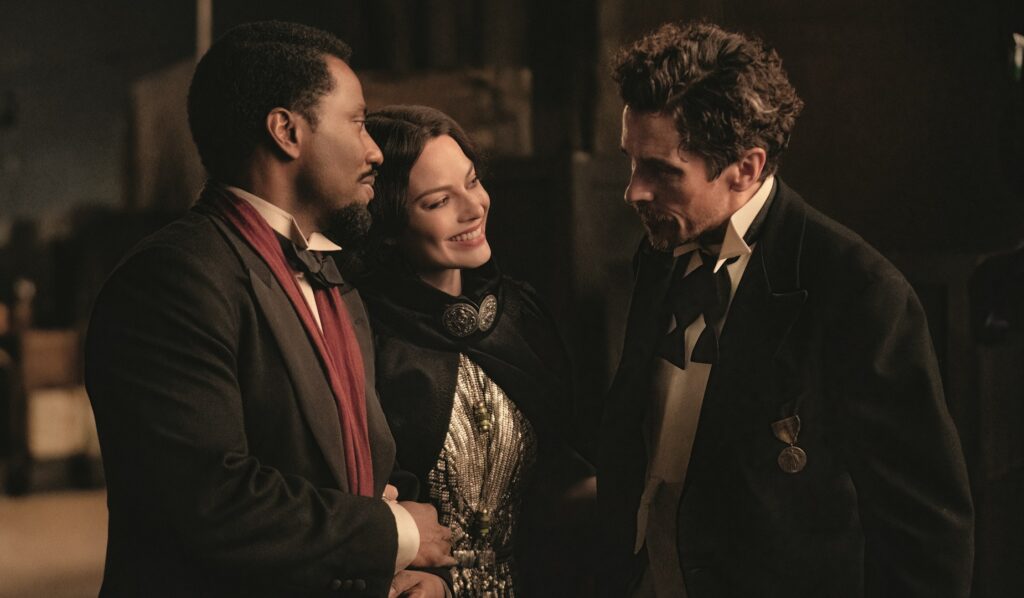 What makes Amsterdam truly enjoyable is Russell branching out to an almost pulp noir kind of silliness for the whimsy vibe of the plot and story execution. The period setting gorgeously frames each scene and the amount of amazing actors (Robert De Niro, Zoe Saldana, Mike Myers, Michael Shannon and more) that weave in and out of the story add an almost fairytale-style element to the proceedings. Even other odd casting choices like Taylor Swift or an unrecognizable Timothy Olyphant pay off in weird and unexpected ways.
As a critic that finds even his Oscar nominee work to be ultimately forgettable, this adventurous side of Russell is intriguing to watch. Amsterdam is more crowd pleasing than his usual offerings and I found the film stuck with me longer than expected — or at least longer than his other work. Parts of the film are a little too self-indulgent and not everything makes sense historically or even fictionally. Still, the resulting mystery entertainingly plays out like an urban legend or a tall tale inhabited by colorful supporting characters at every turn. The entire film has a twinkle in its eye that's hard to resist and mostly outweighs the considerable flaws.
Score: 3.5 out of 5