You can't keep a good clown down. After being the lone bright spot in her debut as lovable DC villainess Harley Quinn in the critically panned Suicide Squad, Margot Robbie is taking the character's brightly colored show on the road with her very own solo film (well kinda) in Birds of Prey (and the Fantabulous Emancipation of One Harley Quinn).
While this film's Harley is still clearly the one we saw in Suicide Squad, Birds of Prey works completely on its own, needing only a vague understanding of the character from any medium to be able to jump right in. Fans of the ongoing DC Universe Harley Quinn animated series will find a lot of the same character beats early here, with Harley getting her groove back after splitting with the Joker. The recycled plot points still serve as a great launching point for this particular adventure and sets the tone for the mayhem and frantic pace that will begin to unfold once she's on her path.
From there, the film uses an annoying flashback storytelling device from multiple vantage points to introduce the Birds that really disrupts the story flow. Points to the script for explaining the fractured storytelling is a result of Harley Quinn's insanity boiling over into being an unreliable narrator, but the gimmick is cheap and tests the audience's patience. Once the messy start drops this angle, Birds of Prey really starts to click as the characters find their footing and the film ramps up for the rare third act that delivers.
Robbie carries much of the early film and really settles into the role of Harley, most importantly by committing to the iconic accent of the character, unlike the "there and gone again" version she used in Suicide Squad. Robbie has a great mix of deadly, sweet and crazy that is never played for any real genuine feels, but definitely does enough to endear the audience to Harley in the same ways that have made the character so beloved over the years.
Another part of what makes Birds of Prey so much fun is the out there choices made for the supporting characters, and nowhere is that more evident than Ewan McGregor's mob boss and Batman villain Roman Sionis, aka Black Mask. McGregor's unexpected take as a drug-laced 70's style, effeminate party boy/psychopath electrifies the screen in every appearance whether with laughs, chills or both. Roman's pairing with Batman serial killer Victor Zsasz (Chris Messina) is another odd choice, but the angle from which they're written with and the odd chemistry between the actors creates a weird, intriguing dynamic that is goofy good fun to watch.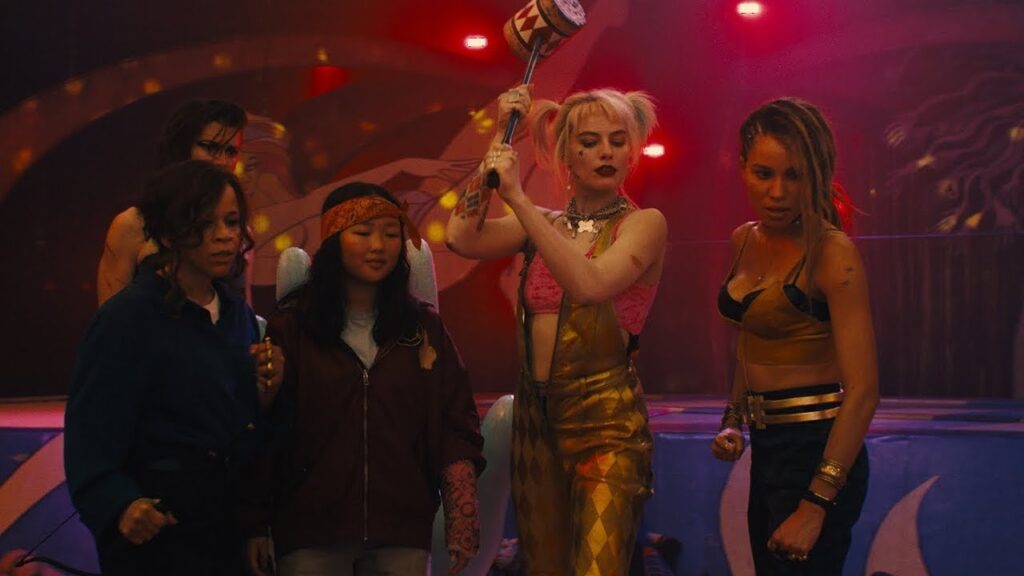 The Birds of Prey themselves probably get the least attention, but the film still manages to give each a shining moment by the end of the movie's short run time. Future Batgirl Cassandra Cain (Ella Jay Basco) is a grounding factor for Harley, but also a vehicle for the story's Macguffin. Jurnee Smollett-Bell shows some impressive action chops and a killer voice as this film's badass version of Black Canary and I would gladly watch Smollett-Bell join a big screen version of Green Arrow (the character's future husband) for further adventures.
My personal favorite character, Huntress (Mary Elizabeth Winstead), doesn't really hit until that third act when the character's somewhat unexpected personality and role dynamic on the team really start to be revealed — but it's great stuff when it finally lands. The inspired casting of Rosie Perez as the other Paul Dini and Bruce Timm creation, Detective Renee Montoya, also pays off with the strong veteran actress's presence alongside some surprisingly funny moments for Montoya.
Director Cathy Yan makes another smart choice by keeping the film from being too overtly sexual, so Birds of Prey really flexes its R-rating by splashing in sprays of blood and limb breaking snaps to go along with some salty F-bombs and mature language. There's more than one scene where audiences will laugh out loud with disgust or shock at a few particularly violent moments. Also, did I mention Harley has a laughing hyena named Bruce? She does, and he's awesome and deserves more screen time.
Not everything in the film works, but in a post-Justice League cinema environment for the DCEU, Birds of Prey is yet another example that Warner Bros and DC are making interesting choices and expanding their brand in the right way. It's the second of four films to have a female lead and this one in particular boasts an ethnically diverse cast, but most importantly: Birds of Prey is just a pure color bomb of fun.