PORTLAND — A Day to Remember has been trekking across the country for the past few months on their "Just Some Shows" tour, and the Florida pop punk outfit rolled into Moda Center's Theater of the Clouds on Monday to perform for a packed house. Beginning with the crunchy opening chords of "The Downfall of Us All," fans were on their feet as the band tore through a 20-song set that leaned heavily on their early catalog, while still peppering in some more recent offerings.
Frontman Jeremy McKinnon hardly stopped moving for the duration of the 90-minute performance, roaming all over the stage and frequently interacting with fans in the front row. The evening turned interactive a few times, as McKinnon invited fans in the upper sections of the venue to twirl their shirts and jackets in the air, or bat around the dozens of beach balls that were launched into the crowd about midway through the set. Live staples "2nd Sucks" and "Mr. Highway's Thinking About the End" were met with thunderous ovations, and melodic fare like "Have Faith in Me" and "If It Means a Lot to You" turned into enthusiastic singalongs.
A Day to Remember will wrap up their current touring plans at the end of this month with an appearance at the When We Were Young festival in Las Vegas. After a few weeks of recuperation, they'll be back on the road for an intimate acoustic tour to close out the remainder of 2022; fans in Europe and the UK can look forward to seeing the band early next year.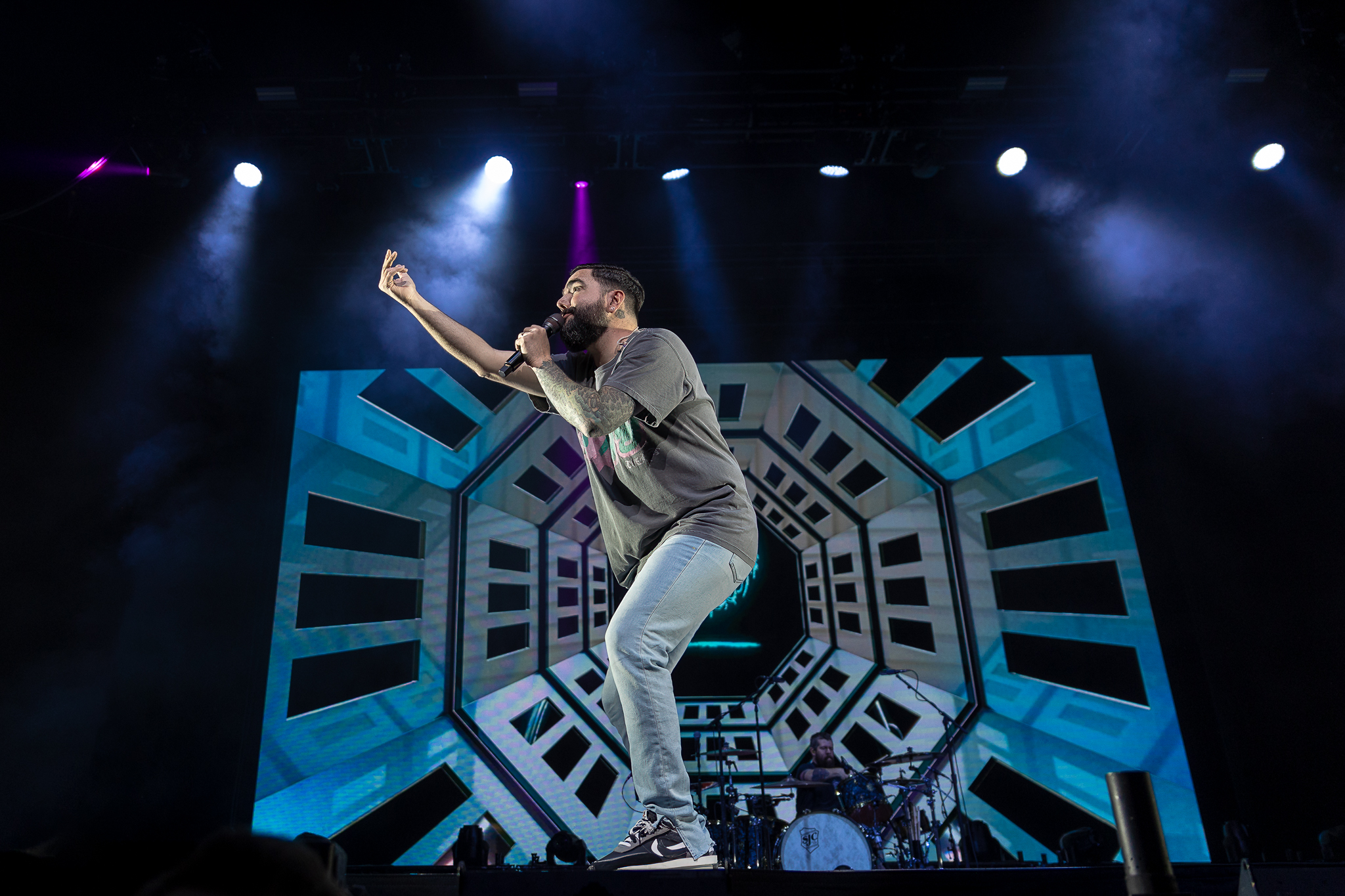 Photo Credit: Brent Hankins
Setlist
The Downfall of Us All
All I Want
Paranoia
A Shot in the Dark
Degenerates
2nd Sucks
Right Back at It Again
Rescue Me (Marshmello cover)
Have Faith in Me
Last Chance to Dance (Bad Friend)
I'm Made of Wax, Larry, What Are You Made Of?
Mindreader
Miracle
All Signs Point to Lauderdale
Mr. Highway's Thinking About the End
Resentment
If It Means a Lot to You
Monument
Sometimes You're the Hammer, Sometimes You're the Nail
The Plot to Bomb the Panhandle
Remaining A Day to Remember Tour Dates
Oct. 13 – Calgary, Alberta @ Grey Eagle Resort & Casino [email protected]%
Oct. 14 – Spokane, Wash. @ The Podium [email protected]%
Oct. 16 – Grand Junction, Colo. @ Amphitheatre at Las Colonias Park [email protected]%
Oct. 18 – Austin, Texas @ Moody Amphitheater [email protected]%
Oct. 21 – Las Vegas, Nev. @ The Pearl at The Palms Hotel [email protected]%
Oct. 22 – Las Vegas, Nev. @ When We Were Young Festival
Oct. 23 – Las Vegas, Nev. @ When We Were Young Festival
Oct. 25 – Lubbock, Texas @ Lonestar Amphitheater [email protected]%
Oct. 27 – Mesa, Ariz. @ Mesa Amphitheater [email protected]%
Oct. 28 – Irvine, Calif. @ FivePoint Amphitheatre ~^@%
Oct. 29 – Las Vegas, Nev. @ When We Were Young Festival
"Reassembled" Acoustic Tour
Nov. 28 – N. Charleston, S.C. @ North Charleston Performing Arts Center
Nov. 29 – Nashville, Tenn. @ Ryman Auditorium
Dec. 1 – Charlotte, N.C. @ Ovens Auditorium
Dec. 2 – Atlanta, Ga. @ Coca Cola Roxy
Dec. 5 – New York, N.Y. @ Beacon Theatre
Dec. 7 – Rochester, N.Y. @ Kodak Theatre
Dec. 8 – Philadelphia, Pa. @ The Met
Dec. 9 – Boston, Mass. @ Orpheum Theater
Dec. 11 – Detroit, Mich. @ The Fillmore Detroit
Dec. 12 – Chicago, Ill. @ Chicago Theater
Dec. 13 – Memphis, Tenn. @ Cannon Center
Dec. 14 – Cincinnati, Ohio @ The Andrew J. Brady Music Center
Dec. 16 – Ft. Lauderdale, Fla. @ Broward Center
Dec. 17 – North Charleston, S.C. @ North Charleston Performing Arts Center
Dec. 18 – St. Petersburg, Fla. @ Mahaffey Theater
Dec. 19 – Orlando, Fla. @ Dr. Philips Center