Inspired by the black and white creature features of the 1930s and 1940s, Marvel Studios' first special is going for the throat with Werewolf By Night. The spooky Halloween vibe of the one-shot story sees a group of monster hunters gathering to mourn their recently deceased leader only to be thrust into a deadly supernatural hunt — and one hunter has a macabre secret of their own.
Starring Gael Garcia Bernal (Coco, Old) as the titular beast also known as Jack Russell, the special introduces Marvel Cinematic Universe fans to the horror realm of the shared universe. While there's no direct connection to any other MCU events, "it does exist within the Marvel Universe we know and love — this character is living at the same time as Spider-Man and Captain America," according to the legendary composer turned Werewolf By Night director Michael Giacchino in a press release.
Things open with an eerie, updated black and white Marvel Studios intro and immediately jumps into the story. We meet a motley crew of hunters, outlandish looks and big personality in small roles, alongside the aforementioned Jack Russell and Elsa Bloodstone (Laura Donnelly), the estranged daughter of the deceased head of the Bloodstone family. Her family also literally possesses a physical bloodstone that imbues supernatural power to a human in control — a little on the nose there.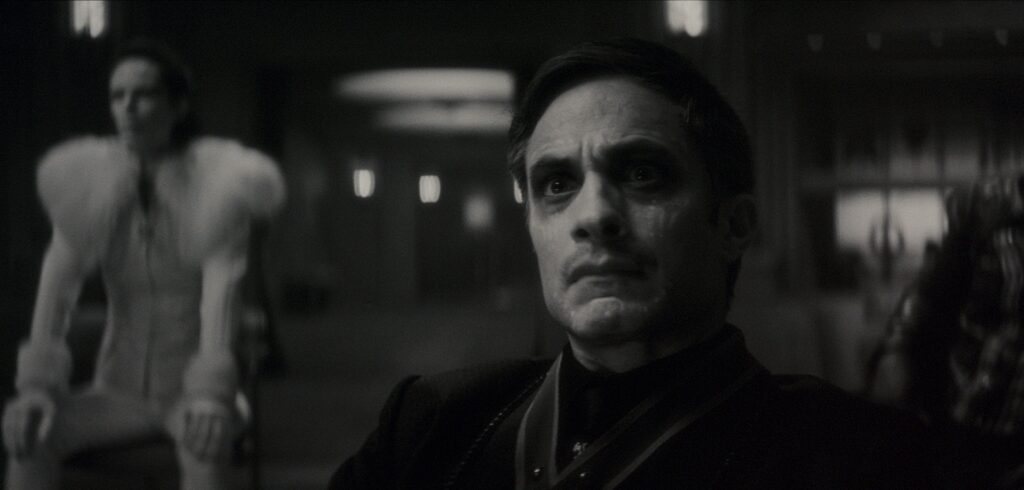 After some Tales of the Crypt style dark humor from the deceased Ulysses Bloodstone, the game is afoot and Werewolf By Night becomes tons of fun. Bernal is a great lead character to watch as his awkward take on Russell has just a little splash of Jack Sparrow to it. Donnelly is capable and clever as Elsa and the lead duo have a respectable amount of chemistry in their angry/flirty kind of rapport. Although, Harriet Sansom Harris is chewing the most scenery as Elsa's widowed step-mom Verussa, who is overly dedicated to carrying on the family hunting business with maniacal intensity.
The special is such a clever idea and executed with tons of panache and personality. Giacchino really plays around with the old school cinema angles and schlocky horror framing while making interesting choices with color amidst the black and white, i.e. the bloodstone itself and the aura it emanates is a glowing red. There's also a fun surprise character for comic fans with a slightly deeper knowledge of the horror/supernatural corner of the Marvel comics universe — it's tough not to discuss here, but it adds a real fun dynamic for Russell and could be a setup for interesting things to come, at least according to MCU guru Kevin Feige here. Sorry folks, it's not Blade. Best to let you down easy.
While Marvel Studios' idea of using a Halloween special to introduce Werewolf by Night is itself ingenious, the output is also occasionally underwhelming. The story employs many monster hunting tropes and sections in the middle get bogged down with hammy, boring conversations. The look and style are all superb though, but what Werewolf By Night really needed to rise from good to great was one big "holy sh*t" moment, instead it has just a handful of pretty cool ones.
Score: 3 out of 5