Allow me to open this review of Red Notice by saying that I'm a huge fan of Dwayne Johnson, and I often find myself able to sit through even the most mediocre films on his resume simply because of his innate charisma and watchability. Likewise, I typically enjoy Ryan Reynolds as a performer, even if his smarmy, sarcastic schtick is wearing a little thin, and I think Gal Gadot deserves more credit than she's given as an actress. So it brings me no pleasure to report that Red Notice, which brings these three mega-stars together in the most expensive film Netflix has ever produced, is a major misfire.
Johnson stars as John Hartley, an FBI profiler teaming up with Interpol's Inspector Das (Ritu Arya) to prevent notorious art thief Nolan Booth (Reynolds) from stealing a jeweled egg once belonging to Cleopatra. The egg is one of three such treasures that an Egyptian billionaire intends to gift his daughter at her wedding, and a hefty sum will go to whomever manages to deliver the trifecta. After a reasonably fun opening action sequence that finds Hartley pursuing Booth through a museum and onto the streets of Rome, the obscenely jacked FBI agent gets his man, but victory is short-lived: the stolen egg is swapped with a fake, and Das has information that points to Hartley as the mastermind behind the theft. Imprisoned in a snowbound gulag — "where due process has been forgotten" — Hartley is forced to team up with Booth (his cellmate, naturally) to clear his name and capture the true culprit, a rival art thief known only as The Bishop (Gal Gadot).
It's a fun premise, but writer-director Rawson Marshall Thurber — who previously worked with Johnson on Central Intelligence and Skyscraper — seems to be more interested in ticking off a list of adventure movie tropes than actually developing an engaging story or interesting characters. Hartley and Booth travel to far-flung locations, concoct an elaborate scheme to circumvent an even more elaborate security system, run afoul of a sinister baddie with a ridiculous name (Chris Diamantopoulos), and through it all manage to find common ground and come to understand each other. Oh, and Reynolds dons a fedora and whistles the theme from the Indiana Jones series while the duo scours a hidden bunker full of Nazi treasures (I'm not joking). It's nothing we haven't seen before, but we've rarely seen it play out in such bland, lackluster fashion.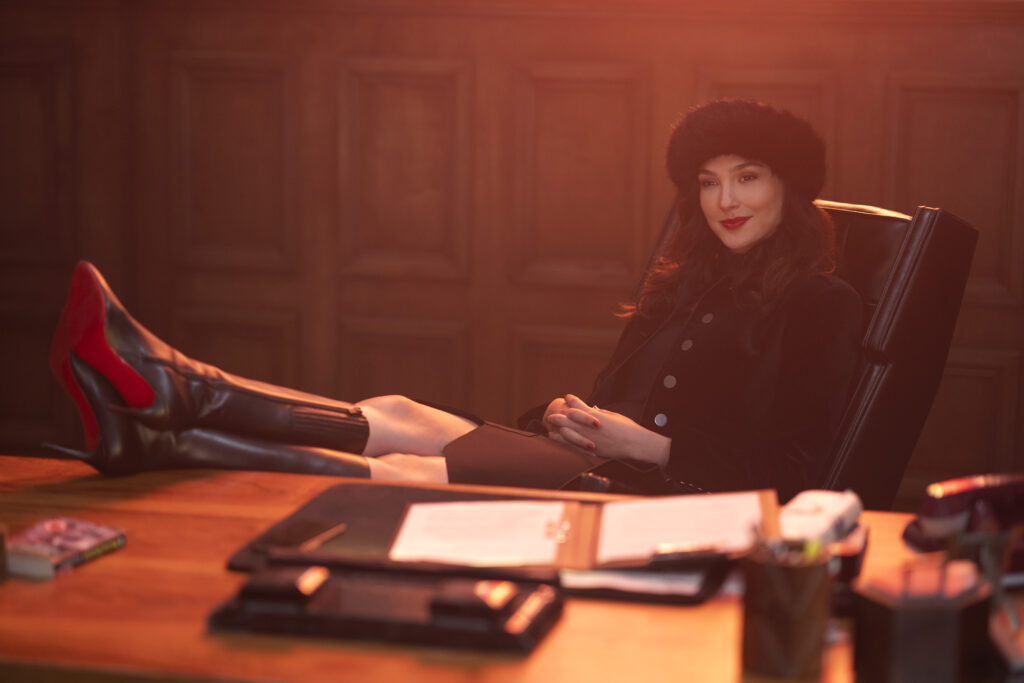 Part of that blame rests with the material itself, but the cast also shoulders some responsibility. Johnson, whose million-dollar smile helps to offset his beefcake exterior, seems to have prepped for Red Notice by indulging in a diet completely devoid of charisma; I honestly can't remember the last time he turned in a performance that came across so wooden and lifeless. As for Reynolds, he delivers his signature quips with all the conviction of someone still rubbing the sleep from their eyes after waking from a coma, serving up tired jokes about strippers with daddy issues and making the sort of meta references we would expect from his spandex-clad superhero alter ego, Deadpool ("look for a crate labeled MacGuffin" he tells Johnson at one point). Whatever comedic chemistry Reynolds and Johnson might have exhibited during the former's extended cameo in Hobbs and Shaw is nowhere to be found here.
Thankfully, Gadot manages to breathe some much-needed life into Red Notice; she's flirty and mischievous whenever onscreen, throws herself gamely into a number of action sequences (nearly all filmed against a green screen), and seems to be the only member of the principle cast actually having any fun. It's too bad the uninspired dialogue and remarkably poor visual effects will likely prevent viewers from sharing in that enjoyment, but perhaps we can look forward to a more appealing experience with the inevitable sequel; if you thought a $200 million tentpole with a trio of A-listers would be a one-and-done affair, think again, because Thurber goes to great lengths to lay the foundation for a follow-up. Whether audiences will be clamoring for more of these characters will be determined by the streaming numbers, but the two hours I spent with Hartley, Booth and The Bishop was more than enough.