Santa Clarita's most aggressive realtor couple, Joel (Timothy Olyphant) and Sheila (Drew Barrymore), are back and hungry to entertain in the third season of Netflix comedy series Santa Clarita Diet. The streaming giant was kind enough to give us a look at the entire new season and while the overall sustainability of the series is beginning to decompose, the family's humor and chemistry is as appetizing as ever.
The big plot point of this season revolves around the inevitable decision of whether Sheila should turn Joel into a zombie so they can live happily ever after as the flesh-eating undead. As much as Joel deeply loves Sheila, this choice has massive implications for their future quality of life and he's hesitant to fully commit to the murderous lifestyle. The couple struggle with the decision throughout the season, all while trying to get their self-start realty company up and running. Complications arise when the hunters of the undead, the Knights of Serbia, and now the FBI grow ever closer to discovering their family's secret.
At the show's core, Santa Clarita Diet lives or dies (ahem) on whether Barrymore and Olyphant can carry the outrageous scenarios and slapstick comedy required, and Season 3 is further proof of how great these two are together onscreen. Olyphant's manic, stress-eating Joel is such a great turn for the talented actor as he continues to be the best part of the show as well as the perfect counterpart to Sheila. Barrymore is no slouch either, committing to every ridiculous scene with morbid glee and a twinkle in her eyes.
Sheila and Joel's daughter Abby (Liv Henson) and plucky neighbor Eric (Skyler Gisondo) continue to have an equally enjoyable comedic chemistry, with Henson's bone dry sarcasm and Eric's nervously optimistic geekery providing some of the best one-liners and witty dialogue in the series. Last season's fracking site explosion has the will they/won't they? teens drawn closer together as authorities deepen their investigation into finding the culprits. Unfortunately, their storyline is wildly uneven this season, bordering on flat out bad, but once again the actors manage to elevate what normally would be a momentum killing b-plot.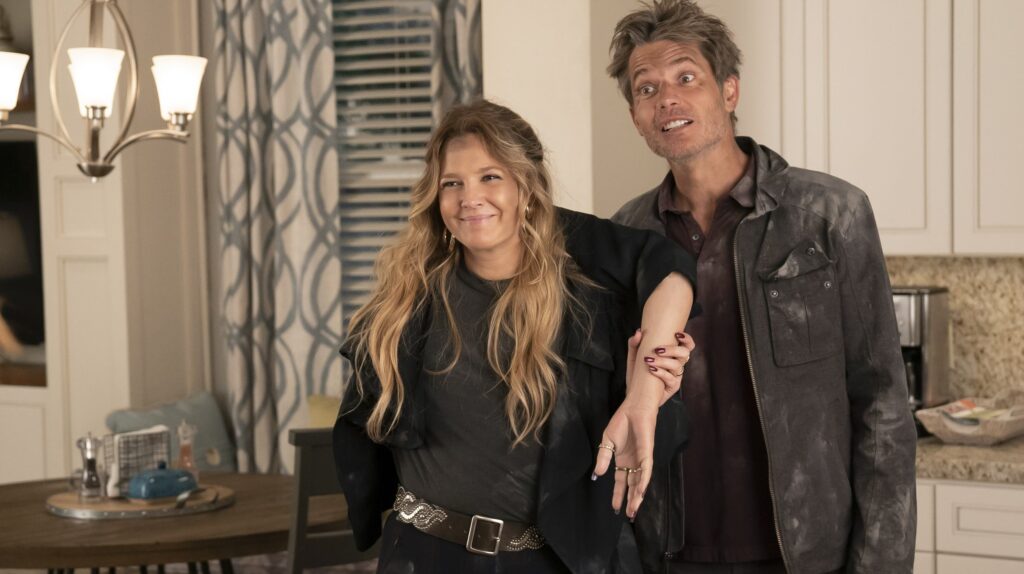 Most of the show's stellar supporting cast returns as well, including Natalie Morales as Sheriff's Deputy Ann, fresh off her religious experience in the Season 2 finale. After witnessing Sheila's "miracle" firsthand, the cheery officer is now devoted to serving her neighbor who she believes is guided and blessed by God. Morales' pushy naivete is still adorably funny and The Hammond's use of her newfound religious purpose has some chuckle-inducing results.
Sadly, Nathan Fillion does not reprise his role as the zombie head of neighbor Gary, most likely due to his commitment to his new show The Rookie, but fear not: Gary's character does return with a hilarious explanation and a genius recasting. We won't spoil all the fun of who, when and why some of the other returning favorites pop up, but they all add to the fun.
The main flaw of Santa Clarita Diet's third season is the previously mentioned growing feeling that this story is getting close to running out of steam. The adventures of the Hammond family as they metaphorically (most of the time) are digging their own graves only to climb back out and fall into a bigger one is beginning to feel exhausting. The show's enjoyment factor is now drastically relying on the shoulders of its cast to carry it and that growing burden is getting heavier with each season.
This run of episodes ends in the series' usual shocking cliffhanger style and certainly warrants at least one more season to explore the storyline that is introduced, but hopefully Netflix knows when to put the fork down. For now though, Santa Clarita Diet is still great fun as an extremely enjoyable and bloody binge watch.
Score: 3.5 out of 5
---
Santa Clarita Diet Season 3 launches Friday, March 29th, exclusively on Netflix.