If you were a teen in the 90s, there's a good chance you and your friends dared each other to say his name in the mirror five times. Now Candyman returns for a whole new generation to fear their reflections… sort of. Co-written and produced by Jordan Peele (Get Out) and directed by Nia DaCosta (Little Woods), this continuation of the original 1992 film presents the new take with visual gusto, but trips itself up while trying to expand the mythology with mediocre scares and social justice themes that get lost in the mix.
The story begins in the housing projects of Cabrini-Green in 1977 with what seems like a cautionary tale of racial injustice, that later turns out to be the basis of many urban legends revolving around the Candyman. Things jump ahead to modern times with struggling artist Anthony McCoy (Yahya Abdul-Mateen II) finding his interest piqued when his girlfriend's brother relates his version of the myth. Seeking answers and inspiration for his art, Anthony unknowingly awakens the evil of Cabrini-Green.
DaCosta's take on the hook-handed man with the puffy jacket starts strong with a very bold, unique visual style that experiments with reflections and perspectives. The mixed urban legends around the mythology of Candyman are told in a mesmerising sequence brought to life by wildly creative paper and shadow puppetry, similar to the "Deathly Hallows" tale shown in Harry Potter and the Deathly Hallows: Part 1.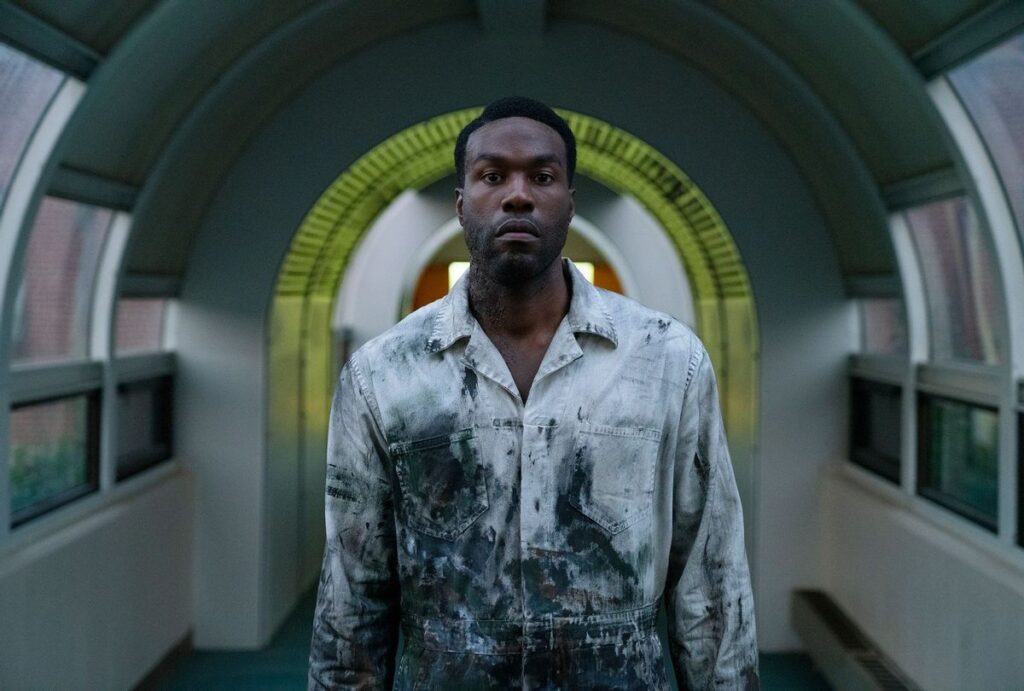 From there, we follow Anthony's growing obsession with the figure and Abdul-Mateen II is well cast as the protagonist on the road to madness. His relationship with girlfriend Brianna (Teyonah Parris) also seems palpable and real, especially when things shift the protagonist focus onto her later in the film. Sadly, the "kill" scenes become less clever as the film progresses, but DaCosta and Abdul-Mateen II instead provide a mind-bending look internally of Anthony's descent. Laundromat owner Burke (Colman Domingo) also plays a small but entertaining role as he presents Anthony with bit-after-bit of Candyman myths, pushing him along the dark path.
As is normally the case with Peele's work, there are loftier ideas of racial injustice and bigotry that are woven into the horror, but once the killing finally starts over a half hour into the film, the ideas become more muddled and the film struggles to balance the metaphors with the mythology. Instead of being a monster who kills any who summons him, Candyman develops into a vengeful murder-genie by the film's end that a victim facing racial violence can call forth. While this fits the narrative being told in this film, it lessens one of the most iconic aspects of this icon: if you say his name five times, he comes to kill you.
While it's not saying much, this update is clearly better than the original. Unfortunately, 2021's Candyman still returns as an unsuccessful hybrid of Peele and DaCosta's previous, more cerebral work and a traditional slasher horror film. Neither aspect of the film reaches their potential while fighting for control of the story, giving audiences a sleekly directed, but ultimately forgettable revitalization of the franchise.
Score: 2.5 out 5
For more thoughts on Candyman, check out Brent's review.