Musclebound WWE superstar John Cena may not have the box office drawing power of fellow wrestler-turned-actor Dwayne Johnson, nor has he shown the propensity to take on a variety of different characters and genres like pal Dave Bautista, but one thing is becoming increasingly clear: Cena knows how to make people laugh, particularly in roles as far removed as possible from his family-friendly wrestling persona. Vacation Friends, premiering this weekend on Hulu, is another feather in the big guy's cap, a goofy raunch fest that succeeds in spite of its tried-and-true formula.
Moments after arriving in Mexico for a week-long getaway at a post resort, Marcus (Lil Rel Howery) is dismayed when his meticulously plotted marriage proposal to Emily (Yvonne Orji), complete with rose petals, champagne and the assistance of an eager-to-please desk clerk, is washed away — quite literally. It seems the guests in the presidential suite above their room left the jacuzzi running while embarking on a jet ski excursion, and the ensuing flood destroyed their room, along with Marcus' best laid plans. The culprits, park ranger Ron (Cena) and his free-spirited girlfriend Kyla (Meredith Hagner), appear just as Marcus resigns to popping the question in the hotel lobby, and graciously offer to make amends for the disaster by inviting the newly engaged couple to bunk with them for the week.
Emily encourages the perpetually uptight Marcus to loosen up a bit and enjoy life for a change, and Ron and Kyla welcome their news friends with margaritas, lining the glasses with cocaine instead of salt (as Kyla later explains, "I would want people to put cocaine in my drink if they just met me)." Thus begins a debaucherous week of drinking to excess, sampling various illicit substances, taking in lucha libre exhibitions (Ron's scoffing that "anyone can do this" is a nice bit of meta humor from real-life pro wrestler Cena), and engaging in some adventurous sexual escapades. At the airport, Marcus and Emily bid farewell with a "see you later," not realizing the ramifications of that seemingly innocuous sendoff.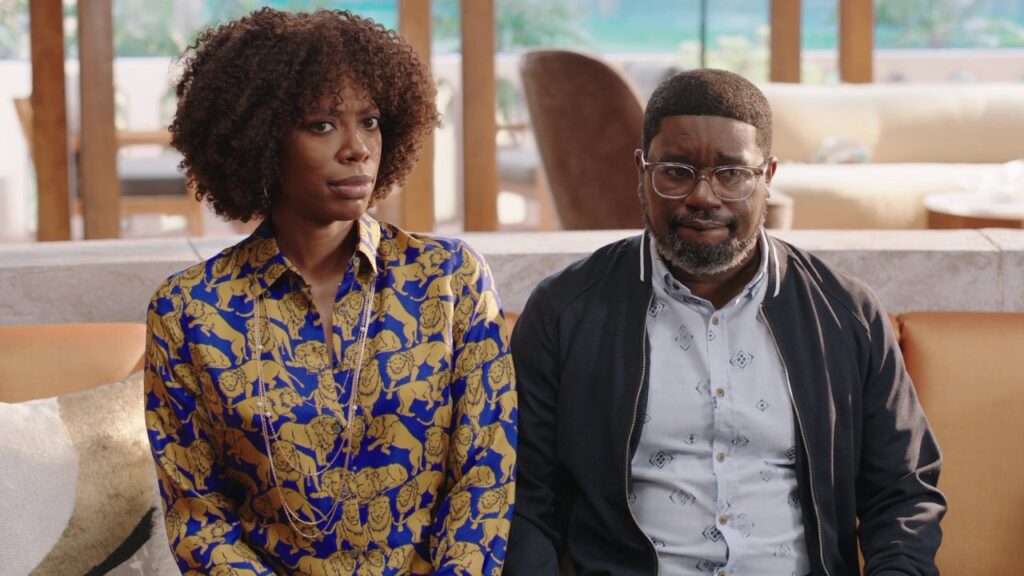 Eight months later, Marcus frets over their upcoming wedding, a stuffy and straitlaced affair hosted by Emily's father Harold (Robert Wisdom), who regards his future son-in-law's blue collar background with disdain. Things go from bad to worse when Ron and Kyla crash the party, sans invitation, and insert themselves into the weekend's proceedings: doling out homeopathic remedies to Emily's grandmother, wagering jaw-dropping amounts of cash on a golf outing, and inadvertently causing Marcus to ingest an incredibly potent hallucinogenic mushroom Ron calls "the devil's dick."
Cena continues to showcase the comedic chops first glimpsed in Trainwreck and expanded upon in Blockers, but he's frequently in danger of being upstaged by Hagner, who imbues her ditzy, borderline depraved character with a surprising amount of heart. Howery is well-positioned as the straight man routinely fed up with the antics of Ron and Kyla, but Orji's role feels underwritten, and she's given little to do outside of reacting to the chaos.
Directed by Clay Tarver from a screenplay credited to five writers, including Tarver himself and Spider-Man: Homecoming co-writers Jonathan Goldstein and John Francis Daley, Vacation Friends is formulaic and predictable — if you think the wild and crazy uninvited wedding guests will teach the prim and proper couple a valuable life lesson, you're right on the money — but certainly not without its laughs. Other films have tread similar ground to much greater success, like the Bill Murray and Richard Dreyfuss classic What About Bob?, but if you're in the market for a few R-rated chuckles on a Friday night, you could do a lot worse.