In the infamous Cabrini-Green housing project in 1977, Sherman Fields (Michael Hargrove) was known throughout the neighborhood for passing out sweets to the local children, but after being accused of putting razor blades inside the wrappers, the police began patrolling the nearby streets, and Fields went into hiding. Weeks later, a young boy returning from a basement laundry room witnesses a terrifying sight: a tall, slender man with a metal hook at the end of one arm emerging from a hole in the wall, grinning from ear to ear, his good hand outstretched with a palm full of wrapped candy. The boy screams, and the responding police viciously beat Sherman to death.
Not long after, more children start finding razor blades in their candy; Sherman had been innocent, and his brutal death at the hands of local cops became the basis for the legend of Candyman, a vengeful spirit who murders from beyond the grave. At least, that's one version of the story, as related by laundromat owner Burke (Colman Domingo), who still lives in the now-gentrified Cabrini-Green; but Burke also knows the tale of Daniel Robitaille, the black artist who fell in love and fathered a child with the daughter of a wealthy white man whose portrait he'd been hired to paint in the late 1800s. A lynch mob cut off Robitaille's hand, covered with honey and allowed bees to sting him to death, before burning his body and scattering the ashes over the land which would eventually become Cabrini-Green.
These macabre tales of racial violence strike a chord with struggling artist Anthony McCoy (Yahya Abdul-Mateen II), who becomes fixated on the legend of Candyman and the superstition that he can be summoned by staring in the mirror and repeating his name five times. Infusing his work with increasingly disturbing imagery, Anthony creates an exhibit inspired by the legend, complete with a mirror that invites visitors to conjure the hook-wielding killer themselves — an idea that plays out exactly as one might expect. "Candyman isn't real!" insists his art-dealer girlfriend Brianna (Teyonah Parris), but try telling that to the growing pile of mutilated bodies, all of whom interacted with Anthony's work shortly before their demise.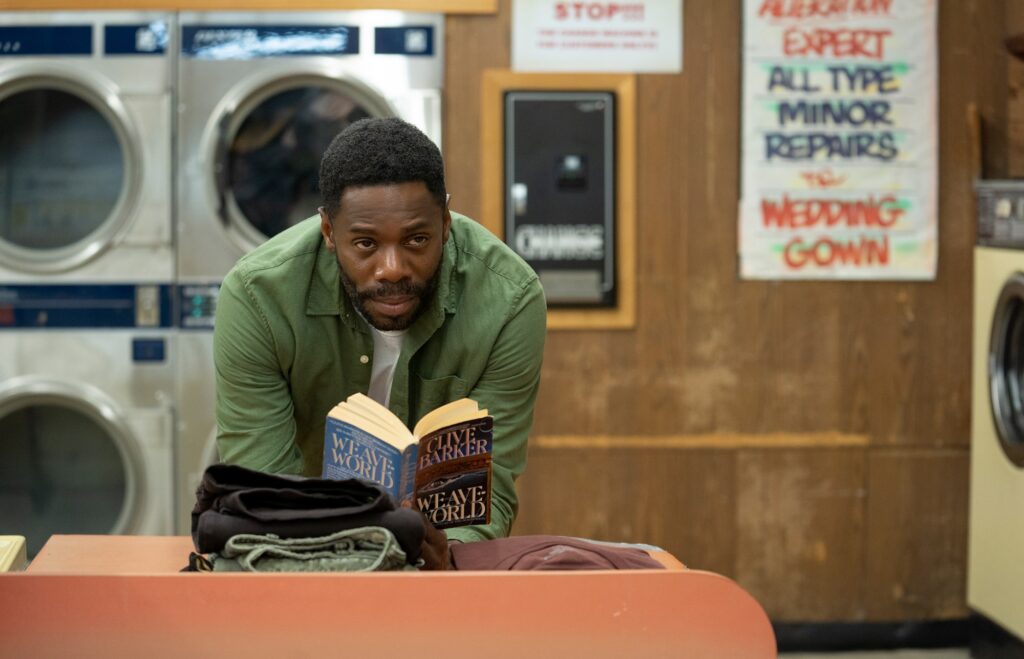 Produced by Jordan Peele (Us) and directed by Nia DaCosta (Little Woods), this updated spin on Candyman follows in the footsteps of the 2018 Halloween reboot, eschewing the trail of disappointing follow-ups and serving as a direct sequel to the original film. For the uninitiated, those events are recounted via haunting animated sequences featuring paper puppets, an eye-popping visual flourish from DaCosta first glimpsed in a short film she released via her Twitter account last summer. But this is far from the only clever stylistic choice on display; arguably more inventive is the notion that Candyman can only be glimpsed in reflections, which makes for some inspired staging of the film's progressively gory murders.
Much like Peele's other forays into horror, Candyman — which he co-wrote alongside DaCosta — doesn't shy away from exploring some weighty thematic material. Anthony and Brianna complain about the gentrification of Cabrini-Green, with the latter noting "white people built the ghetto, then erased it when they realized they built the ghetto." But a sharp-tongued art critic (Rebecca Spence) offers another perspective, that people like Anthony and Brianna are just as responsible for the plight of the socially and economically vulnerable as the rich developers they despise. "Artists descend on disenfranchised neighborhoods to find cheap rent," she observes. "So they can dick around in their studios without the crushing burden of a day job."
Equally engaging is the notion that Candyman and similar urban legends are created as a means for the Black community to reckon with the endless cycle of violence, much of it stemming from racial discord and police brutality. "Candyman is how we deal with the fact these things happen," says Burke. "And they're still happening." Indeed, the specter of white supremacy is intrinsically linked to the events of the film, from the origins of Daniel Robitaille — Tony Todd's character in the original film — to the beating of Sherman Fields to a climax that feels so infuriating for its injustice, and yet so familiar it could have been ripped from today's headlines. Candyman is supremely bold work from DaCosta, a delicate blend of style and substance whose themes are every bit as haunting as its fearsome antagonist.
For more thoughts on Candyman, check out Kyle's review.