Director Gavin O'Connor is no stranger to sports dramas, with two superbly crafted genre entries already under his belt (2004's Miracle and 2011's Warrior). Reuniting with Ben Affleck after their work on 2016's The Accountant, O'Connor uses the familiar trappings of a ragtag high school team led by an unconventional coach to tell a story about loss, addiction and redemption in The Way Back, opening in theaters this weekend.
Once a basketball prodigy with an immensely bright future, Jack Cunningham (Affleck) is now a construction worker with a severe drinking problem. He wakes up every morning and chugs a beer in the shower, he pours liquor into the styrofoam cup that he takes to the job site, and in the evenings he alternates between polishing off an entire fridge full of beer or getting so drunk at the local tavern that other patrons are tasked with escorting him and ensuring he makes it up the stairs.
It's clear that Jack hasn't seen anything close to sobriety in a very long time, but as with most addicts, he remains in denial about his condition. When his sister (Michaela Watkins) expresses concern about his nightly excursions to the pub during a family holiday, Jack morphs from fun-loving uncle to violent-tempered asshole in the blink of an eye, hurling a beer can across the room and storming out. He's suffering, but the circumstances which fueled his downward spiral into addiction won't be revealed for quite some time.
When Jack gets a phone call from his old high school, asking him to step in and coach the basketball team in the wake of an unfortunate medical incident, he's reluctant to accept the offer — after all, he's been away from the game for decades and hasn't even picked up a basketball in years. But after his initial meeting with the team and their subdued assistant coach (Al Madrigal), Jack's love for the sport is reignited, and soon he's on the sidelines barking orders at the players and spewing profanity-laced insults at referees — much to the chagrin of team chaplain Father Mark (Jeremy Radin), who repeatedly tries to counsel Jack on his conduct. "Don't underestimate the impact that you can have on them," he says.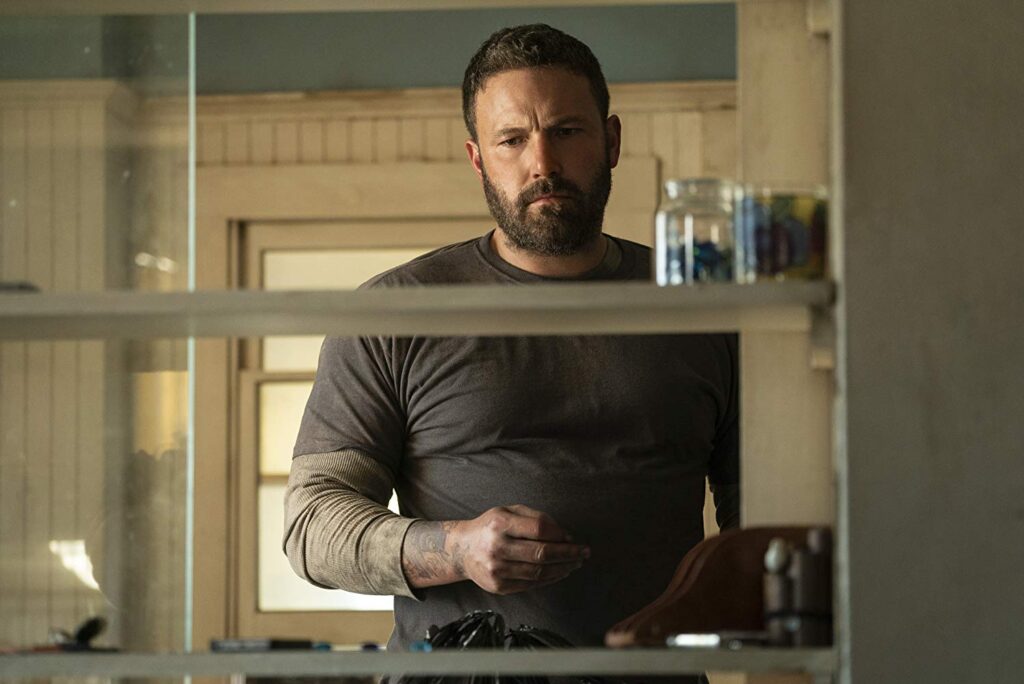 As the team begins picking up victories, Jack pours his energy into coaching and his need for the bottle seems to dissipate. But when his estranged wife (Janina Gavankar) convinces him to accompany her to a birthday party, the feelings Jack had been trying to bury come rushing back to the surface, and his ability to keep the demons at bay begins to falter — just as the team prepares for the most important game of their lives.
On the surface, The Way Back might seem like the stereotypical inspirational sports movie, but the action on the court takes a backseat to the unflinching portrayal of alcoholism and the emotional toll exacted by addiction — not just on Jack himself, but on everyone around him. As with Warrior, O'Connor is far more concerned with exploring the human drama than staging elaborate sequences of sports action. That's not to say the basketball scenes aren't exciting to watch — on the contrary, they look great, and there's an honesty to Jack's explosive temper (and the chaplain's endless cringing at his vulgarity).
Affleck's own well-documented struggles with alcohol lend some extra weight to his performance, which happens to be some of his best work in front of the camera in years, and there's a sense that portraying a character with such strong parallels to his real life might have been a therapeutic exercise. It's certainly a far cry from his phoned-in supporting role in Sundance entry The Last Thing He Wanted — here's hoping that, much like his character, Affleck is on the path to redemption. I'll certainly be rooting for him.