Opening to rave reviews in 2016, Broadway smash Dear Evan Hansen was nominated for nine Tony Awards, taking home the statue in six of those categories, including Best Musical and a Best Actor accolade for its star, Ben Platt. A feature film was optioned less than two years after the musical's debut, with The Perks of Being a Wallflower writer-director Stephen Chbosky tapped to helm the adaptation and Platt reprising the titular role.
After completing production during the pandemic, under strict COVID-19 protocols, Dear Evan Hansen kicked off opening night of the 2021 Toronto International Film Festival. It was something of a homecoming for Chbosky, who premiered Perks at the festival in 2012, an event he said "changed his life" while addressing this year's crowd and officially welcoming everyone to "opening night of cinema in North America."
We caught up with Stephen via phone earlier this week to pick his brain about chasing a project for the first time, translating material from the "abstract and impressionistic" medium of the stage to something more grounded in reality, and what other Broadway musicals he would love to adapt for the screen.
[Editor's note: this conversation has been lightly edited for length and clarity. Light spoilers for Dear Evan Hansen are found below]
---
Because I was such a fan of Perks, when I heard you were directing Dear Evan Hansen my immediate thought was "this makes the absolute most amount of sense it could possibly make." Is this something you actively pursued, or was it brought to you?
Stephen Chbosky: Oh yeah, I pursued it. I saw the show about three years ago in New York, and when I went in, I didn't know anything about it. I had heard, kind of through the grapevine, that Perks might have inspired part of it, so I thought "oh, that's interesting, let me see what this is." When I went, I was blown away by the show: I loved the writing, I loved the songs, the characters were great, the situation was so complicated emotionally and morally.
I just found it to be a genuinely fascinating show, almost like someone had figured out a way to turn Heathers into a tearjerker, which was its own magic trick. So the next day, I called my team and I was like "look, I don't know if they're making a movie of this, but if they are, I wanna meet. I am so in." I wanted to direct this movie desperately because I just felt such a kinship to it.
Dear Evan Hansen was the opening film at TIFF, bringing people together after a crazy year and a half where we physically couldn't be together. What was that experience like for you?
Stephen Chbosky: It was cathartic. As the director, you stand in front of the crowd and introduce the film. I had a few ideas of what I might say, but it wasn't until I stepped in front of the audience and saw the people gathered… I got very emotional, actually. We've all been through such a tough time, and it's left scars as unique as people are, so it got me very emotional. It was catharsis for me, it was a dream come true.
Obviously, you have Ben and Colton who've both done the show onstage, and there's probably a lot of muscle memory in those performances. Did you have to give them much direction about toning things down, maybe suppressing the instincts to play to the back of the room and go for something a bit more naturalistic?
Stephen Chbosky: The thing about Ben and Colton as seasoned live performers — and both of them are brilliant — is that any live performer worth their salt knows how to play to the room, whether the room is a thousand seats or the room is three people across the table. So when Ben is singing "For Forever," he's not playing to the back row, or even to the front row — he's playing to Amy, or Danny, or Kaitlyn. I don't know if it was particularly difficult to calibrate for him, but I felt it was my job to be supportive to all the actors, because singing on camera is very difficult, especially if you're not trained in it.
So I wanted to be supporting and nurturing, and tailor the shoot to however they needed it tailored. If we're starting in a close-up because it's an emotional scene, or we're starting with the master because we need to build up to it — whatever it was, I tried to deliver. All I really tried to do with Ben and Colton was to remind them from time to time, because they've both performed the show so many times, I would remind them "remember, you've never said these words before."
There were a couple of key changes, as a fan of the stage production, that I wanted to get your take on. The first is that the character of Alana has been changed, and that she no longer reads like the self-centered overachiever of the stage version. What was the impetus behind making her more empathetic and more able to connect with, and relate to, the other key characters?
Stephen Chbosky: The authors have watched the show now for years. They've learned how it moves, and they've learned how it could change, so it was very exciting for me to talk to them, as a fellow writer myself, and to just ask questions and have discussions, et cetera. With Alana, it's kind of a twofer, and I'll describe it this way: the one thing that was never going to work on film was the idea of Connor as Evan's alter-ego. I love that onstage, I think it's brilliant, like here's [Evan] talking to [himself as Connor], that part is amazing.
But stage is an abstraction, it's impressionistic, you can just have that. In a real bedroom, it feels like Connor is a ghost, and it doesn't quite work. So we knew with that change that "Disappear" would go away, so something had to replace "Disappear" to explain the need for The Connor Project, and the need for the memorial which drives so much of the second half of the story. So we thought that Alana was the obvious candidate, and it was a wonderful opportunity to give her more depth, because there was more time to do so. Steven Levenson wrote that wonderful scene — "what do you take," talking about what meds they're both on — which was a real surprise because she's the president of the school, she's beautiful, she's intelligent, she's just that person we all knew, that winner in school.
The fact that she has these secrets, that she has these struggles, was very profound. I loved the scene that Steven wrote, and the song came out of that scene, and once we had Amandla Stenberg, who co-wrote the song with the boys, she added so much of her own stamp to things. With a talent like that, we wanted to give her as much as we possibly could, and it was a wonderful marriage.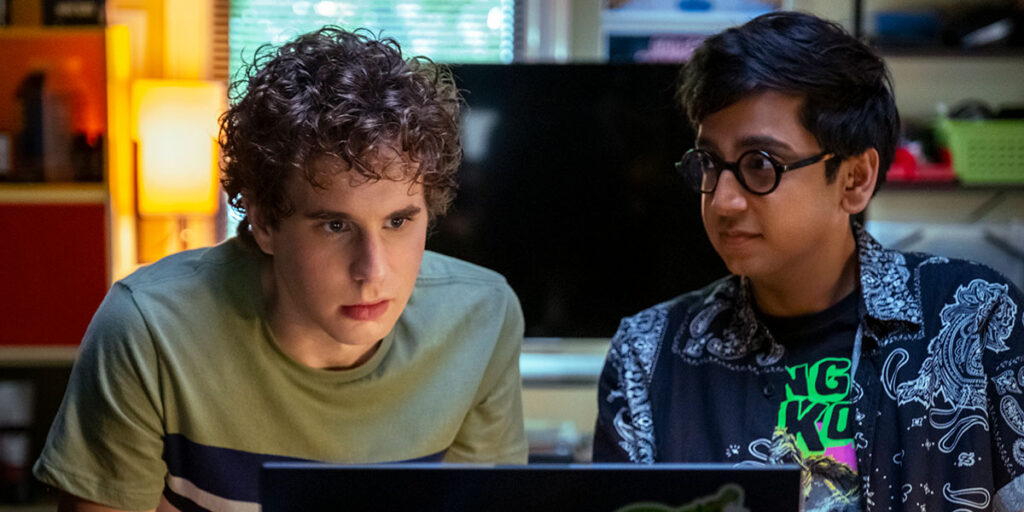 The other big change is the ending, and the fallout from Evan's deception. The stage version has been criticized a bit for allowing Evan to skate by without much in the way of consequences, but in the film he makes a very conscious decision to not allow that to happen. He wants the world to know this is his fault, and the family doesn't deserve what they're being through. I'd love to know how that change came about?
Stephen Chbosky: That was my main note going in, and I say this as someone who loves the stage production. If you think about it, for all intents and purposes Evan does confess to just everybody that we know: the Murphy family, his mother, and Jared all know the truth. But once we brought it into the real world, and we saw an actual community, I just felt like he had to confess.
I asked the guys "is he still pretending to be Connor's friend at the 10-year high school reunion?" And the answer was "of course not," so I felt he should come clean. Steven wrote that beautiful speech where he says "you're you, no hiding, no lying, you're you and that's enough," and I felt like now that we're in the real world, now that we're in an actual high school and we know these other kids, in order to have no hiding then we really need to have no hiding.
Steven wrote that beautiful confession speech and Ben delivered it perfectly, and I thought it was very important to Evan's redemption. It was also very important to see how he becomes a pariah at that school — before, they just ignored him, but now they actively dislike him, and I thought that was the right thing to do.
You've proven yourself very adept at understanding adolescents. You seem to have the key ingredient to unlocking the frustrations and the anguish and the anxieties — where do you think that comes from?
Stephen Chbosky: I can trace it all back to Pittsburgh, where I'm from. Where I was raised, a lot of stuff is unspoken — there was a lot of emotion, but not a lot of talking about emotion. I also grew up in an era where things are swept under the rug a bit more than they are today, and I'm so glad that people are talking about these things more. If someone is whispering, you listen a little harder, and I just learned to listen.
When I make movies about young people, I don't treat them as young people, I treat them like people. If I make a movie about kids, I don't treat them like kids, I treat them like people, because they are. Just because their frame of reference is different from mine — and now I'm in my middle age, so my frame of reference is different — it doesn't mean I know a 15-year-old's life more than they do. I don't. I might have some wisdom to offer them, but only some, and they have a lot to teach me as well. That fundamental respect is where it all comes from.
You directed Dear Evan Hansen, but this wasn't your first Broadway project: you also wrote the screenplay for the adaptation of Rent. Are there any other Broadway projects you would love to work on in the future?
Stephen Chbosky: Yeah, there are a few. There's a show called Fun Home that I thought was just fantastic. I love that show, I think it's one of the greats. And speaking just as a fan, I hope someday Sam Mendes gets to direct a movie of his stage production of Cabaret, because it's one of my favorite things of all time and I want to see it again and again. I want to have it in my pocket.
So those are the two: one I would happily make, although I'm sure it's very spoken for, and the other I don't think will ever be made because of film rights, but I hope Sam Mendes does it. And if he ever turns it down or doesn't want to go back there, I would just about kill to do that movie.
---
Dear Evan Hansen screened at the 2021 Toronto International Film Festival, and will be released in theaters on September 24th. The 46th Toronto International Film Festival runs September 9–18, 2021. Find more of our TIFF 2021 coverage at this link.