This week is a big one for Bat-fans with the release of the Oscar-buzzy Joker flick starring Joaquin Phoenix, followed by Sunday's premiere of The CW's heavily hyped new series Batwoman, starring Ruby Rose (John Wick: Chapter 2). We've taken an early look at the CW's new Arrowverse series and the pilot survives on the talent and name recognition of its star, while predictably hitting all the usual first episode checkmarks that have become staples of the network's popular DC Universe shows.
Bruce Wayne (and obviously Batman) have been missing from Gotham City for three years when the billionaire's cousin Kate Kane returns to the troubled city. A dishonorable discharge from military school and her own self-imposed vision quest of mental and physical training bring her back with a chip on her shoulder and skills to back it up. When the woman she loves is in danger and the city needs a hero the most, Kate stumbles upon Bruce's secret and decides she's the one destined to take up the Bat-mantle in her cousin's absence.
The first thing fans need to know about this series is that it takes place on the same Earth as Arrow, The Flash, and Legends but not Supergirl as shown in last years Elseworlds crossover. Although this Fall's Crisis on Infinite Earths crossover may change the status quo of which, if any, of the Earths still exist.
Confusing cosmic comic book calamity aside, the premiere episode of Batwoman rockets through Kate's origin story and yet still feels like it takes too long to get to the good stuff. Kate's leap into feeling worthy of donning the suit seems extremely quick and unearned in the first episode, although subsequent episodes most likely will explore more of her past training, much like the early seasons of Arrow. The episode also feels like one half of a two-part premiere, with Kate not even in her full black and red suit by the end.
Rose's portrayal and the unique social challenges Kate Kane faces are really what set Batwoman apart from most other vigilante series of this type. Kate's romance with ex-girlfriend Sophie Moore (Meagan Tandy) is both an instigator for her return to Gotham and source of hardship throughout her early adult life. Batwoman handles these touchy social issues of prejudice and hate gently and with class, never making it feel like her sexual inclinations are being exploited for the show's purposes.
The actress also recently opened up about a brush with paralysis due to her penchant for doing her own stunts and the action in Batwoman doesn't play it safe. Rose is in there putting in work, and it adds to the authenticity of the series, while walking the walk that her character lives by on the show with toughness and confidence.
As with any CW superhero series, the main hero has to have attractive, spunky young sidekicks/team members to surround them and a strong adult, parental presence from a veteran actor. Batwoman doesn't buck that trend, with Dougray Scott (Hitman) filling the latter role as Kate's father Jacob Kane, the head of Crows Private Security whom have been protecting the streets with an abundance of firepower and force. Scott is stern, but still warm toward his family and brings a tough, but likable father figure for Kate.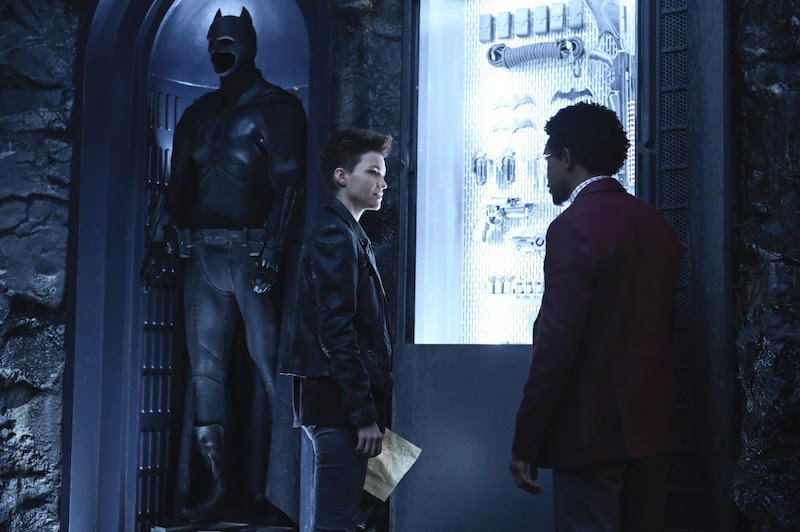 Jittery Luke Fox (Camrus Johnson), the son of one legendary Batman tech guru Lucius Fox, helps Kate sort through Bruce's legacy while humorously providing the gear and exposition she needs. Kate's bubbly stepsister Mary also provides her med school training to be a friend and nursemaid to Kate after her extracurricular injuries, but doesn't get much of substance to do in the pilot until they establish her compassion and skills briefly near the end of the episode.
A Bat-story is only as good as its villain and Batwoman's is… pretty okay? The pilot introduces viewers to the series' Big Bad in the psychotic Alice (Rachel Skarsten) and her Wonderland Gang, using a tried and true Batman villain premise with the obvious homage to the literary character. Skarsten is entertaining enough in the role and looks the part of a Bat-villain, but seems like she's holding back instead of fully diving into the crazy of the role. Hopefully she grows with the character going forward as her back story begins to further unfold.
The look and production designs of the show are also well done and sets like the Batcave look impressively slick for a TV show budget, but the show boils down to the whether or not viewers find Kate Kane interesting — otherwise, Batwoman is a super-powerless vigilante series stuck in the shadow of Batman. The good news is that I did indeed find her interesting making the series worth a look and that's thanks in great part to the committed performance from its star Ruby Rose.
Score: 3 out of 5
Batwoman premieres Sunday October 6 at 8 p.m. ET. on The CW.