Courtney Whitmore (Brec Bassinger) aka DC's Stargirl and the next generation of the Justice Society of America return in Season 2 for more family-friendly Golden Age of DC Comics adventures. This time around the show will premiere exclusively on The CW instead of Season 1's model of debuting first on the now-defunct DC Universe streaming service before hitting the network.
After the JSA's defeat of the Injustice Society of America in the Season 1 finale, things have been relatively quiet in Blue Valley. The only drama going on is the last day of school for Courtney and friends, but certain members of the ISA are still unaccounted for and new threats are gathering on the horizon.
The first noticeable change for Season 2 is the implementation of multi-episode arcs, starting with Summer School: Parts 1-6. The premiere, Summer School: Part 1, spends most of its time on Courtney's growing addiction to being a superhero that causes a disruption in her final's grades, resulting in mandatory summer school and a cancelled planned family vacation.
The episode moves a bit slowly after an out-of-character and terrifying cold opening for the show, establishing the power of Eclipso (Nick Tarabay), seen briefly inside the stone Cindy (Meg DeLacy) stole in the Season 1 finale. The JSA are then all shown on their own dealing with the realities of the non-super sides of their high school lives. Luke Wilson continues to be the highlight of the series and his Patrick Dugan is still a wonderful dad and great mentor to not only Courtney, but all of her teammates.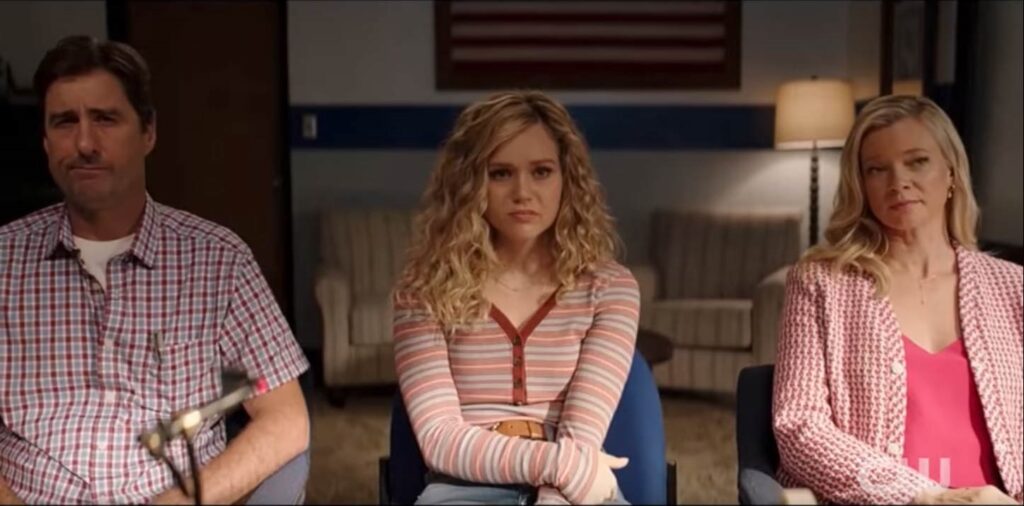 Meanwhile, Yolanda (Yvette Monreal) aka Wildcat II is dealing with severe guilt after her murder of Brainwave (Christopher James Baker), and Rick (Cameron Gellman) aka Hourman II is investigating events that could mean Solomon Grundy is still hanging around on the outskirts of town. Yolanda's mental state is important to display for the young hero, but it slows down the episode — nobody likes a mopey superhero, especially on a show like Stargirl. Rick's story takes a few episodes to pay off, and even though its conclusion is predictable, it's still entertaining to see it all play out.
Beth Chapel (Anjelika Washington) aka Doctor Mid-Nite II is struggling to fix "Chuck's" A.I. while dealing with some family issues at home that are making her feel isolated when she's not with the JSA. Washington is just adorable in the role, which makes it easy to cheer for her as she struggles through her hard times. On the other end, the villainous Cindy has big plans for Eclipso, but first she has some revenge on her mind, and Eclipso may not be so easy to control. Cindy is removed from the major action in Summer School: Part 1, but the cliffhanger gives the audience a glimpse of her potential game-changer plans.
DC's Stargirl Season 2 also introduces a couple of fresh faces, including one that is featured in another of the show's excellently choreographed super-fight scenes at the end of this episode. Unfortunately, the network has asked we don't spoil this surprise — but it's very cool. Pat gets yet another person wanting to join the fray in Zeek (King Orba), a local junkyard owner asked to watch over Pat's auto shop, but ends up hilariously including himself in the rebuild of S.T.R.I.P.E. in the secret back room.
For any viewers that may be underwhelmed by the season premiere, after watching all six parts of Summer School, we suggest you stick around. Things pick up quickly in Part 2 and there are a lot of great appearances by new and old characters alike from the Arrowverse and the Golden Age DC catalog, played by some recognizable stars. DC's Stargirl has maintained its cinematic, higher budget look from Season 1 and still has the same sense of wonder and adventure along with that old school charm that has kept the show enjoyable for all.
Score: 3.5 out 5
DC'S Stargirl premieres Tuesday, August 10 at 8:00pm ET on The CW.