As more Americans are returning to work, Mythic Quest's Season 2 couldn't be more timely as it finds everyone back in the office post-pandemic with new workplace dynamics after the success of their big release, Raven's Banquet. This underrated gem of a comedy hits its stride with the second season, with all the characters firmly established and able to run hilariously wild in the bizarre business of video games.
While Season 1 introduced and established the characters, Season 2 fine-tunes their roles in the office to capitalize on each character's comedic strengths. Ian (Rob McElhenney) and the newly promoted co-creative director, Poppy (Charlotte Nicdao) are the heart of the series and their creative relationship and love/hate rivalry is consistently entertaining as they try to design an epic expansion of Raven's Banquet. The wonderfully dorky Nicdao is tremendous this season, and her chemistry with McElhenney (who has never been better) is not only funny, but also touching.
But the truly genius pairing that Season 2 provides involves the mildly psychotic Jo (Jessie Ennis) leaving wimpy David (David Hornsby) to assist a better alpha in Brad (Danny Pudi). The evolution of their mentor/mentee relationship provides many of the consistent laughs in the first half of the season and allows a great showcase for Pudi to stretch and find some layers and much needed character growth for Brad. Mythic Quest is great at sucker-pucker emotional feel-good moments, and this arc provides yet another big one.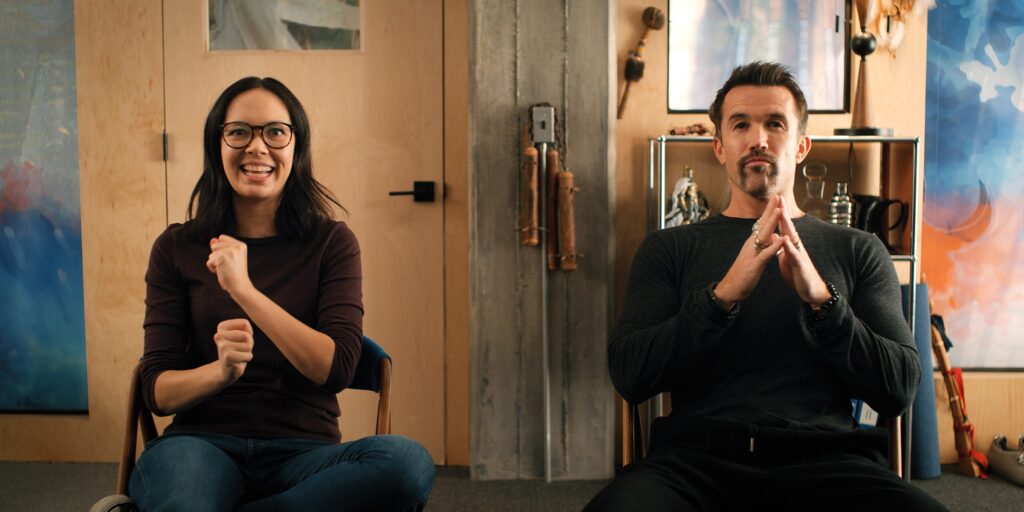 Meanwhile, the testers (Ashly Burch and Imani Hakim) spend much of the season traversing their newly budding romance. Burch is a terrific talent, but her character's arc is mostly wasted on the frustrating romantic communication story cliches. Both Burch and Hakim fare much better when they are occasionally paired with other cast members, most notably when Burch and McElhenney share a car ride together around mid-season.
The genuine surprise of Season 2 comes in a late arc with C.W. (Academy Award winner F. Murray Abraham, recently featured in Things Heard and Seen) that goes to some dark and deeply emotional places and brings in a completely unexpected appearance from a beloved veteran actor. Much like the flashback episode in Season 1, this storyline breaks the main narrative of the season and changes the way you see certain characters as they are appear in the present.
When Mythic Quest finally enters the final pair of installments after a truly amazing run of episodes it doesn't quite stick the landing — at least not to the quality of what came before it. There's nothing particularly wrong with the season closer, but the bar had been set so high that the ending feels a bit underwhelming. Regardless of mediocre closeout, this Parks and Rec meets Silicon Valley series is still just a joy to watch with its razor-sharp writing and outstanding performances that illuminate these lovably weird characters at every turn.
Score: 4 out 5
Mythic Quest Season 2 debuts on Friday, May 7, exclusively on Apple TV+.