If you thought Season 1 of The Boys was diabolical, you'd better grab a helmet, because the surprise smash-hit returns this week for Season 2 on Amazon Prime Video. Willing to take story and character risks while still brandishing razor sharp wit with its social commentary, The Boys Season 2 is a blast of TV adrenaline and will surely be everyone's #1 water cooler talk (if that's even a thing anymore) every week for its entire run.
Amazon Prime Video will be releasing the first three episodes of The Boys Season 2 this Friday, with each subsequent week seeing one new episode until the end of the eight-episode run. Full disclosure: we got to see the entirety of Season 2 and our review is based on the overall episodes as a whole and not just the three episode debut, although we will avoid major spoilers for all.
The first takeaway from The Boys Season 2 is the solidification of Antony Starr's Homelander as one of the greatest villains in television history. Homelander is facing somewhat of an identity crisis this time out that avoids re-hashing his Season 1 arc, but also takes the character to very unexpected places while adding multiple layers to an already multi-faceted, unpredictable persona. Starr crushes the added subtext and meaty mood shifts of the tyrant with more Emmy-worthy flair that steals the show once again — you simply can't take your eyes off him or release the grip on the arm of your chair when he's on screen.
On the other side of the battlefield, since there is no good and evil in this story, Karl Urban as Butcher is still the coolest guy in the room, despite also facing a loss of mojo in a parallel to his nemesis Homelander. The dichotomy of the two is quite interesting to watch play out, as both alpha males struggle with loss and defeat as the episodes progress towards a tense showdown in the eventual climax. Both still maintaining what you loved (or hated) about them, but also displaying new facets of their personality.
Not just the lead two, but most of the characters are in bad shape physically and emotionally at the start of Season 2. The Boys themselves: Hughie (Jack Quaid), Mother's Milk (Laz Alonso), Frenchie (Tomer Capon) and Kimiko (Karen Fukuhara) are all on the run hiding from the law and Vought. Despite the short number of episodes, somehow each character feels like they are treated well and with an appropriate amount of growth and screen time for everyone in both The Boys and The Seven. Quaid continues to embody the everyman, albeit a broken one now, with frustration and naive charm while Alonso's "MM" never stops tearing at your heartstrings or providing a much needed laugh.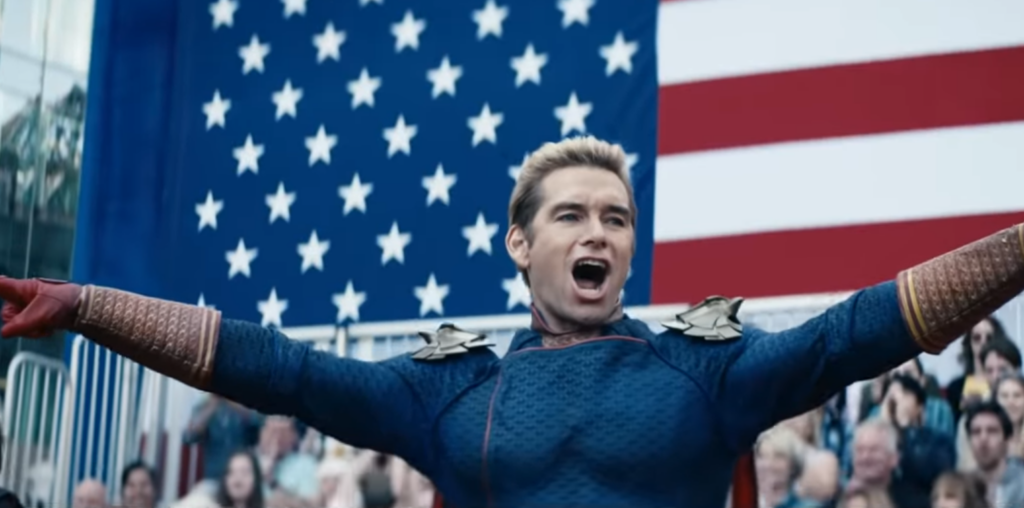 Erin Moriarty's Starlight is in quite a different position, pulling double agent duty inside of The Seven and Vought itself. Moriarty's portrayal has only gotten stronger and her early cloak and dagger stuff this season is an entertaining, if not extremely stressful, arc to lead her back to the action. The writing for Starlight has evolved this season and Moriarty runs with it, never falling into any genre cliches for female superheroes and women in general and there's even some subtle yet surprising character moments between Starlight and Butcher that show just how far the character has evolved.
The addition of Aya Cash (You're the Worst) as Stormfront was easily one of the biggest surprises of the season for me. Her lightning tossing, social media savvy superhero fills the spot opened by the firing of The Deep (Chace Crawford) from The Seven and ignites the scathing commentary of media manipulation in Season 2 the way that Season 1 went after athlete/celebrity culture. We won't spoil anything here, but Cash is fantastic and her character arc is much larger than expected and full of twists and turns — she's not just a side character to add girl power, although that is addressed in a sly way.
Just because the violence and "holy shit" moments haven't been mentioned yet, don't think Season 2 is playing things tame. You think things got awkward and weird with The Deep in Season 1? Season 2 says, "Hold my Fresca"… you'll get the reference. Did Homelander make you uncomfortable and freak you out last season? Season 2 is a Homelander roller-coaster of scary, awkward and bizarre. Not to mention that sweet and all too gratuitous violence The Boys loves to drench the audience in just as you get comfortable and least expect — it's all still there and ramped up a notch or two for good measure.
Despite losing the "discovery" factor that made the experience of Season 1 so much fun, the Billy Joel-laden The Boys Season 2 bulldozes ahead in this now-established universe and continues world-building to a stellar soundtrack of songs. The outrageous insanity mixed with surprising character arcs all comes together for a consistently genre-bending great time with a scathing eye on society.
Score 4 out of 5
The Boys Season 2 debuts its first three episodes Friday, September 4, with new episodes available each following Friday exclusively on Amazon Prime Video.