Amazon Prime Video original series The Boys is coming to shatter the notion that fans have seen everything that can be done within their superhero stories. The show hails from the mind behind Supernatural, Erick Kripke, and The Preacher duo of Seth Rogen and Evan Goldberg, combining the trio's strengths into shocking moments, brutal visuals, and a wicked sense of humor.
Loosely based on the Garth Ennis graphic novel series, the show takes place in a fully realized and lived in superhero world where Hughie (Jack Quaid) finds his entire life upended by a reckless Supe (shorthand nickname for superheroes) accident. The affable young everyman becomes horrified as he begins to realize there's no legal protection against collateral superhero incidents and the innocent bystanders are expendable. Enter the mysterious Billy Butcher (Karl Urban) that recruits Hughie into his quest for vigilante justice against these seemingly untouchable, spoiled celebrity superheroes.
Amazon Studios provided us with all eight episodes and we must say The Boys is a frenetic, super-charged demonic roller coaster ride that consistently doles out jaw-dropping moment after moment as each and every episode of its first season ups the ante. Viewers may think they've seen comic stories like this before — Watchmen gets compared quite a bit — but there's nothing quite like The Boys and that's no hype coming from a reviewer who has seen it all.
The real fireworks of the series take place with a not-so-subtle homage to DC Comics' Justice League. Elizabeth Shue stars as Madelyn Stillwell, the corporate head of Vought tasked with babysitting their world renowned sponsored superteam The Seven. The team's Superman-like leader, Homelander, slowly becomes the most fascinating character on the show due in great part to an absolutely riveting performance by Banshee alum Antony Star, with an arc that I dare not spoil. Gossip Girl star Chace Crawford (as The Deep, a clear homage to Aquaman) also has a storyline that won't be spoiled here, but that deliciously unfolds throughout the season.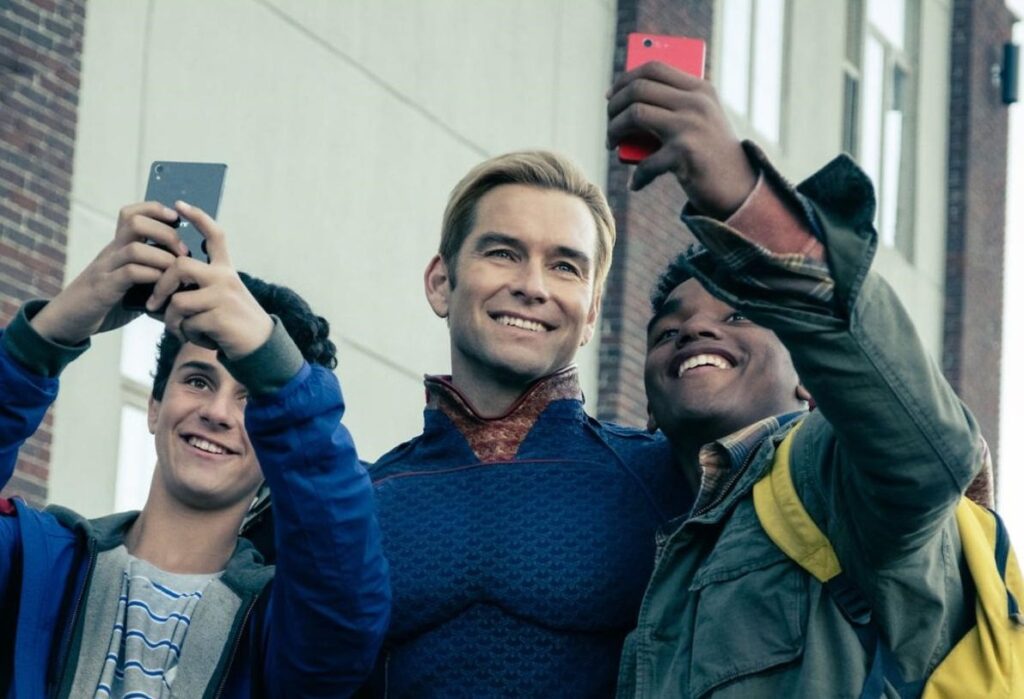 The cast really is just stellar from top to bottom, but Urban and McQuaid really stand out with their terrific mentor/student chemistry and yet again: terrific character arcs. Urban is particularly a scene stealer with his swarthy, gives-zero-shits attitude as he dryly finds the humor in every situation. The young Tom Hanks-ish McQuaid is a great entry point for the audience as you see through his eyes just how awful the beloved superheroes of this world are with their social media posts, movie adaptations and celebrity elite status.
Much like Preacher, Goldberg and Rogen's other Garth Ennis series, The Boys does a great job in presenting their story with poignant, relatable real world situations surrounded by the most insane things imaginable. The show is definitely a scathing commentary on what it means to be a modern celebrity and the lack of accountability the rich and famous publicly flaunt every day. There's even great little digs on workplace harassment and corporatized Christianity in B-plot storylines involving Starlight, the newest member of The Seven and love interest of Hughie (played by Captain Fantastic's Erin Moriarity).
While the series thrives with great character arcs and mind-blowing (literally and figuratively) twists, the show also looks terrific and very expensive. Each episode of The Boys could easily stand side-by-side with most large-budget comic book films out there from the big dogs at DC and Marvel. The costume designs are impressively created and in some situations even surpass their big screen inspirations along with all of the sets and cinematography that are also top tier gorgeous.
Amazon Studios went all in on their vision for The Boys and it pays off with one of its ballsiest and most entertaining pieces of original programming yet. For once it will be okay to root against the superheroes, because The Boys is violent, visceral and just too damn good to resist.
Score: 4 out 5