The Marvel Cinematic Universe at long last returns, but this time on Disney+ with the much anticipated premiere of WandaVision, Marvel Studios' most unique and bizarre output yet. Working as both a love letter to classic sitcom television and a modern comic book mystery, WandaVision is just weird and charming enough to work.
Wanda Maximoff (Elizabeth Olsen) and Vision (Paul Bettany) are mysteriously reunited following the events of Avengers: Endgame, but seem to have no memory of anything beyond the black and white sitcom world they've woken up inside. As the duo try to adjust to suburban life, the world around them begins to reveal that perhaps something more sinister is afoot, aside from the live studio audience.
Disney+ provided us with the first three episodes of WandaVision (the first two will be released Jan 15) and despite a slow start, the chemistry between Olsen and Bettany carries this odd little MCU puzzle of a show. Fans should prepare themselves for a different type of Marvel in these early episodes, one without action scenes or triumphant speeches. No, instead the first two episodes are almost truly an homage to black and white sitcoms like Bewitched or The Dick Van Dyke Show, with very little else in the way of overall plot.
The show confirms the chemistry that made Marvel Studios decide to pair Olsen and Bettany together in the films, despite not getting the character development deserved for Wanda and Vision due to the overwhelming amount of characters that were already in play. WandaVision gives both actors an outlet to stretch and shine, both together and apart on screen as events shift from slapstick comedy to moments of reality breaking revelations.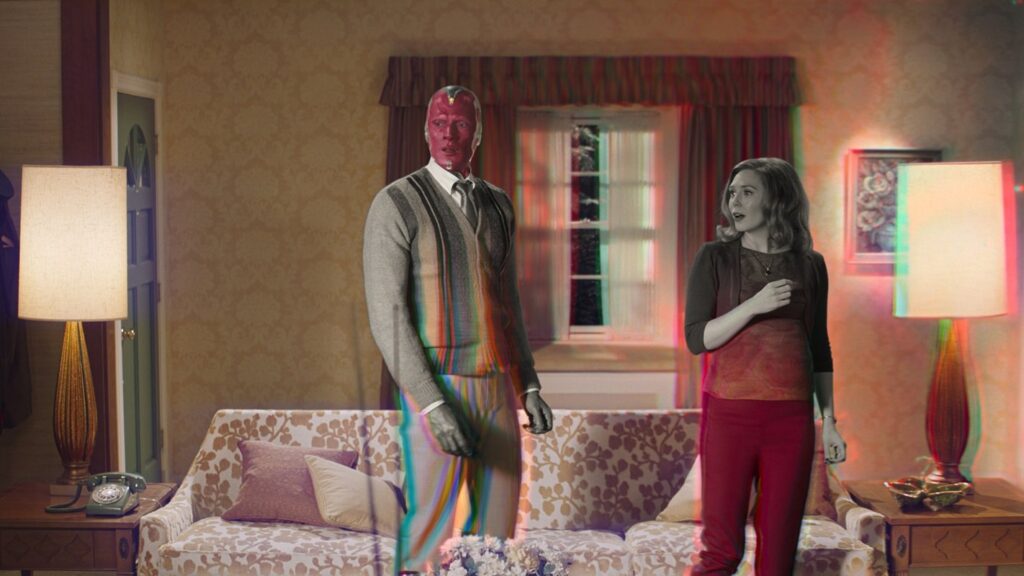 The leads aren't left alone to do all the heavy lifting thanks to a terrific supporting cast of character actors that wouldn't normally find their way into a Marvel Studios production. Notably, Kathryn Hahn uses her comedic skills to great effect as the precocious neighbor Agnes and That 70's Show alum Debra Jo Rupp, as the wife of Vision's boss, is a perfect addition to add to the period feel of the show.
The series will provide enough little bits of foreshadowing and Easter eggs to keep fans talking between episodes, but it's a tough sell to expect casual fans to stay invested with the slow paced nuance of the two premiere episodes. While the sitcom worlds are painstakingly recreated to glorious effect, WandaVision could use a bit more gusto to sink its hooks in earlier with the third episode (releasing one week after the premiere) being the one that starts to break the story and open up the world a bit more.
Indeed, the look and design of WandaVision is an achievement in itself and creates a wonderfully evolving palette of colors and styles, thanks to the talented hands of head writer Jac Schaeffer (Black Widow) and director Matt Shakman (Fargo). Little touches like the brilliant sitcom opening credit songs and vintage commercials are really fun additions. If you've seen any of show's marketing, it's not a spoiler to know that the story advances in both Episode 3 and beyond to different eras of sitcom television and therein lies what makes the show stay afloat until the overall plot eventually gets moving.
It remains to be seen if WandaVision comes together with a satisfying conclusion to the unfolding mystery that makes the lush TV nostalgia worth the journey, but the early episodes definitely seem to be picking up steam with each passing one. Overall, it's just refreshing to see something that doesn't feel anything like Marvel, but still somehow fits right into the MCU. This bodes well for the creative future of this beloved universe as new ideas can be given space to grow both on the big screen and on Disney+.
Score: 3.5 out of 5
WandaVision premieres exclusively on Disney+ January 15. For more thoughts, see Brent's review.