The COVID-19 pandemic already saw one major Disney title forego the theatrical experience, when last year's live-action Mulan was released (for an additional price) on the Disney+ streaming service. Raya and the Last Dragon, the latest epic adventure from Walt Disney Animation Studios, is poised to follow a similar digital release model (would-be viewers can expert to fork over some extra cash to watch it at home), but the film will also be hitting big screens at the same time — in locales where theaters have reopened, of course.
Raya and the Last Dragon tells the story of Kumandra, a once-prosperous land where humans and dragons lived alongside each other. When a sinister plague ravaged the five realms — Tail, Talon, Spine, Fang and Heart — the dragons sacrificed themselves to protect the last remnants of humanity, and the 500 years that followed have been filled with endless conflict. Chief Benja (Daniel Dae Kim) believes the only way forward is to make peace with the other lands, but when a betrayal by a rival nation unleashes the centuries-old plague once again, his daughter Raya (Kelly Marie Tran) sets out to locate the last remaining dragon in hopes of restoring the balance.
That Raya should eventually track down the mythical beast doesn't exactly come as a surprise — it's right there in the film's title — but Sisu (Awkwafina) isn't exactly what one might expect from a legendary savior. Tales of Sisu vanquishing the darkness have been passed down by Raya's people for generations, but the dragon's victory might have been more a matter of circumstance than pure heroism.. As she puts it herself: "Have you ever done a group project, and there's one kid who didn't pitch in as much but still ended up with the same grade?"
Nevertheless, she's the only hope left for Raya and her ragtag band of followers, including an acrobatic baby with a case of kleptomania (Thalia Tran), a towering one-eyed brute (Benedict Wong, Doctor Strange) and a 10-year-old boat captain (Izaac Wang). They're far from the most formidable warriors, especially in the face of Fang's military, led by the fearsome Virana (Sandra Oh) and her daughter Naamari (Gemma Chan), Raya's sworn enemy since childhood and the biggest obstacle standing between her and victory.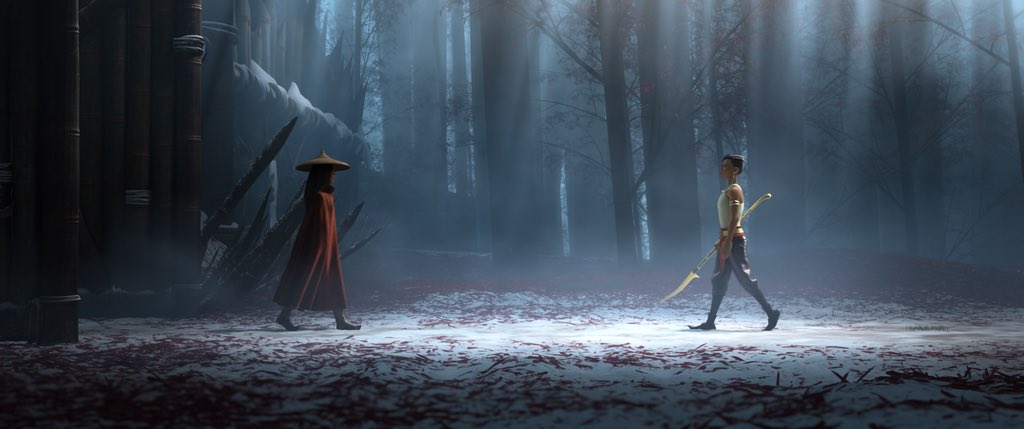 Inspired by the cultures of Southeast Asia, Raya and the Last Dragon is one of the studio's most visually stunning efforts to date. Sprawling marketplaces lit by paper lanterns, snow-covered bamboo forests and luscious grasslands awash in vibrant colors provide one gorgeous backdrop after another. The film's combat sequences are also influenced by real-life fighting techniques like muay Thai and eskrima, lending a bit of action-movie flair that fits neatly with the overall tone and aesthetic. The voice cast is solid, with Kelly Marie Tran and Awkwafina emerging as the biggest standouts, although Gemma Chan does some excellent work as well, and Alan Tudyk continues his run as the studio's preferred provider of adorable animal vocalizations.
Raya and the Last Dragon is likely to draw comparisons to Moana, and the similarities are undeniable. Both films are about a destructive force threatening the existence of humanity, and both films follow a princess as she embarks on an epic quest in search of a legendary mythical being, whose power she hopes to enlist in order to save the world. But despite hewing closely to such a similar formula, the setting, characters and visual style provide enough freshness that Raya and the Last Dragon never quite reaches "been there, done that" territory.
After living with the pandemic for the past year, we could all use a bit of Disney magic in our lives, and Raya and the Last Dragon is here to oblige. The film's central themes of trust, unity and friendship in the face of adversity feel especially resonant, and in true Disney fashion, the laughs are (mostly) well-earned and the big emotional beats are hugely effective. In short, it's just the sort of entertainment comfort food many of us have been craving.