The SXSW Film Festival has always welcomed genre films with open arms, and despite going virtual, SXSW 2021 is no different. As the festival continues, we had the opportunity to check out a pair selections from the Midnighters category, and a spotlight film with more than its share of scares. Keep reading for our thoughts!
The Feast
Directed by Lee Haven Jones
Taking place over the course of a single evening in the Welsh countryside, The Feast centers on a wealthy family hosting a dinner party in their opulent home, a veritable palace of brick and glass. Glenda (Nia Roberts) and politician husband Gwyn (Julian Lewis Jones), having made a small fortune in a land development deal, are hoping to coax their neighbors into a similar investment, with a little help from shrewd businessman Euros (Rhodri Meilir). In order to ensure the evening goes smoothly, Glenda enlists the services of local barmaid Cadi (Annes Elwy) to help with dinner.
An attractive, reserved young woman, Cadi catches the attention of Glenda's sons: recovering addict Guto (Steffan Cennydd), who would rather play guitar than mingle with the guests, and fitness-obsessed Gweirydd (Sion Alun Davies), currently training to compete in a triathlon. As the evening wears on, a series of increasingly bizarre and violent happenings indicate the family's past transgressions are coming back to haunt them, and the mysterious Cadi might be connected
This debut feature from Lee Haven Jones is a wonderfully staged slow-burn thriller, steeped in Welsh folklore, whose gory thrills are carefully doled out for maximum effect. The stunning countryside provides a beautiful backdrop for Jones to weave his narrative, and Elwy's enchantingly creepy performance will worm its way under your skin — to say nothing of the startling imagery in the film's third act.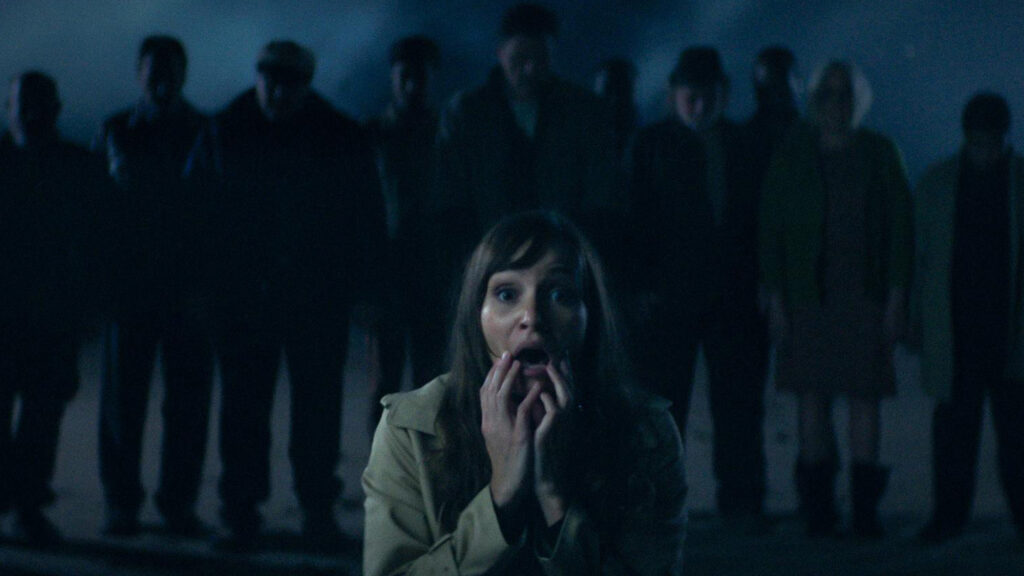 Offseason
Written and Directed by Mickey Keating
After bringing Carnage Park to the 2016 festival, Mickey Keating is back for SXSW 2021 with his latest film, the surreal and atmospheric thriller Offseason. When Marie receives a mysterious letter regarding her mother's grave, she travels to the seaside tourist village of Lone Palm to investigate, arriving just as the town is closing for the season and unwittingly becoming trapped on the island.
Keating blends Southern Gothic narrative influences with a visual style that evokes Silent Hill, Fatal Frame, and other "survival horror" videogames, making ample use of fog, mist and shallow depth of field. The moody, ethereal visuals heighten the tension as Keating plunges Marie and her boorish partner George (Joe Swanberg) into a nightmarish scenario full of creepy dead-eyed townsfolk, violent weather patterns and a sinister presence lurking just below the water's surface. It's solid stuff, with great work from Donahue and small but delightfully showy supporting roles for Melora Walters and Richard Brake.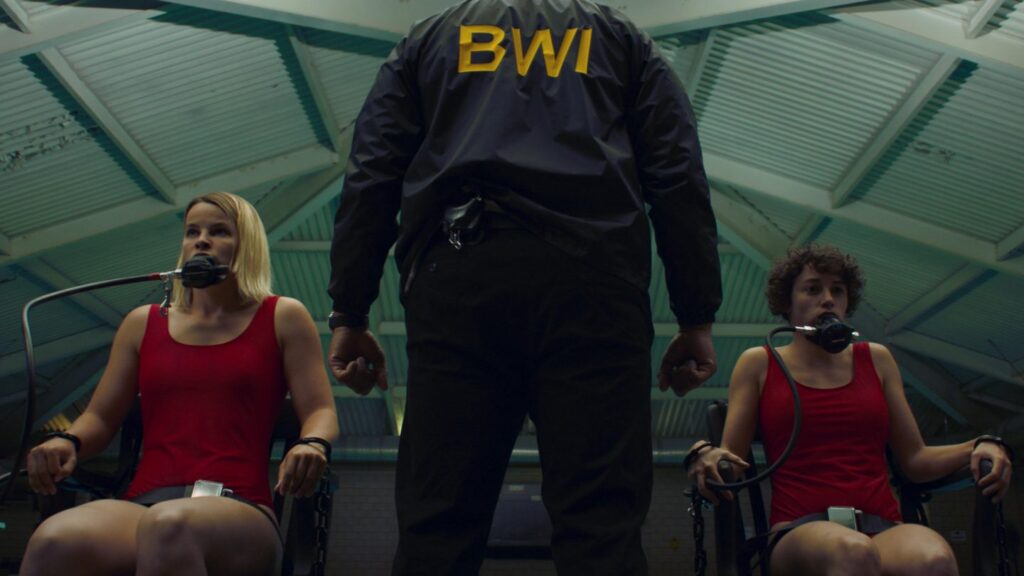 Witch Hunt
Written and Directed by Elle Callahan
"If witches just turned up overnight in America, how would we treat them?" That's the question behind Elle Callahan's Witch Hunt, which finds modern-day magic users being persecuted and hunted down by prejudiced government officials. Opening with a group of shotgun-toting agents presiding over a young woman being burned at the stake, we quickly learn witchcraft has been outlawed in the US, and while the Bureau of Witchcraft Investigations is officially tasked with rounding up offenders and shipping them off to detainment camps, some of the more zealous G-men have no qualms about handling things the Salem way.
In southern California, a labyrinthine house owned by Martha (Elizabeth Mitchell) acts as a way station for fugitive witches, providing a safe haven until they can be moved to a new location and eventually smuggled over the border, Underground Railroad style. Daughter Claire (Gideon Adlon) bristles at their latest guests, teenage Fiona (Abigail Cowen) and her younger sister Shae (Echo Campbell), but when their departure date comes and goes, Claire is forced to intervene as a menacing BWI hunter (Christian Camargo) closes in.
Callahan does an excellent job updating 17th-century hysteria for contemporary times, even modernizing some of the most well-known methods for detecting witchcraft — a version of the "sink test," administered by government agents to a group of teenage girls, is especially horrifying. The visual effects aren't always convincing, and as an allegory for real-world themes, Witch Hunt can sometimes feel a bit clumsy and on-the-nose, but Callahan always manages to right the ship and keep us invested in the narrative. The film also benefits greatly from the earnestness of its cast, particularly Mitchell and Camargo.
---
Find more of our SXSW 2021 coverage at this link.