2009's blockbuster hit Avatar was undeniably a monumental technical achievement, a jaw-dropping experiment in performance capture whose stunning visual fidelity helped to offset its clunky dialogue, paper-thin character development and "been there, done that" plotting. Even after revisiting the 4K HDR remaster of the original film, which admittedly played far better than I remembered, I remained largely ambivalent about the notion of director James Cameron returning to the alien world of Pandora for a series of sequels. What else could possibly be said about former Marine turned tribal leader Jake Sully and the blue-skinned indigenous Na'vi tribe?
Plenty, as it turns out. Cameron has apparently spent the last 13 years being laser-focused on Pandora, and Avatar: The Way of Water boasts a level of narrative polish far exceeding that of its predecessor. The passage of time on Pandora echoes the real-life gap between 2009's Avatar and the first of its sequels, and an opening montage brings us up to speed with Jake (Sam Worthington) and Neytiri (Zoe Saldaña), who now have three children: eldest son Neteyam (Jamie Flatters) and his impulsive younger brother Lo'ak (Britain Dalton), and youngest daughter Tuk (Trinity Jo-Li Bliss). The Sully clan also boasts two adopted members: teenage Kiri, mysteriously born from the avatar of deceased scientist Grace Augustine (Sigourney Weaver, who also provides the performance capture and voice of her character's offspring), and Spider (Jack Champion), a human child left behind on Pandora when the Na'vi sent the "sky people" packing following the events of the first film.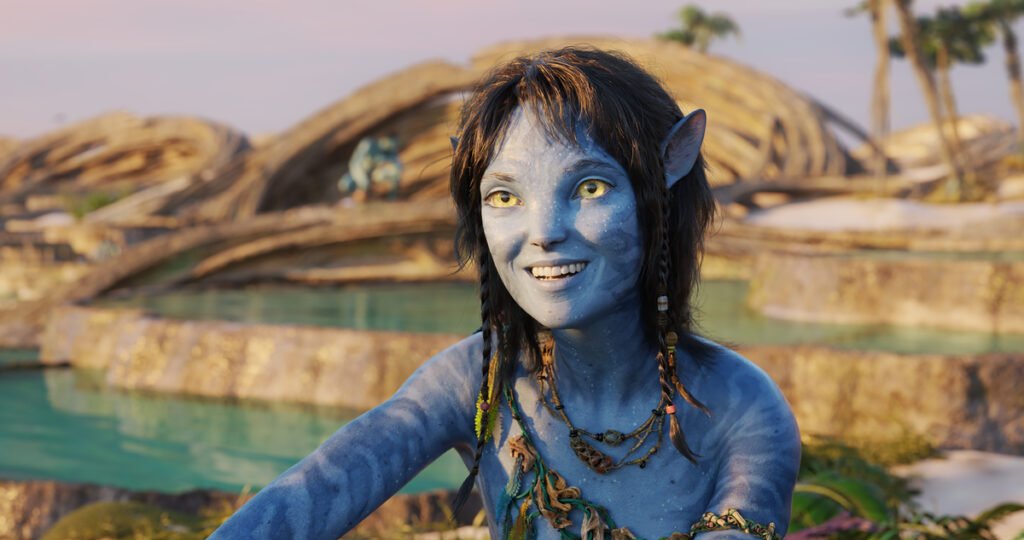 Of course, colonizers gonna colonize, and the "sky people" return to Pandora with greater numbers and greater military force, and a nasty new trick up their sleeve. It seems Jake's commanding officer and nemesis Colonel Quaritch (Stephen Lang), along with his entire squad of jarheads, have had their memories and military skills transplanted into lab-grown Avatar bodies, and their sole mission is to hunt down Jake and his family, whose frequent raids on human mining expeditions have slowed resource cultivation to a crawl. The inherent danger posed by a militant madman who can pass himself off as a native forest-dweller leads the Sully clan to flee their Omaticayan homestead and seek refuge with the Metkayina, a turquoise-skinned tribe of "reef people" whose bodies have evolved to make them more adept at underwater traversal. The differences in body type will render the Sully family "useless" in the water, as far as chief Tonowari (Cliff Curtis) is concerned, but nevertheless he's willing to welcome the outsiders, despite objections from glowering wife Ronal (Kate Winslet).
That's a lot of ground to cover in the first act, and as the Sully clan sets about learning the ways of their coastal brethren, Avatar: The Way of Water shifts focus away from Jake and Neytiri to center squarely on the children. Cameron is content to give this middle segment plenty of breathing room as each of the Sully kids embark on a journey of self-discovery, anchored by numerous underwater excursions that reveal the awe-inspiring beauty lying just beneath the surface of Pandora's oceans. It's here where audiences may be most likely to check out, as the film morphs into something more akin to a coming-of-age drama than the sort of blockbuster action flick moviegoers might be expecting. Cameron seems to be deliberately pumping the brakes to address a key criticism of the first film, and the unhurried pacing allow us to become more invested in each member of the Sully clan, while also introducing key events that will be foundational in The Way of Water's colossal third act showdown.
As for the inevitable confrontation, it's one for the record books, nearly a full hour of breathless sustained action that dwarfs the climax of Avatar in both length and scope. Cameron has proven himself time and again to be one of the all-time greats when it comes to staging big action sequences, and the mammoth budget at his disposal — reported to be north of $300 million — allows the veteran director to go bigger and wilder than ever before, serving up a veritable buffet of eye-popping mayhem. But amid the gunfire, explosions and dizzyingly huge setpieces, The Way of Water also manages to deliver on the emotional front. Thanks to that lengthy middle stretch, it's easy to find ourselves growing increasingly attached to the Sully clan, and I'm pleased to report that Worthington's skills have improved by leaps and bounds since his last go-round as Jake. But it's Saldaña that sets the bar once again, with a righteous fury that's almost frightening to behold; the rawness of her performance is incredibly affecting and will no doubt leave audiences with goosebumps.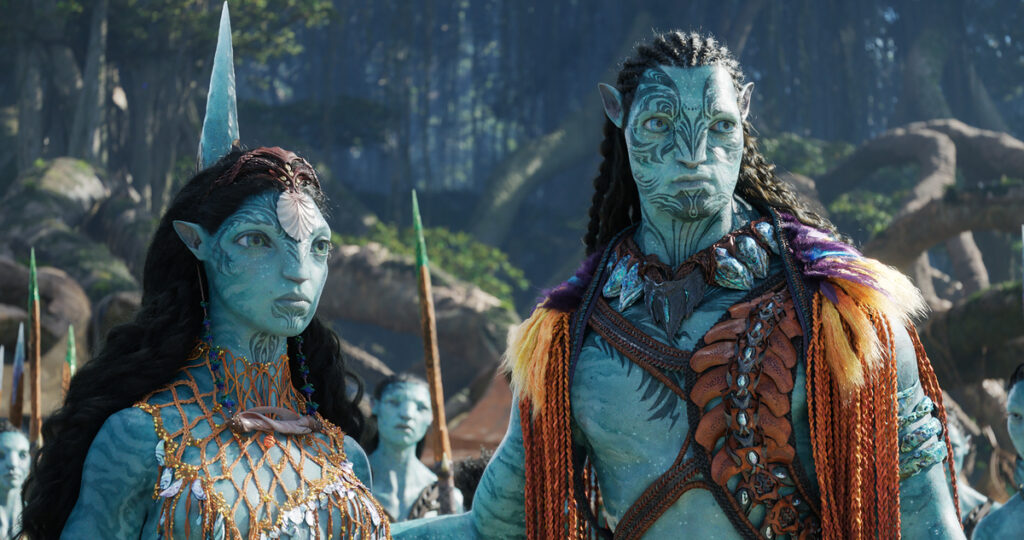 If there's one major gripe, it's with the implementation of HFR (high frame rate). This tech isn't exactly new, having been utilized in Peter Jackson's Hobbit trilogy as well as more recent offerings like Gemini Man, but whereas those films were screened entirely at 48 frames per second, Cameron has made the curious decision to only utilize HFR for specific scenes, switching back to the standard 24fps for everything else. While I won't deny that HFR looks incredible during much of the action, and specifically during the film's countless underwater sequences, the back-and-forth toggling became increasingly distracting as my eyes struggled to adjust to the difference; your mileage may vary, but I wish Cameron had adopted an all-or-nothing policy for this format, instead of straddling the line. Those hoping to spare themselves a headache may wish to opt for standard format screenings.
Avatar: The Way of Water is a vast improvement over its predecessor, while still suffering from some of the flaws that plagued the original. Characters make decisions that feel incongruous with their background and motivations, dialogue sometimes feels unwieldy or unintentionally comical, and myriad questions and inconsistencies remain unaddressed. But it's also Cameron at his most earnest, with his environmentalist and conservationist beliefs on full display — the whaling industry, in particular, gets the full brunt of the director's ire — and a keen focus on familial bonds, the responsibilities of parenting, and our relationship to the world around us. It's messy at times, and some may argue that its 192-minute running time is egregious, but I'm not one of those people. I fucking loved this movie: the stakes felt more personal, the emotional beats landed more often than not, the action was universally stellar and nearly every frame of footage looked incredible. Returning to Pandora may have felt like a dubious proposition mere weeks ago, but after The Way of Water, I can't wait to go back again.