Chris Pratt is no stranger to big budget sci-fi filmmaking, having headlined two Guardians of the Galaxy films for Marvel Studios, and also popping up in Avengers: Infinity War and its sequel. And although his work as the wise-cracking Star Lord quickly turned him into an MCU fan favorite, viewers expecting more of the same may be surprised be his latest effort, The Tomorrow War, hitting Amazon Prime Video this weekend.
Pratt stars as Dan Forester, an ex-Delta Force operator turned high school teacher who answers the call of duty to fend off an alien invasion that threatens to wipe humanity from the face of the Earth. The catch? The invasion won't happen for a few more decades; Dan is tasked with traveling 30 years into the future to lead an all-out assault on the extraterrestrial threat, in order to secure a future for the next generation.
It's heady stuff, and the film explores some complex emotional territory, including Dan's relationship with his estranged father, played by J.K. Simmons. But during a virtual press conference ahead of the film's release, Pratt kept getting sidetracked by the 66-year-old Simmons' famously buff physique.
"I can't tell you how many times I've talked about J.K's arms," Pratt said excitedly. "That was the two guns salute, man. You look freakin' jacked in this movie."
"If nothing else comes from this movie, I'm happy," replied Simmons, who joked that he just copied Pratt's workout routine "but with bigger plates on the bars."
Getting serious, Pratt noted that Dan has spent his life "blaming his father for all of his issues," but that through the course of the story he's faced with the reality that he and his father aren't so dissimilar after all.
"In coming to grips with that, [Dan] gets to a place of grace and of acceptance and forgiveness for his father, because he sees that it wasn't easy for his father either," Pratt said. "When we look at our parents as these deities in our life, we come to a moment in our life where we realize, 'Oh, wow, that was just a kid who had a kid.' When you realize that, you can forgive them for any shortcomings they had because they didn't live up to the God-like status you'd given them when you were young."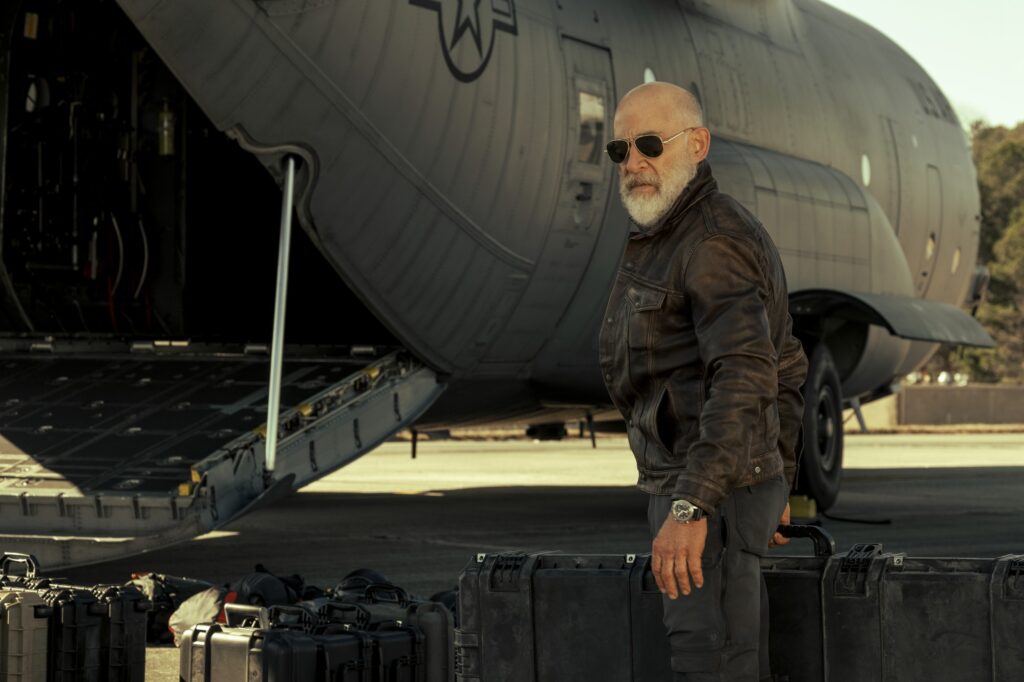 "In the beginning it seems like we're two different people," Pratt continued. "But in fact, I think we have a lot more in common than Dan would like to admit, including some pretty big arms." The last comment elicits a big round of laughter from the cast.
Screenwriter Zach Dean takes a different approach to the idea of conscription; instead of drafting young, able-bodies soldiers fresh out of high school, the human combat teams in The Tomorrow War are mostly comprised of middle-aged warriors. As Dean points out, the conflict is not about "an ideology or patriotism or loyalty to protect your country, but being about literally your desire to save your own kids. Who doesn't sign up for that? It's a different thing. We're not asking for an abstract idea. It's about parenting."
This theme proved to be a major drawing point for Pratt. "You are dealing with people who are making life decisions based not on the life that they could lead, but rather the world that they're leaving for their children," he said. "It's a different theme to think about someone being drafted away from their children, rather than children being drafted away from their parents."
The notion of the current generation's responsibility to leave something behind for their successors also resonated with director Chris McKay, who previously served as editor on The LEGO Movie, in which Pratt voiced the main character. "What was really important about the scripts to me was the idea of what do you owe the future?" he said. "What do you owe the world? How do you leave the world in a better place? Do you count your blessings that you have in front of you?"
"To have an original sci-fi movie that can have a big epic scope and amazing performances with a beautiful cast, but also can have a little bit of heart and a little bit of something to think about, that was why I wanted to do this," McKay continued. "The script and this cast and crew was a real gift."
Of course, there's always a physical element to a fast-paced action film like The Tomorrow War, and the massive climax finds a number of characters trying to scale a tower while being swarmed by the alien horde.
"I just keep thinking of that moment where Chris and I had to run across this steel beam at the very top of a
power plant," said Yvonne Strahovski, who plays a scientist in the film's future timeline. "You could see the very bottom, because everything in a power plant is made out of metal grate, so you can totally see through each level all the way to the bottom. I'm not too afraid of heights, but this was a moment where I was like,
'Oh, God.' Getting up on that steel beam, I wasn't sure if I could actually run across it."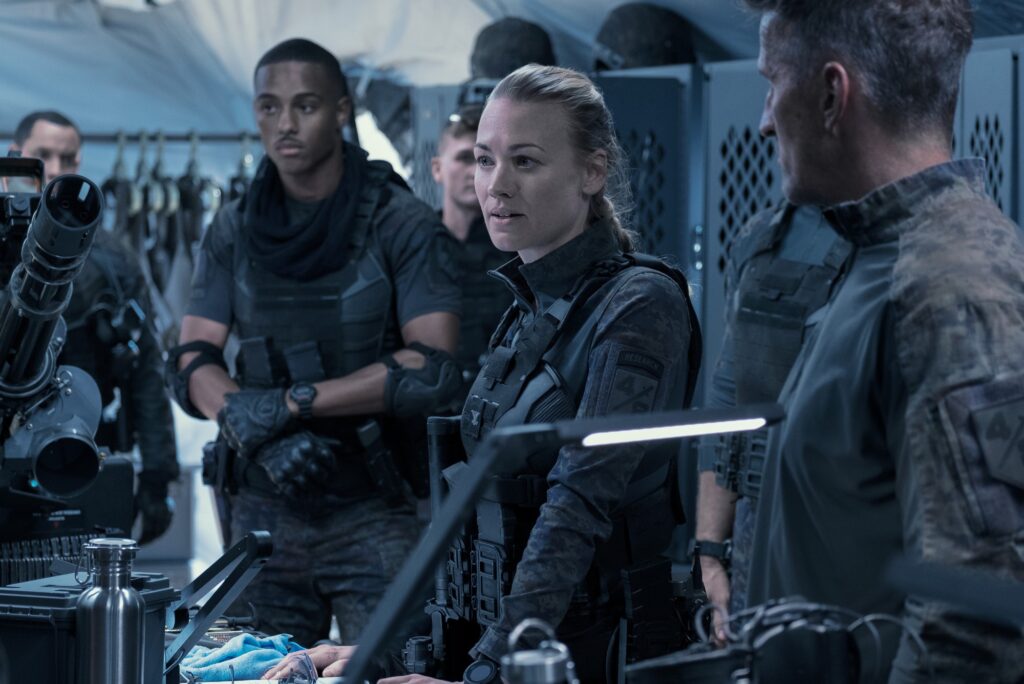 Jasmine Mathews and Keith Powers were both forced to contend with their fear of heights during some of the film's stunts — Mathews floats through the air to deliver a monologue which sets up the plot, while Powers mans a 50-cal at the top of a tower which he estimates was "at least 100 feet up" — but fellow cast member Edwin Hodge found the physicality of the production "exhilarating."
"This entire film was just action-packed non-stop," said Hodge. "It was just amazing to run through Atlanta, shooting guns, blowing things up. What more could you ask for?"
Betty Gilpin didn't partake in much of the action — "I play the frowning therapist wife, I mostly sob in a cardigan," she quipped — and her proudest moment during the shoot involved something offscreen: breakfast.
"There was a day where Chris had a ton of action stuff and was training really hard," she recalled. "I had
a bagel and I thought, 'I want a second bagel.' They announced there were almost no more bagels, and my adrenaline was sky high. We were rolling and luckily I ran outside, got a second bagel and came back just in time for action."
"Did you have an 'everything' bagel?" asked Simmons.
"I had two," Gilpin replied. "Should have just cut out the middleman, duct-taped them directly to my thighs." The look of pride on her face as the rest of the cast guffaws is the perfect note on which to wrap things up.
---
The Tomorrow War premieres Friday, July 2nd, exclusively on Amazon Prime Video.