Adapting video games into feature-length films can be a tricky undertaking, and Hollywood has churned out a lengthy list of failures with few success stories in between. Of the 40+ attempts to bring beloved gaming properties to the screen, only two — 2019's Detective Pikachu and last year's Sonic the Hedgehog — have managed to garner a "Fresh" rating from review aggregator Rotten Tomatoes.
But 2021 Tribeca Film Festival selection Werewolves Within, a hilarious horror whodunnit based on the Ubisoft virtual reality title of the same name, might have finally cracked the code. The secret? Not being beholden to the source material.
"Ubisoft was very clear from the beginning that I didn't need to have a tremendous amount of reverence," screenwriter Misha Wolff told us via Zoom earlier this week. "They were super open-minded about taking risks and departing from the game."
Not that the game itself provides an extensive amount of lore to depart from in the first place. Werewolves Within is a social deduction experience, played in VR, where players assume various roles while attempting to suss out the identity of the werewolf hiding in their midst. Tempers flare, suspicions are cast, lies are told, and these sort of interactions formed the backbone of Wolff's script.
"The gameplay that I watched and that I was involved in was vindictive," she explained, noting that other players often became "super judgy" toward one another, leading to "faulty logic and terrible private justice." Wolff sought to capture those same feelings of distrust and resentment among a small, close-knit community, while transferring the setting from a medieval village into something more contemporary.
Scare Me director Josh Ruben was tapped to helm the adaption, and he's quick to credit Wolff with laying a solid foundation to build upon. "Mishna's writing is so descriptive, it made it very easy for my dense filmmaker brain to imagine," he said with a laugh. "There was so much on the page that felt reminiscent of things like Hot Fuzz and Arachnophobia and Clue, stuff that I loved watching when I was growing up."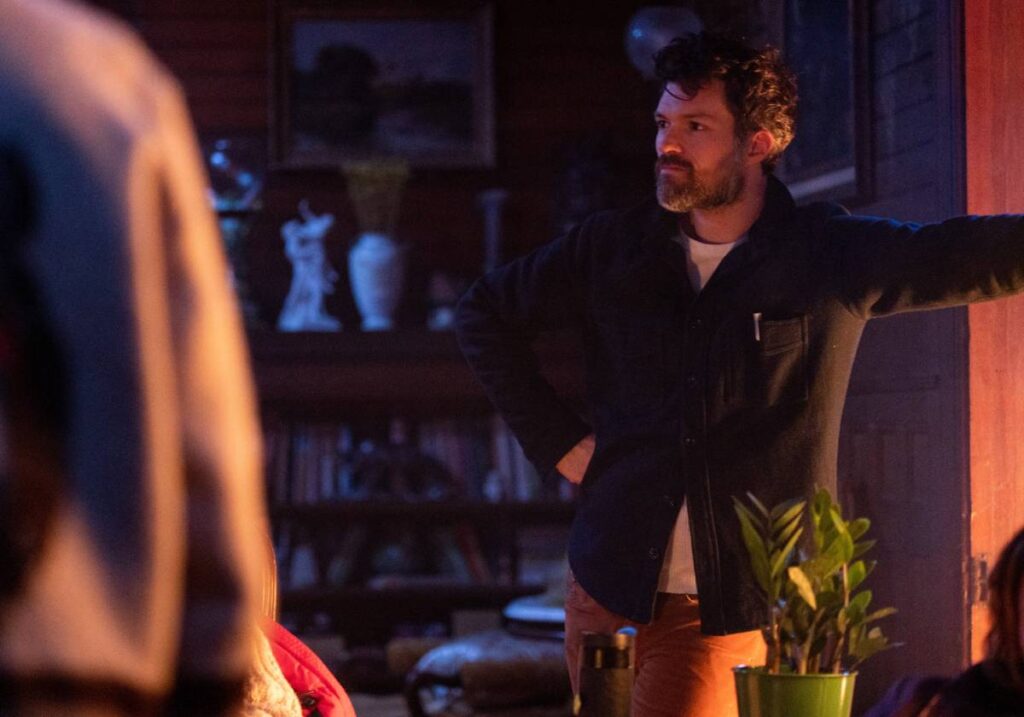 Ruben's primary focus was looking for any opportunity to elevate the film's humor, whether through visual jokes or specific beats in the edit, or "allowing for jazz" with his cast and allowing them a bit of space to experiment. "Everybody surprised me, everybody had wonderful ideas," he said, pausing before continuing modestly. "So much of what I was doing was just second-base coaching, just molding performances."
Wolff was equally elated with the manner in which the cast — which includes Veep's Sam Richardson, This is Us alum Milana Vayntrub and Harvey Guillén of What We Do in the Shadows — brought her pages to life. "When you see actors [performing] your work, it's bananas," she said. "There's no greater feeling on Earth, and they were all even better than I imagined."
Following Werewolves Within's strong reception at Tribeca, Wolff admits the pressure is starting to lift — "I'm good, I can sleep," she quipped — and Ruben is excited for the film's upcoming theatrical release. But he also laments the budgetary constraints which forced some third act changes, resulting in the loss of a sequence that "leapt off the page" and "truly freaked me out."
"Mishna's script was twice as epic and elaborate," he told us. "There was this phenomenal ending sequence that kind of terrified me as a filmmaker, some really killer stuff I wish we'd been able to do, if only we had a bit more time and a lot more money."
"Oh, to have six million more dollars…" Wolff chimed in wistfully.
After finding success in a niche where so many others have failed, both Wolff and Ruben are open to the idea of working on future video game adaptations. "I really love the Far Cry series," says Wolff. "Or maybe Animal Crossing, but a version where something goes wrong and the animals all turn on each other and Tom Nook is sitting in the plaza with his eyes rolled back in his skull."
"Did they make a Darkman video game?" asks Ruben. They did, back in 1991. "I don't know if that counts, but that's just me really, really wanting to make a Darkman movie."
---
Werewolves Within screened at the 2021 Tribeca Film Festival, and will open in select theaters on June 25th, followed by a July 2nd release on demand. Find more of our festival coverage at this link.